Parker Drilling Co. (NYSE:PKD) reported earnings on Thursday the 21st after it had announced the week earlier that would take a $15.9 million charge in the quarter to settle charges under the Foreign Corrupt Practices Act and that excluding those charges the company would lose between three and five cents per share. The earnings report came in at the better end of that range, a loss of three cents per share in the quarter ended December 31. Analysts had been expecting the company to earn a profit of five cents per share. Revenue fell 13.2% to $157.2 million, $2.5 million below the streets estimates. Parker was hurt by oil prices falling about 15% throughout 2012 leading to a decline in U.S. rig counts. However oil prices have come up since the start of the year and the U.S. offshore rig count has increased from 51 active rigs at the end of 2012 to 55 today.
Since coming over to Parker from Baker Hughes Incorporated (NYSE:BHI) earlier this year CEO Gary Rich has made the Alaska drilling units his primary focus. At this time both units are now operational and the first unit is now moved on to its second well. The first unit faced downtime in December of 54 hours and downtime in January of only 13.5 hours and the company is committed to getting that downtime to zero. Both drilling units are now generating revenue as they work under a five-year contract with BP plc (NYSE:BP). This is a tremendous step for Parker as the project has been challenged for some time now.
The other area Mr. Rich has been focused on is improving international utilization rates. On that front the company ended the fourth quarter with one more rig under contract than it started the quarter with. Also Parker got two rigs that had previously been idle under contract in Colombia; one started working January and the other in February. This contract is based on the number of wells completed but management said it will likely be less than a year. Furthermore the company is in the process of moving two idle rigs from Kazakhstan to Kurdistan with part of the mobilization costs being offset by the contract it will be working under in Kurdistan. Parker has also decided to pull out of Algeria and has begun removing its rigs from that market. The company has several international rigs going off contract this year and it will be important to get those rigs under contract quickly. Parker is making steps in the right direction to improve international utilization however it has yet to turn the corner here. Even with the improvements estimated first-quarter international utilization is still only 46%, which would be the third straight quarter under 50%.
While U.S. barge utilization rates are estimated to fall to 67%, the third quarter of declines, management reported that the all rigs are now working today as that market strengthens. Parker's tool rental segment saw revenue decline 12.8% year-over-year and 7% sequentially in the fourth quarter. However I believe this segment might have turned the corner as utilization rates increased in both December and January and are at their highest levels in 6 months. Another catalyst for the company is that capex spending in 2012 was $191.5 million and even with costs of mobilizing some international rigs management expects capex in 2013 in the range of $150 to $175 million. At the midpoint of that range that is $29 million less than 2012, or about 25 cents per share savings.

Click to enlarge
When you look at Parker Drilling's valuation compared to some of its peers you can see the company appears fairly valued. Most drilling companies are trading with a forward P/E between 8 and 10; Parker's is 9.81. One area Parker appears overvalued is when looking at its PEG ratio; it has the highest one in this group. However I believe Parker will be more able to focus on growth now that the Arctic rigs are working and the company is working through its international utilization problems. Parker's EV/EBITDA ratio is the lowest in the group, 4.04 versus an average of 9.77. Only Nabors Industries Ltd. (NYSE:NBR) has a similar EV/EBITDA ratio at 4.47.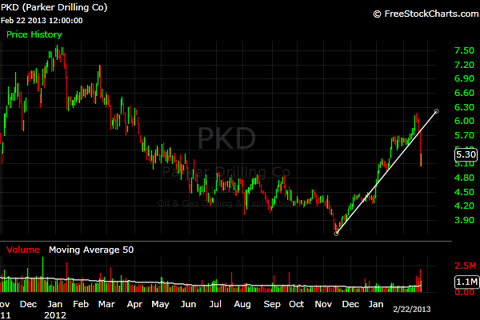 Click to enlarge
News of fourth-quarter earnings falling short of estimates sent shares of Parker tumbling from a high of $6.18 to close at $5.30 on Friday. The stock had been in a strong uptrend since mid November but has now fallen below that trend line. I continue to believe in this company and believe managements improving execution will help drive improved results in future quarters. I believe this fall could take the stock down to support around $4.25 per share giving you a good opportunity to buy in. The only thing I believe would turn the stock around sooner would be a sharp increase in oil prices in the coming weeks.
Data sourced from: Company filings, and Yahoo!Finance. Chart from: Freestockcharts.com
Disclosure: I have no positions in any stocks mentioned, and no plans to initiate any positions within the next 72 hours. I wrote this article myself, and it expresses my own opinions. I am not receiving compensation for it (other than from Seeking Alpha). I have no business relationship with any company whose stock is mentioned in this article.