Hewlett-Packard (NYSE:HPQ) continues to struggle in the Computer Hardware industry. The company's first quarter 2013 earnings per share beat analysts' consensus estimate by $0.11 at $0.82. However, EPS was down $0.34 from the previous quarter and $0.10 from the comparable quarter one year ago.
Total revenue for the company was down $1.6 billion quarter-over-quarter and $1.7 billion from the first quarter of 2012. Adjusted net earnings were down $676 million quarter-over-quarter and $227 million from the comparable quarter in 2012. The company's four core business segments all saw decreased revenue and earnings growth on a quarter-over-quarter and year-over-year comparable basis as well.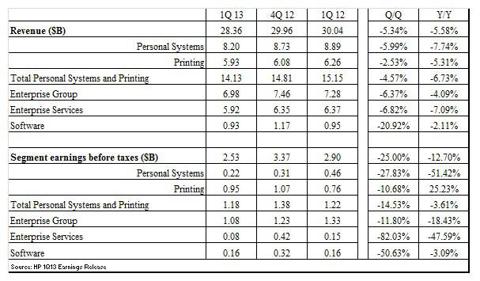 Click to enlarge
(Click to enlarge)
While HP showed improvement in its Printing business segment and net debt position it faces tough competition in the Computer Hardware sector which is expected to continue negatively affecting revenue and earnings.
The company's Printing business segment improved net earnings by 25% year-over-year, adding 3.9 points to the segment's operating margin. Profitability in the segment is expected to remain strong, driven by sales from existing products as well as the release of HP's new Office Jet Pro X. The new Office Jet Pro X is reported to be the world's fastest desktop printer. It is targeted for small and medium-sized businesses and provides a printing solution that helps to increase productivity while reducing costs. Additional Office Jet Pro products are also expected to be released in the spring of 2013 adding further sales revenue growth for the Printing segment.
A second point of strength for HP is its ability to maintain its operating cash position. Meg Whitman, HP President and Chief Executive Officer, highlighted the company's net operating cash in her first quarter earnings comments. She also reiterated her focus on decreasing debt levels and maintaining free cash flow.
"In the first quarter, cash flow from operations was $2.6 billion, up 115% over the prior year," reported Whitman. Additionally, the CEO noted the company's improved net debt position which has steadily declined over the past four quarters, ending the first quarter of 2013 at $4.7 billion.
Continued success in the Printing business segment and stabilized free cash flow levels are two factors that could support improvement for the company in the final three quarters of the year. However, a tough macroeconomic environment and a lack of new product releases in key market segments appears to be keeping growth rates low.
In HP's first quarter 2013 earnings presentation, management reported continued declines expected in all business segments for the second quarter, with second quarter EPS projected to be within a range of $0.80 to $0.82. Additional detail on HP's second quarter outlook is included in the table below.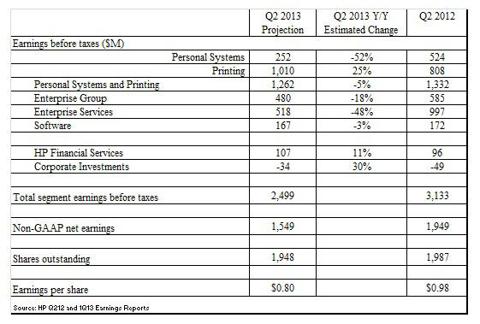 Click to enlarge
(Click to enlarge)
HP also maintained its 2013 non-GAAP EPS estimate which it projects to be $3.40 to $3.60. At $3.40 to $3.60 the estimate falls 13.6% below 2012's $4.05 and appears difficult for the company to attain given the fiscal year first half projections.
While HP's turnaround is underway, the 2013 first half report indicates little change in revenue and earnings growth expected for the remainder of the year. Additionally, the stock has already fallen 35.10% over the last year and is currently trading above it price target [1] of $17.63.

Given HP's diminishing growth and the competition it faces in the Computer Hardware sector, investors following HP may want to seek alternative Technology sector investments until significant earnings growth is displayed by the company in more of its major product segments.
In the meantime, Technology sector index funds, such as the iShares Dow Jones U.S. Technology ETF, IYW offer a safer alternative. The iShares Technology ETF holds 1.5% in HP but also includes Dow Jones Industrial Average Technology components, Microsoft (NASDAQ:MSFT), Cisco (NASDAQ:CSCO), IBM (NYSE:IBM) and Intel (NASDAQ:INTC). The fund has steadily outperformed Hewlett-Packard on a one-, three- and five-year basis and provides investors with more diversified exposure in a difficult technology market environment.
[1] The price target is derived from Bodie, Kane and Marcus' intrinsic value formula. The intrinsic value formula discounts the projected one-year future cash flow value by the risk-free rate on the one-year Treasury note plus a beta of 1.09 times the market's expected one-year risk premium. The market risk premium assumes stock market appreciation in 2013 to be similar to 2012 and is based on Dow Jones Industrial Average index return.
Disclosure: I have no positions in any stocks mentioned, and no plans to initiate any positions within the next 72 hours. I wrote this article myself, and it expresses my own opinions. I am not receiving compensation for it (other than from Seeking Alpha). I have no business relationship with any company whose stock is mentioned in this article.