With the economic situation on everyone's minds these days, it should come as no surprise that the theatre operator Regal Entertainment Group (NYSE:RGC) is feeling the pinch as well. As recently reported in an article last week, "Regal profit misses expectations, shares fall", the firm's earnings per share did not meet Wall Street's expectations, which sent the stock down.
This fact notwithstanding, recent MSSI data on consumer spending shows that people are actually going to the movies more, with the average user attending one of Regal's theatres increasing four months in a row. Combining this with the fact that the average spending per trip by these same users has increased 6.67% this past January compared with January '08 indicates that consumers are perhaps looking to save money on big-ticket vacations in favor of catching the newest movie.
Geezeo users spent an average of $34.63 in January at Regal locations, up almost 8% from the firm's solid December, which ended an unpredictable 2008 on a positive note. Given the strong start to 2009, it appears the firm is well positioned to enter 2009 and expand its profitability.
click to enlarge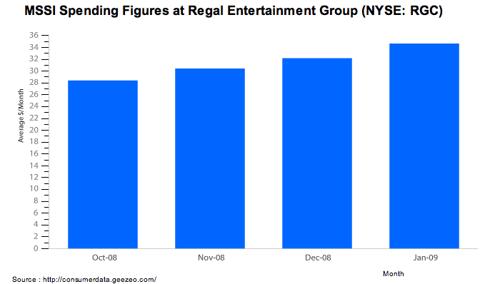 The box-office success of films that make use digital 3-D technology has shaped Regal's 2009 expansion strategy. As the firm is in the entertainment industry, it is crucial that Regal remains targeted on the pulse of their consumers' tastes and not get caught up in, perhaps, unwise acquisitions that could over-extend the firm's finances. The firm's management should make sure to use the financial sector's mistakes as more than adequate warning against ill-timed mergers. Shareholders of Citi (NYSE:C) and Bank of America (NYSE:BAC) would agree.
This data was compiled by the Geezeo Main Street Spending Index (MSSI).