America is becoming a rental nation. Home ownership peaked in 2004 at 69% and has since been steadily declining, dropping to 65% in 2012. Higher down payments, more stringent documentation requirements and the death of subprime have removed entire population segments from being possible homeowners.
Meanwhile, higher maintenance and property taxes have made homeownership a more expensive proposition. Despite lower home prices, rents have continued to steadily increase across the country, reflecting the increasing demand.
Most experts believe that the preference to rent is a cultural shift. Renting provides freedom and flexibility while homeownership becomes more and more difficult. This shift is going to favorably affect apartment owners and operators.
Investors should take advantage of this trend by looking for Apartment REITS, or Real Estate Investment Trusts, which offer high barriers to entry, superior long-term return metrics and a steady income. A favorite of mine, Home Properties (NYSE:HME), has recently raised its dividend by 6%. Not only is Home poised to take advantage of the trend toward renting, but it has put itself in favorable geography and is usually the best operator in its class of apartments.
Turnaround Artists
Home Properties is an Apartment REIT operating mostly in East Coast metropolitan areas. They own, operate, acquire and rehabilitate apartment communities. Once the properties have reached their full potential under Home's ownership, they are sold. Home redeploys the proceeds to purchase other communities which may need work and can generate higher returns.
Most of the properties acquired by Home are either Class B or C. Class B properties are 10-20 years old, generally located in a desirable area and have middle-income tenants who are both blue and white collar. Class C properties are between 21 and 40 years old and tend to be in less desirable, but still safe areas. Tenants of Class C apartments are generally blue-collar with low to moderate incomes.
Home's strategy is to purchase class B or C communities, especially the C- and B- ones, and reposition them to a B or B+. Typically, communities acquired by Home are in need of some work: deferred maintenance, capital improvements and renovation.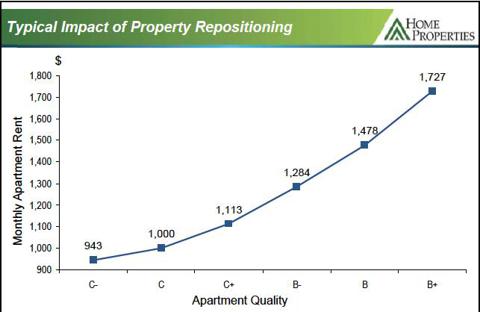 Chart from 2012 NAREIT Annual Convention
Looking at the above graphic, we can see the substantial economic benefit of repositioning acquired apartments. The rent substantially jumps as the apartment quality gets closer to B+. Home's objective is to take advantage of this curve.
Home comprehensively redevelops properties following acquisition. This often means enhancing curb appeal, landscaping, refreshing of exteriors, and adding or upgrading amenities like pools or community centers. As residents move out, interior renovations can be done. Capital improvements can include roofs or HVAC systems. This all increases marketability and value of the respective properties. The pictures below are a sample of what Home has done.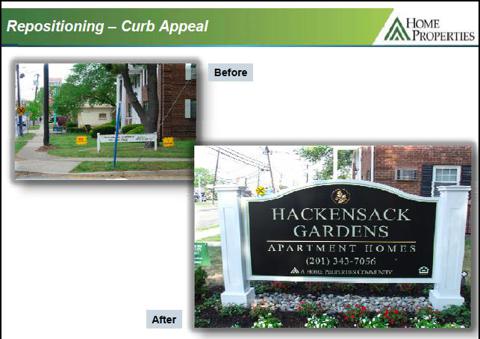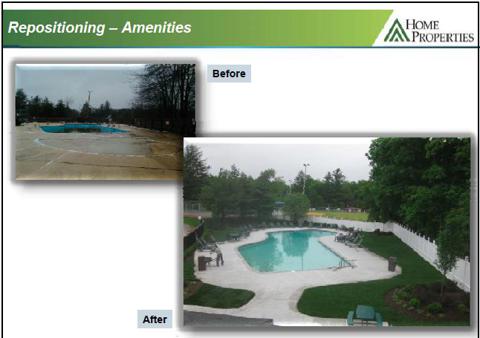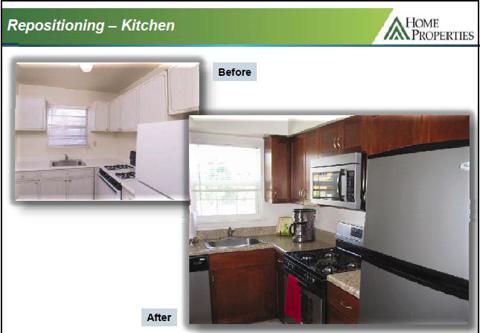 Pictures from 2012 NAREIT Annual Convention
The repositioning is a process which lasts five to seven years. Home's goal is a 10% minimum return on these investments. Over the past 17 years, Home has acquired and repositioned 216 properties consisting of over 59,000 units. Among apartment operators, Home has a reputation for being an expert at repositioning, and this is where it creates exceptional value.
Location Is The Economic Moat
Metropolitan areas on the East Coast of the US account for 95% of Home's income. These are, in fact, some of the best rental markets in the country. Demand is high and supply of good apartments is fairly low.
The average unemployment rate in Home's markets, 7%, is also significantly lower than the national unemployment rate of 7.8%. Only the New York and Philadelphia areas have unemployment rates higher than the national average, and they are each higher by less than one percentage point.
Washington D.C.: 5.2%
Boston: 5.9%
Baltimore: 7.0%
Philadelphia: 8.4%
New York: 8.5%
bls.gov
Most of all, the alternatives to renting in these above five markets are very expensive. In fact, home prices have held up fairly well in major East Coast metropolitan areas. As of December 2011, median single family home values in Home's markets were over $334,000 versus the national median of $173,000. This makes home ownership very difficult for middle income people in these areas, especially skilled immigrants and "Echo Boomers" aged 20-29, most of whom are renters.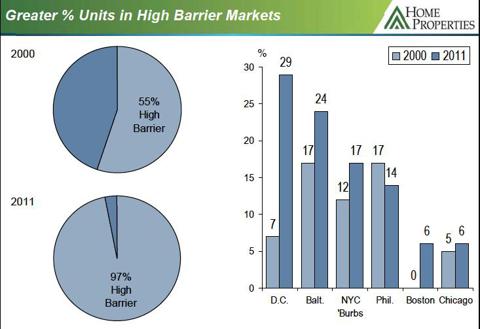 2012 NAREIT Annual Convention
Over the past ten years, Home has shifted its business model to focusing on properties with a high barrier-to-entry. In this case, Home's "High Barrier" communities have the following attributes:
Suburbs of major metropolitan areas
Near public transportation and major highways
Excellent school districts
At least 150 units
Now, in 2013, nearly all of Home's communities are considered "high barrier." Because there aren't many properties in these metropolitan areas which fit the above criteria, this advantage will be very difficult for other apartment operators to replicate. Home has dug an economic moat around itself.
Returns in the Top Quartile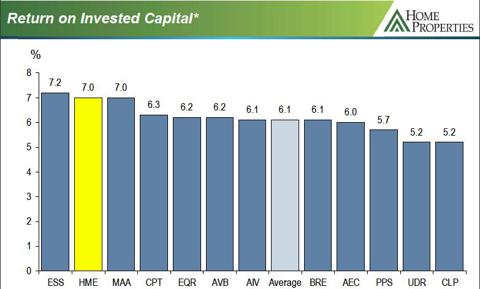 2012 NAREIT Annual Convention
Home Properties consistently ranks among the top operators in Return On Invested Capital [ROIC]. Last year was not an anomaly. For each of the past six years Home has been in the top quartile. This illustrates the value created by Home's capital expenditures and repositioning strategy.
Debt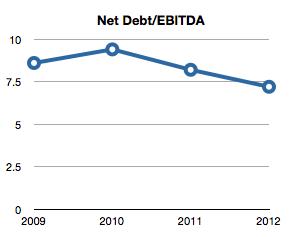 In the past four years, Home has worked to rein in its long-term debt and improve its capital structure. It has done so with a good deal of success, bringing the Debt/EBITDA ratio down to 7.2, comparable with the average REIT ratio of 7.0 times.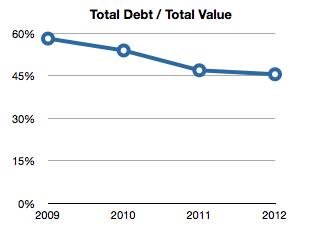 Chart by author, data from 4Q 2012 Earnings Conference Call
Management's stated purpose for reducing the above debt ratios is to provide more financial flexibility and also to achieve investment grade ratings from S&P or Moody's. I believe they will be successful at this.
The Dividend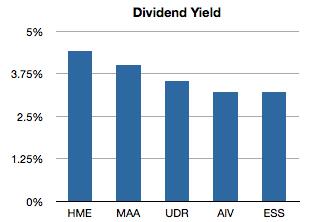 Chart by author
Home puts a major emphasis on paying a dividend with a yield higher than most major competitors. Their policy is to increase the dividend "as operational results allow." Therefore, we can expect dividends to grow along with Funds From Operations [FFO].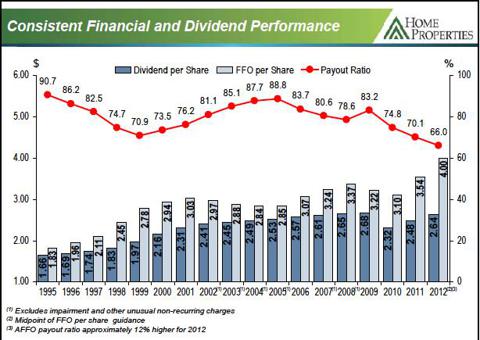 Pictures from 2012 NAREIT Annual Convention
This above chart shows some important dividend trends. The payout ratio, in this case FFO per share / Dividend per share, has been steadily dropping since 2005 with only one interruption. You may also notice that Home had to cut its dividend in 2010, a difficult year for many apartment REITs.
Going forward, this will be less likely to happen as the payout ratio has continuously declined, leaving more of a cushion on that dividend. According to 2013 midpoint FFO guidance, we should expect this year's payout ratio to be about 64%. Looking at the above chart, we can see that the downward trend in the payout ratio continues.
Here is the bottom line on the dividend: Expect to see moderate long-term dividend growth which oscillates around 5% and follows FFO.
Guidance and Growth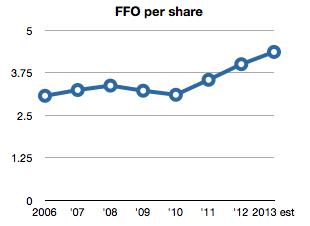 Chart by author, data by 2012 NAREIT Annual Convention
Recent years have shown steady FFO growth for Home Properties. In 2012, Home grew its FFO by 13% on the back of heavy acquisition activity. Guidance for 2013 is not as robust. Acquisition activity is expected to scale back and Home will also be selling some properties early in the year. As such, FFO is expected to grow between 3.8% and 7.6%. This is a more modest and conservative number.
Strategy

I personally added to my shares of Home Properties when the dividend yield was around 4.6%, taking advantage of the most recent 6% pullback in early February. It would be hypocritical to recommend anyone buy at these levels when I am not doing so myself. Still, Home Properties is not at all grossly overvalued at this price. If Home Properties seems like a company you would like to own a piece of, go ahead and add it to your watch list.
This mid-cap Apartment REIT may not be a multi-bagger, but it does provide income, some growth and a wide economic moat. This makes Home Properties a good long term addition for many investors.
Additional Sources:
Home ownership data, geographical composition of apartments and single family median home value data are from 2011 Annual Report
Disclosure: I am long HME. I wrote this article myself, and it expresses my own opinions. I am not receiving compensation for it (other than from Seeking Alpha). I have no business relationship with any company whose stock is mentioned in this article.