Amazon.com (NASDAQ:AMZN) will have a difficult time meeting analyst expectations this quarter given its several significant headwinds. The two most prominent headwinds relate to revenue, namely the imposition of state sales taxes on Amazon e-commerce revenue and the large increase in federal taxes impacting consumer demand. There is another additional key headwind that is rarely discussed in relation to Amazon, but has and will continue to have a significant impact on operating income - the price of gasoline. While it should be no surprise that gasoline impacts shipping costs, this article enables the reader to accurately predict the impact of gasoline price changes on gross margin, operating income and earnings per share.
While Amazon is quite stingy in the investment information it releases to investors (missing are tablet units, impact of sales tax, streaming users, 3P total merchandise value, AWS COGS, etc…), they do let us know their gross and net shipping expenses. Figure 1 charts gross shipping expense as a percentage of e-commerce revenue against average US gasoline prices in the quarter (regular unleaded, average of all formulations and areas). The chart illustrates that shipping expense had increased steadily from about 7.5% of revenue to 8.6% - 8.9% during 2012. This occurred while Amazon was spending billions of capital on tens of new fulfillment centers closer to the customer to reduce shipping expenses. In order to understand this divergence, I dug a little deeper to determine what is driving the much faster than revenue increases in shipping expense even as shipping distances are being reduced.
Figure 1: Amazon Gross Shipping Cost as a % of E-Commerce Revenue and Average US Gasoline Prices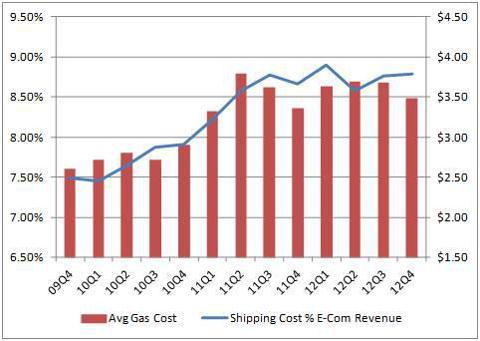 Through regression analysis of Amazon and government data, I built a shipping expense growth model that demonstrates high correlation to two obvious independent variables: The price of gasoline and what Amazon refers to as "Paid Units Sold" (Amazon defines "Paid Units Sold" as "physical and digital units sold" that "are paid units and do not include units associated with certain acquisitions, rental businesses, web services or advertising businesses, or Amazon gift certificates"). The Coefficient of Determination (R2) of this regression was a convincing 0.98, displaying that these two variables alone account for the variation in shipping expense growth. As a note, I thought paid unit growth of 1P units only would be a better predictor as not all 3P units are shipped by Amazon, but the total paid units had a better R2, so I stuck with that.
What does the Statistical Analysis Tell Us?
Here is the key takeaway: Every 2% increase in gasoline price reduces Amazon's overall gross margin by 10 basis points (BPS). At $16 billion in revenue, every 10 bps of margin reduction results in a $16 million reduction in operating income, or about 2.5¢ in earnings per share reduction. While 10 bps may not sound like a lot, 2.5¢ represents 28% of the analysts $0.09 consensus estimate for Q1. So a minor 2% shift up in gasoline costs can shift earnings lower by 28% in Q1.
Let's look at this in the wider context of future earnings potential. Amazon bulls like to point to 2009 Q4 as a shining example of Amazon profit potential as they achieved 4.0% net margin and $0.85 per share of earnings. They claim that once all of the current investments subside, Amazon will either return to or exceed those peak margin levels on much higher revenue. Here is a dose of reality for the bulls: If gasoline prices per gallon in 2009 Q4 were what it is today, Amazon would have earned a measly $0.02 per share instead of $0.85! That means given today's energy environment Amazon faces nearly 4.0% net margin headwinds from its prior peak performance.
Has The Fulfillment Center Build Out Strategy Had Any Positive Impact At All?
There is one other interesting result of the analysis to note: the model generated an additive constant term of negative 8.8%. That means that with zero unit growth and no gasoline price change, Amazon shipping expense would shrink by 8.8% Y/Y. This is the positive impact of the distributed fulfillment center strategy and is already baked into the current numbers - you just can't see it in Amazon's financial results due to higher gasoline prices and much higher unit shipments than revenue growth over the past four years. The end result is that although Amazon management recognized they need to do something to stem these two major headwinds, they have only lost ground. While they have increased fulfillment expense as a percentage of revenue by 270 bps, shipping expense has increased 120 bps as a percentage of revenue, thus reducing net margin by 400 bps over the past four years. Based on these trends it seems Amazon will need to continue to invest heavily in fulfillment expenses over the next several years just to return to 2009 shipping expense percentage levels of e-commerce revenue.
Is There Hope For Gasoline Prices to Return to 2009 Levels?
This is highly unlikely as the global financial crisis scared the energy markets into a severe dip (60% drop) at the end of 2008/early 2009. Gasoline prices have begun an exponential run up over the past few weeks and have well surpassed both the prior quarter and year ago quarter's level seven weeks into the quarter (Figure 2). Oil prices tend to lead gasoline prices by 4 to 6 weeks, so look for gasoline prices to continue to rise significantly into the end of Q1 to near all-time high levels ($4.11/gal) as oil continues to print new 9-month highs. That could mean all time high shipping expense as a percentage of e-commerce revenue for Amazon in Q2. The current White House Administration's tough policy approach on fossil fuels coupled with the Fed's QE infinity program should continue to pressure oil prices higher through at least 2015, leading me to wonder why Amazon is considered a "risk-on" trade with its strong inverse earnings sensitivity to oil prices. Not only does an increase in gasoline cost increase Amazon's shipping expense, it also lowers consumer's discretionary income, thus providing an additional headwind to revenue - a true double whammy.
Figure 2: Weekly US Gasoline Prices for Q/Q and Y/Y Comparisons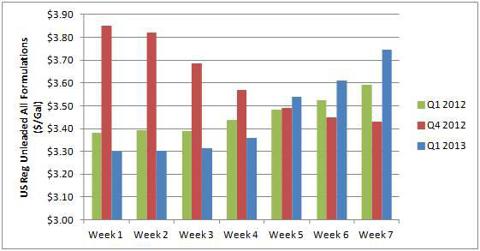 Conclusion
Core to Amazon's value proposition is the convenience of shipping product directly to your door. That service currently reduces operating margin by 870 bps (up from 750 bps three years ago) and is directly correlated to the cost of gasoline. For every 2% increase in gasoline cost, Amazon gross margin declines by 10 bps. This relation has reduced Amazon net margin by 400 bps to zero over the last four years. While spending billions on new distributed fulfillment centers has attempted to reduce the impact of soaring gasoline prices, shipping expenses as a percentage of e-commerce revenue continues to climb as Amazon paid units shipped far outpace revenue growth and gasoline price increases continue to override any Amazon efficiency gains. In the current money printing and political environment, energy costs are skyrocketing, thus having a direct and meaningful impact on Amazon profit potential for 2013 and beyond.
Note: Additional information on the model, data and analysis can be made available through my consulting practice.
Disclosure: I am short AMZN. I wrote this article myself, and it expresses my own opinions. I am not receiving compensation for it (other than from Seeking Alpha). I have no business relationship with any company whose stock is mentioned in this article.