V.F. Corporation (NYSE:VFC) has a rich history dating all the way back to 1899. The company is much different today than it was then but has remained consistently successful over time. What began as a silk lingerie producer eventually transformed into a supplier of a broad range of seasonal garments. Today, the Action and Outdoors segment of the company claims the top sales position. Lingerie has become a distant memory. The company's evolution is a result of decades of acquisitions. Vanity Fair was the company's name when it operated exclusively as a lingerie business. The name was changed to V.F. Corporation after it started to broaden the portfolio of offerings in 1969. A few of the most important acquisitions to the business model were The North Face, Timberland, and Vans. These brands are major drivers of future earnings because of prominence and international market penetration.
Value investors particularly enjoy the safe 2% dividend yield while also acquiring some growth exposure through V.F. Corp's international business. The dividend is supported by V.F. Corporation's fundamental strength. During 2012, the company enjoyed record levels for operating margins, earnings, cash-flow from operations, and revenues. This type of extraordinary performance can be expected for many years to come. V.F. Corp's pricing ability, diverse portfolio of product offerings, and stellar stewardship by management and directors enshrines the company as a compelling long-term holding. In addition to the fundamental picture, the five-year chart beautifully illustrates a historically bullish technical story.
Pricing Ability
Segmenting and pricing off of a variety of points on the demand curve is a commonly taught topic throughout universities but very few companies apply the theory better than V.F. Corporation. 79% of sales in 2012 were to department stores, discount retailers, mass merchants, and specialty stores while the remaining 21% were sales directly to consumers. This tactic enables the company to segment particular consumers and offer higher prices to those willing to pay more for the same item. This is a great competitive advantage and a source of an incremental benefit over peers. The mere ability to practice this type of pricing will increase margins while also increasing revenues. The margin increase partly comes from the reduction in marginal costs for providing product directly to consumers. The revenue increase comes from the expansion of the number of consumers that can easily access the products, whether it is online or at a local retail establishment. Total revenues and net profit margins since 2003 are displayed in the graph below.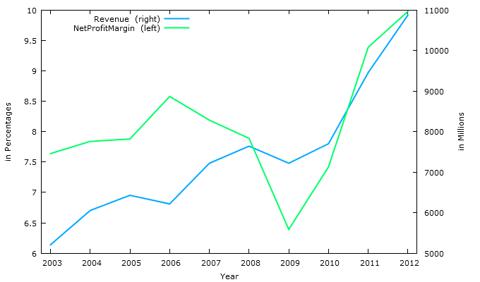 The net profit margin rebounded from the sub 6.5% level printed in 2009. This rebound is mostly a result from the sales of low margin business segments and an effort to move into higher margin product offerings. Volatility in the prices of inputs decreased over the last couple of years and the push into international markets has enabled V.F. Corp to achieve a lower effective tax rate. Another contributing factor to this increase in net profit margin is the ability to sell products directly to consumers.
Management is well aware that direct-to-consumer selling is bringing home the bacon and they are pounding the philosophy through all business segments. During 2012, 21% of total revenues were direct-to-consumer sales. This is an increase of 25% from the year earlier. Every business segment executive stated during the Q4 earnings call that growth in direct sales to consumers is a high priority in 2013. V.F. Corporation opened 141 direct-to-consumer retail stores in 2012 and expects to open 160 more stores in 2013.
Diverse Portfolio of Product Offerings
Similar to a great portfolio of stocks, a great portfolio of product offerings must contain names that people are willing to buy and that are diversified across the sectors. V.F. Corp maintains a product line with precisely those characteristics. The company can be thought of as segmented into four different categories with each category containing several brands. The categories are: Outdoor and Action Sports, Jeanswear, Sportswear, and Contemporary. The current product offerings are a result of the company shifting towards higher margin businesses with an international presence. V.F. Corp is also licensed to sell official MLB, NFL, and NBA merchandise. More recently, the company has tapered down the premium offerings and opted to concentrate on providing more affordable products.
The Outdoor and Action Sports category accounted for 50% of total revenues during 2012. Although this is a high concentration of sales, the brands have great reputations and are more than capable of propelling the company forward. The North Face, Vans, and Timberland are the current brands and the company is looking to acquire surf-wear brand Billabong. This broad array of brands enables V.F. Corporation to sell to consumers in a variety of environments. Uncommonly warm winters could hurt sales in one brand while benefiting sales of another.
The North Face is one of V.F. Corp's most well-known brands. The brand is typically known for heavy coats and other garments worn in extreme cold and wet conditions. Many investors question the viability of these offerings with the recent warm winters in the United States, but rest assured because management has remained one step ahead by rolling out lighter and more contemporary products that are popular and practical for all seasons. Most importantly, V.F. Corporation invests in an impressive research and development program that ultimately leads to truly differentiated products. The North Face's revenues were up 9% last year and huge growth opportunities are present in Asia and Europe. The North Face is well received in Europe and a few of the sources of growth are the UK, Poland, and Germany. V.F. Corp plans to have 800 direct-to-consumer retail stores opened in China by the end of this year and expects The North Face's Chinese revenues to surge 30%.
V.F. Corporation hit a home run with Vans during 2012. This brand embraces a counter culture popular among youth and provides artistic expressions of style and dependable performance for skaters. Vans' revenues were up 24% during 2012, but up 30% internationally. Additionally, European sales surged 60% from 2011. The success of Vans is critical to V.F. Corp's international expansion. China and Latin America are two regions that management has expressed a lot of interest in. There are also good growth opportunities in the United States because the popularity of the brand on the east coast has yet to reach the same status as on the west coast. Vans is a brand that can thrive during all seasons and remains affordable to young people.
Timberland is a new brand in the Action and Outdoor Sports segment. V.F. Corp acquired the brand in a $2B deal during 2011. Although Timberland is new to the lineup, it is not new to consumers and it is a leading brand in cold weather boot and apparel. Timberland is V.F. Corporation's largest brand in Europe with the largest market being Italy. Last year was challenging for the brand because of weakness in Europe and exceptionally warm winters. The brand did not lose money, but revenues were up marginally from the year before. Management has expressed some concern about the brand. They believe that taking the time to establish the brand in international markets today will provide a great source of revenues for the company in the future. Unfortunately it appears that Timberland's sales are being pushed around by the macroeconomic conditions of Europe.
Jeanswear is a high-margin segment for V.F. Corporation that is supported by strong brands like Wrangler and Lee. Sales were up 2% during 2012 but reflected the cyclical nature of the segment. Global macroeconomic conditions have also provided a headwind to this business. Latin America is a good source of sales growth as retail expansion in Chile and Argentina are showing promising trends. Pushing volume is important for the Jeanswear segment so an increase in inventories could prohibit the segment from achieving its maximum profit potential. This scenario has played out to some extent in Asia.
The final two business segments are Sportswear and Contemporary. Both of these categories registered high single-digit growth in revenues during 2012. Nautica is V.F. Corporation's most popular brand within both of these segments. The brand is expanding rapidly and entered markets in Russia, Turkey, and Brazil just last year. Nautica is another brand that benefits enormously from V.F. Corp's research and development program.
Management
The management team at V.F. Corporation is outstanding and headed up by Chairman and CEO, Eric Wiseman. This current regime is a continuation of unparalleled leadership. The company has transformed over the last 100 years and successfully adapted to changes in consumer preferences over that time. Moreover, the current leadership understands the importance of product differentiation and invests heavily in producing products that have unique characteristics. This management team also clearly communicates expectations for the future.
A great example that demonstrates how management skillfully adapts to changing environments is the evolution of The North Face brand. This brand originally focused on heavy cold weather gear but the last couple of years of warm winters posed a threat to this model. In addition to the weather, consumers' preferences were shifting to lighter weight materials that were more flexible. The North Face capitalized on these changes in consumer behavior and started producing more casual and universal garments that could be used in a variety of mild weather conditions. The success of this brand is crucial to the overall success of V.F. Corporation because the brand's revenue makes up such a large portion of total revenues.
Another great attribute of this management team is the focus on developing state of the art fabric and material. These technologies separate brands like The North Face and Nautica from competitors. FlashDry has been refined over the last few years and is a material that hastens the removal of water from the skin and basically helps to keep individuals dry and warm. Over 100 products incorporate the FlashDry technology. This year V.F. Corp is introducing Thermoball, a technology that provides the warmth of a traditional overcoat yet is light-weight and can pack away easily. This material is ideal for general outdoor activities and everyday use. V.F. Corporation is home to over ten unique technologies, including Gore-Tex and Windstopper.
Perhaps the greatest characteristic of this management team is how clearly they communicate current and future business expectations to the public. The company sets attainable goals and continuously updates the public on the progress or delay in achieving the goals. Management has established a 10% CAGR goal for the Timberland acquisition and has remained on that path so far. They also expect total sales to grow at a 10% rate year-over-year although Wiseman stated in the last earnings call that sales would probably grow at 6% this year. The company is also shooting for 15% operating margins by 2015. They achieved 13.5% in 2012.
Management also chooses to focus on operating efficiency and charging the right price to the right consumer. A heavy emphasis was placed on direct-to-consumer selling during the Q4 earnings call. This is where the incremental growth will come from because the margins are higher on this type of transaction. Direct-to-consumer selling also utilizes V.F. Corp's competitive advantage of owned and sourced manufacturing because items can come to market quickly and inventories can be kept lean. During 2012, the company experienced a $100M reduction in inventories while maintaining the full needs of all customers.
Fundamental Valuation
Improvement in fundamentals over the last year came as a result of tamed volatility of input prices and was also aided by international expansion. V.F. Corporation earned $9.63, up 17% from 2011, with record gross margins of 46.5%. Management expects earnings growth of 11% during 2013 to $10.70. The company also likes to focus on total-stock-return and has reported a 30% CAGR over the last three year period. The company has a 2% dividend yield and has a history of increasing the dividend over time. The chart below illustrates the approximated percentage change in the dividend using logged differences and earnings per share for V.F. Corporation since 2003.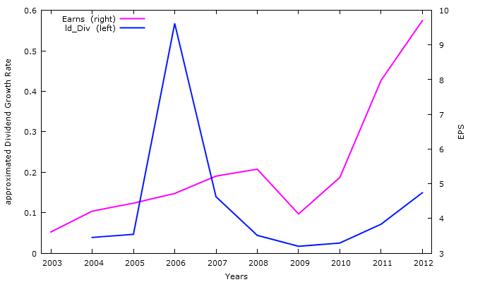 The dividend was increased nearly 60% in 2006 and has been increased every year since then. The rate of increase in the dividend has been steadily rising since 2009.
International sales comprised 37% of total revenues during 2012 and were up 29% from the year earlier. Management has set a five year target for international sales to be 45% of total sales. There are no current acquisition plans for 2013.
V.F. Corporation's current stock price is about $160. The stock does seem to be a bit expensive at this level when compared to peers. The chart below displays the price-to-earnings, price-to-cash, and price-to-sales ratios as compared to The Gap (NYSE:GPS), Limited Brands (LTD), and the industry median. The industry median can be a bit misleading because the industry includes companies like Sears Holdings Corp. (NASDAQ:SHLD).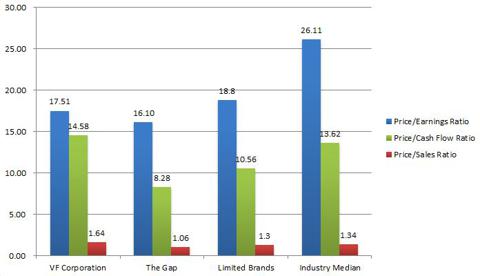 V.F. Corporation is priced less than Limited Brands on an earnings basis but is considerably more expensive based on cash flow and sales. It's a good thing management has been working to generate cash flow because that is definitely what investors are paying for here. The same peers are compared on a profitability level in the chart below.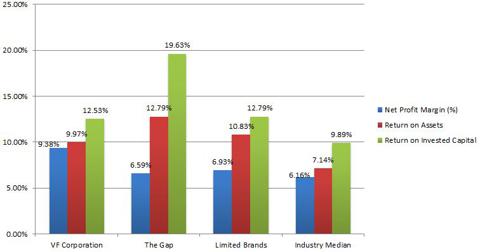 V.F. Corp does have great net profit margins when compared to peers, but the return on assets and invested capital come in a little light against The Gap and Limited Brands.
Technical Backdrop
The five-year chart below shows extraordinarily bullish activity in the stock since the beginning of 2009. This is a great chart to analyze because the price seems to follow a great technical path. First of all, the yellow lines show an ascending wedge pattern that takes about two years to develop. The price broke out from the wedge during the spring of 2011 and channeled higher (blue lines) until the stock met some resistance at a double top at $140.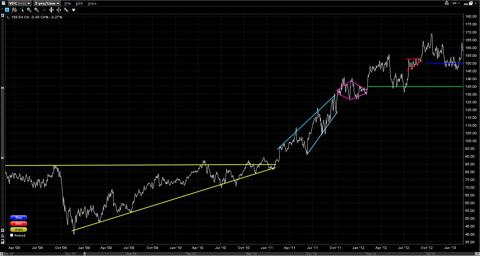 The stock then displayed a diamond continuation pattern (purple lines) finding support at $125. The stock price subsequently continued higher during the spring of 2012. The price took a dive in May of 2012 but found support at $135 (green line). This support level was the area that the stock broke out from following the diamond continuation pattern at the end of 2011. The stock put in a double bottom at this level and powered higher where it consolidated into a pennant pattern (red lines) and broke out even further to the upside. There currently appears to be a reverse head and shoulders pattern formulating which is generally seen at market bottoms. The head of this pattern is the dark blue line at $150. This dark blue line also points out the bottom of the cup in a commonly bullish cup and handle pattern. The six-month chart below shows this cup and handle pattern (light blue lines) more clearly.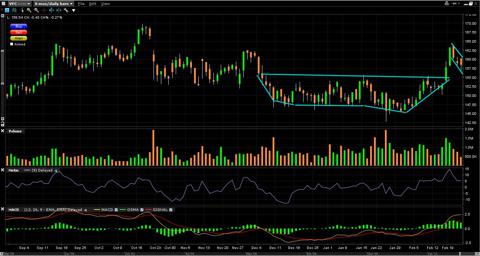 The bottom of the cup has been forming for a little over two months now and the handle is currently in the consolidation period. It is not uncommon for consolidation to take place over a period of a few weeks. The momentum in the stock has tapered a bit recently and the MACD is registering somewhat of an overbought signal.
Considerations
Any investor looking for a reliable cyclical stock will benefit from what V.F. Corporation can offer. The company practices sound economics and the product lines are popular around the globe. Investors do not have to question the ability of management and can trust that dividend increases will remain intact moving forward. Investors looking to initiate a position must consider if it is currently the best time to do so. The stock does seem a little overpriced relative to peers and the near-term chart looks like some healthy consolidation is already underway. Positions would be better initiated under $155 and in the [135, 150] range (green and dark blue lines on the five-year chart above) is even better. CEO, Eric Wiseman, stated during the last earnings call that Q1 of 2013 will be the weakest quarter and Q4 will be the strongest quarter so don't rush to get in here, but keep an eye on V.F. Corporation.
Disclosure: I have no positions in any stocks mentioned, and no plans to initiate any positions within the next 72 hours. I wrote this article myself, and it expresses my own opinions. I am not receiving compensation for it (other than from Seeking Alpha). I have no business relationship with any company whose stock is mentioned in this article.