Given the strength we've seen in the market this year, it is hard to believe that with February almost over and we still have not seen a Monday where the S&P 500 has been up. That could change today as futures were indicated to open up moderately higher on the day, so we will see what four o'clock brings. The table and chart below summarize the daily performance of the S&P 500 by day so far this year. In the table, the days with no shading indicate the month of January, while days shaded in gray are from February.
So far in 2013, Friday has been the best day of the week for stocks as the S&P 500 has averaged a daily gain of 0.46% with positive returns 75% of the time. True to form, though, the Friday party has been turning into a Monday hangover as the S&P 500 has yet to finish in the green and has averaged a decline of 0.36%. The Monday hangover has been short-lived, though, and Tuesdays have actually been the second best day of the week, with an average gain of 0.38% with positive returns 85.7% of the time.
Another interesting aspect of the first two months of 2013 has been the fact that there have already been two days where the S&P 500 saw a daily percentage change of less than 1 basis point (Jan. 11 and Jan. 24). Going back to 2000, there have only been 20 other days where the S&P 500 had a daily move of less than one basis point, so with two already this year, it should not be too surprising that the VIX is so low.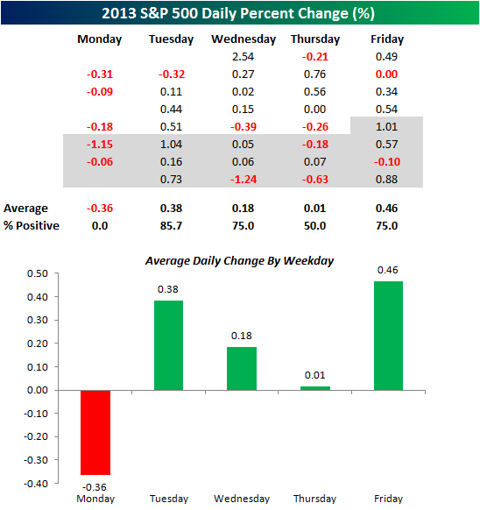 Click to enlarge