Spirits companies sold 3 percent more liquor in 2012 in the United States than in 2011, fueled by flavored drinks and a big thirst for Irish whiskey and single malt Scotch. On a revenue basis, sales rose 4.5 percent to $21.3 billion, as higher-end spirits outshone value brands, according to the Distilled Spirits Council of the United States.
The distilled spirits industry market share edged upward in 2012, gaining share from both beer and wine, as companies innovated with new, sophisticated line extensions, and as a decade of regulatory modernization for spirits continued to pay dividends.
Spirit companies had increased 2012 revenues in the U.S. market partly due to price increases. However, the fastest spirits growth in term of volume is in emerging markets such as Latin America, Asia Pacific region and Africa.
U.K. based Diageo (NYSE:DEO) is well positioned to capture the emerging market growth. Diageo is one of the world's leading producers of premium alcoholic beverages, with international brands including Smirnoff, Johnnie Walker, Guinness, Baileys and J&B. Emerging markets are performing strongly for Diageo with high demand for Scotch whisky in Latin America and beer in Africa as the company takes advantage of economic growth in those regions.
The world's largest spirits group by revenue wants faster-growing markets, currently 42% of the group's top line, to account for half of its sales by 2015. Recent acquisitions in Turkey, China and Brazil have bolstered its global position. Deals made in the last two years added GBP300 million to net sales.
Diageo reiterated medium-term guidance for average organic top-line growth of 6%, operating margin improvement with the first 2 percentage points achieved by fiscal year 2014, along with double-digit earnings per share growth.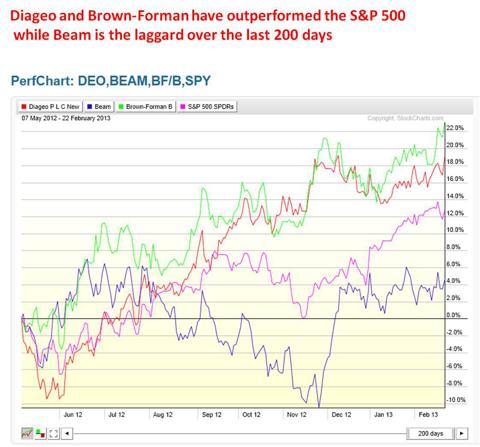 Diageo is undervalued at $120 based on a price earnings ratio of 20 and 2013 projected EPS of $6.59. Diageo has a 12-month price target of $135. The stock has a current dividend yield of 2.36% following a 9.84% increase in the past year. Diageo has an analyses consensus equity summary score of 9.7 out of 10 for a very bullish outlook.
Brown-Forman Corp (NYSE:BF.B) is a leading distiller and importer of alcoholic beverages markets with notable brands such as Jack Daniel's, Southern Comfort, Finlandia and Korbel. Brown-Forman is also chasing the international and emerging market spirits growth.
Brown-Forman recently announced that it is establishing its own distribution company in France, effective January 1, 2014. Brown-Forman's business in France has grown at a double-digit annual rate since 2005. France will join the U.S., Germany, Australia, Poland, Mexico, China, South Korea, Brazil, the Czech Republic and Taiwan as countries where Brown-Forman has fully-owned sales and marketing operations.
Brown-Forman should continue to capitalize on positive industry trends with its strong portfolio of spirits and international reach, particularly with its Jack Daniel's brand. In the U.S., we expect momentum in the bourbon category to continue, supported by recent new product innovation by Brown-Forman and longer-term demographic trends with multicultural/Hispanic consumers favoring spirits.
Brown-Forman's fiscal second-quarter earnings rose 9.8% as price increases contributed to the wine and liquor company's improved margins. The company also raised its full-year earnings estimate to between $2.58 and $ 2.70 a share from its prior view of $2.40 to $2.67.
Brown-Forman is fairly valued at $67 based on a price earnings ratio of 24 and 2013 projected EPS of $2.70. The stock has a current dividend yield of 1.53% following a 9.26% increase in the past year. Brown-Forman has an analyses consensus equity summary score of 5.7 out of 10 for a neutral outlook.
Last December, Brown-Forman sold $750 million senior unsecured notes to use the net proceeds from the offering principally to pay a special cash dividend of $4.00 per share on its Class A and Class B Common Stock, which was announced on November 27, 2012. Class A shares are closely held by the founding family.
Beam Inc (NYSE:BEAM) is the world's fourth largest premium spirits company, and the second largest in the United States. Leading brands include Maker's Mark bourbon, Jim Beam bourbon, Sauza tequila, Courvoisier cognac, Canadian Club whisky and Teacher's scotch.
Beam gets the worst management award for announcing they were watering down their Maker's Mark traditional bourbon. Maker's Mark said it was taking back a decision to reduce the alcohol content in its bourbon because of a large number of complaints from customers. Maker's Mark had decided to lower the alcohol content due to supply constraints amid strong demand, but it said an "overwhelming response" had led it to reverse that decision.
I see it this way - if a bartender adds 2 ounces of water to each 12 ounce glass of beer, then the taste will be drastically changed and the consumer ripped off to the profit of the bar owner. This definitely illustrates incompetent thinking by Beam management making investors wonder what will be their next stupid idea. Bourbon is a product of a traditional aging process and watering it down will affect the product.
On Feb 1, 2013, Beam announced it had increased its advertising by 20% for the previous holiday season when this money would have been better spent on creating new capacity to develop more products in the future since traditional bourbon must be aged before going to market.
For the fourth quarter, reported net sales increased 11% and net sales were up 5% on a comparable basis. Comparable sales growth reflected strong results in the core markets of the United States, Australia and Germany. Diluted EPS before charges/gains for the quarter was $0.67, down 3%, reflecting the company's previously projected 20% increase in brand-building investment.
Beam is fairly valued at $62 based on a price earnings ratio of 24 and 2013 projected EPS of $2.59. The stock has a current dividend yield of 1.45% following a 9.76% increase in the past year. Beam has an analyses consensus equity summary score of 1.8 out of 10 for a bearish outlook.
Equity summary score provides a consolidated view of the ratings from a number of independent research providers on Fidelity.com. It uses the providers' relative, historical recommendation performance along with other factors to give you an aggregate, accuracy-weighted indication of the independent research firms' stock sentiment.
Disclosure: I have no positions in any stocks mentioned, and no plans to initiate any positions within the next 72 hours. I wrote this article myself, and it expresses my own opinions. I am not receiving compensation for it (other than from Seeking Alpha). I have no business relationship with any company whose stock is mentioned in this article.