By Siraj Sarwar
American Capital Agency (NASDAQ:AGNC) is one of the most popular stocks among income-oriented investors. As a mortgage-backed real estate investment trust, American Capital invests in collateralized mortgage obligations and agency pass-through securities.
The business environment has been significantly difficult for Mortgage Real Estate Investment Trusts (mREITs) over the recent years. Financial and economic swings had a negative effect on the mortgage securities. Moreover, Fed's initiatives such as Operation Twist, QE3 and QE4 also affected their business negatively by reducing interest spreads.
Amidst this atmosphere, American Capital Agency has made it clear that it would maintain its current enormous quarterly dividend of $1.25 per share. American Capital has a strong financial position at present. The mREIT has shown strong assets management, which led them to post substantial earnings. In the last quarter, the mREIT changed its investment strategies to benefit from encouraging financing opportunities in the TBA dollar roll market. The TBA dollar roll market has significantly improved the net carry on its agency mortgage positions.
In this article, I look at this mREIT's dividend profile and fourth quarter results to examine the projected returns for interested investors.
Dividend Profile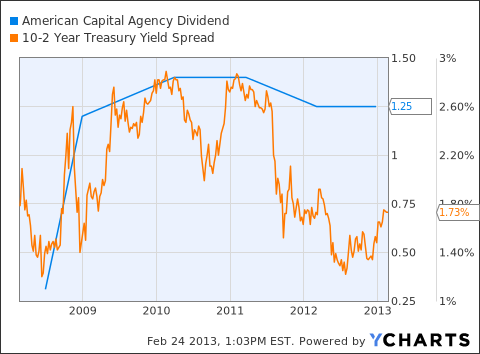 AGNC Dividend data by YCharts
American Capital Agency is a hefty cash generating machine. The mREIT has been consistently sustaining stable quarterly dividends of $1.25 for the last four quarters. In contrast to volatile macroeconomic circumstances, the mREIT is still able to sustain its dividends. American offers one of the best annual dividends of $5 per share, yielding at 15.72%.
Furthermore, this mREIT is offering one of the highest dividends among its peer group. Many mREITs are now lowering their dividends due to the volatile economic situation. One of its closest peers, Annaly Capital Management (NYSE:NLY) is currently offering a dividend of only $0.45, yielding at 13.81%. Annaly Capital Management has constantly decreased its dividends in the consecutive past ten quarters.
Due to the difficult macro-economic environments, mREITs spread rates overall have fallen significantly. Spread is the primary driving factor for mREITs to generate earnings and distribute dividends. Still, American has been able to maintain constant quarterly dividends of $1.25 over the past four quarters, representing a strong management and a successful investment strategy.
Financial Analysis
Over the years, American has displayed both solid financials and strong growth prospects. The last quarter was extremely difficult for many mREITs, particularly due to the Fed's QE3 initiatives. Despite volatile situations, American Capital recently announced a massive Q4 result with a comprehensive income of $126 million. The mREIT generated an attractive 32% economic return for the full year. American generated core earnings per share of $2.37 for the Q4 of 2012, which is nearly 10 times higher than the core EPS announced in the Q3 of 2012.
American has a strong management team in place to manage its asset portfolio to achieve attractive returns. Regardless of the Fed's purchasing program, this mREIT's 77% of fixed rate assets were backed by lower loan balance mortgages. In addition, these securities have encouraging prepayment attributes.
American Capital has one of the best and lowest Constant Prepayment Rates [CPR] in the industry. At the end of Q4, the mREIT's CPR stood at 10%. American was able to decrease its Q4 CPR by 1% compared to Q3 of 2012. At the same time, for purposes of comparison, one of its closest peers, Annaly, had a CPR of 19%. Lower CPR demonstrates effective risk management by the mREITs.
Furthermore, American has a high net interest spread rate of 1.63%. Spread rate is a specific indicator to evaluate any mREIT's profitability and returns. American's net interest spread rate increased to 1.62%, compared to the previous quarter's 1.42%. AGNC has had an incredible net interest spread in these circumstances, while Annaly's net interest spread rate has fallen to 0.95% at the end of Q4.
Moreover, this mREIT is consistently improving its book value over the years. At the end of 2012, its net book value stood at $31.64 per share, an increase of 10% over the Q4 of 2012. This reflects the fact that the stock is undervalued at present as it is trading at $32.10 per share, and analyst has a mean target price of 36.50.
Competition
Two of American Capital Agency's industry peers are Annaly Capital Management and Two Harbors (NYSE:TWO). The following table lists valuable comparative metrics of these mREITs.
| | | | | |
| --- | --- | --- | --- | --- |
| | AGNC | NLY | TWO | Industry average |
| P/S | 10.8 | 8.3 | 7.6 | 8.1 |
| P/B | 1.0 | 0.9 | 1.1 | 1.9 |
| P/E | 13.0 | 10.4 | 16.5 | 35.1 |
| Rev Growth% | 175.4 | 10.2 | 242.8 | 5.3 |
| Operating margin% | 84.1 | 85.6 | 82.8 | 32.8 |
| Net margin% | 83 | 81.0 | 46.1 | 28 |
| Dividend yield | 15.54 | 13.95 | 13.68 | - |
Source: Morningstar.com
American Capital Agency is trading at attractive price multiples. This mREIT has solid margins and growth potential. In addition, the company has the highest yield among its peer group. American's stock currently trades around its book value and offers a hefty yield of 15.54%. Two Harbors is currently trading with a premium over the book value, whereas Annaly is trading at a discount.
Summary
American Capital Agency has displayed a strong management and made timely changes to adjust its strategy to cope with the volatile market. As a representation of its strong management and asset allocation, the mREIT had an economic return of 30% in the last four years in a row.
AGNC has relatively lower CPR and higher net interest spread compared to the rest of the industry. I believe the company's step to TBA dollar roll market can shield this mREIT's double-digit dividends against the Fed's QE3 initiatives at least for the next year, and possibly beyond. I am optimistic about AGNC's ability to continue to create value for shareholders.
Disclosure: I have no positions in any stocks mentioned, and no plans to initiate any positions within the next 72 hours.
Business relationship disclosure: Efsinvestment is a team of analysts. This article was written by Siraj Sarwar, one of our equity analysts. We did not receive compensation for this article (other than from Seeking Alpha), and we have no business relationship with any company whose stock is mentioned in this article.