Everyone knows about the bullish positives of Apple (NASDAQ:AAPL) like its low valuation and having strong products that are still selling in millions no matter what Samsung does. Everyone knows the bearish negatives as well: a stock in downtrend, a management that seems inept at handling its own cash, and an uncertain product pipeline.
This article presents some of the negatives that have come up recently and presents a rebuttal for each of the negative issues, with as much an open mind as possible without taking sides. We conclude the article with what our stance is. Let us get the debate going.
Issue #1: Declining Margins and Cheaper iPhones: One of the major reasons for Apple's stock taking a beating is the concern over declining profit margin. There has been a decline as shown in the chart below.

(Source: Ycharts.com)
The rumored iPhone mini has strengthened the case for the bears who quickly point out that Apple will not have a high profit margin on this supposed device. They (rightly) point out that Apple has always been a high-end niche product and catering to the lower priced segment shows the company cannot grow.
Rebuttal #1:
But the flip side could be serving the mass Chinese and to a lesser extent Indian markets. In spite of selling the two most popular smartphones - iPhone 5 and iPhone 4s, Apple is most certainly missing out on a majority of the addressable smartphone market. With recent studies showing the smartphone sweet spot is $300, Apple could certainly make up for lost margins through volume if it decides to enter this section.
And let us not forget Tim Cook's repeated visits to China could mean an impending deal with China Mobile (NYSE:CHL). At this point, your guess is as good as anyone's but a cheaper iPhone on an official deal with China Mobile could just be what the doctor ordered.
As far as India is concerned, even a $300 phone might not help Apple take much market share. The number of units sold in India is tiny in comparison with most of the developed and developing countries. But recent reports have suggested that Apple is willing to try out different distribution strategies, which resulted in iPhone getting the second place behind Samsung devices in the Indian market.
Issue #2: Revised Analyst Estimates: Apple has had to deal with analysts raising their estimates as a quarter progressed, though one could attribute it to the famous Apple sand-bagging. Not anymore. Analysts (and Apple itself) are being realistic and even pessimistic. The 2013 Q2 estimates have fallen about 18% over the past 90 days and look for it to drop further.
Rebuttal #2: Estimates being revised down could mean a dwindling business. But in all fairness, in Apple's case it's more about everyone getting realistic. Beating the watered down estimates could prove good for the stock. Amazon (NASDAQ:AMZN) investors should know all about it.

Issue #3: Greener Pastures: Day traders and short-term investors now probably have no interest trading Apple on the long side. The stock has little to no momentum on the upside. Google (NASDAQ:GOOG), Amazon and LinkedIn (NYSE:LNKD) have been doing well during Apple's fall and will continue to do well in the near future.
Rebuttal #3: A company can afford to do no wrong when it is the focus of every hedge fund and retail investor. Apple suffered (after benefiting earlier of course) from this and it has come to a point where a manufacturing plant in China reducing its workforce results in Apple's stock suffering. As stated in rebuttal #2, a little less attention and lesser expectations are exactly what Apple needs right now for long-term investors.
The love that Apple was getting on its run-up to $705 last year was beyond being called frenzy. Google has now taken over that slot this year, receiving upgrades almost every day, with the most recent upgrade having a price target of $1,000. The Google price and volume charts below look similar to the Apple charts during its epic run in 2012.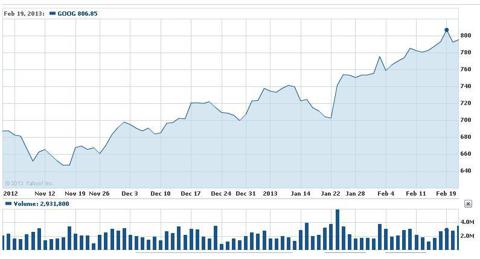 Issue #4: Negative Crowd Sentiment: Investor sentiment for Apple went from ultra-bullish to ultra-bearish in a matter of months. Calls for a one trillion dollar market cap have been replaced by questions like whether Apple will be around 3 years from now. Critics say this stock is technically broken and the company is weakening fundamentally with competitors catching up.
Rebuttal #4: Plenty of investors, including the bears when Apple was at $700, have benefited from being contrarian. Going against the crowd has benefited some of the best investors like Warren Buffett. Everyone and their grandma were bullish on Apple after it already had a great run in 2012. Perhaps it is now time to go against the bearish Apple crowd.
Issue #5: Inept Handling Of Cash: And now onto the elephant in the room. A lot of investors are skeptical about investing in companies not ready to share a big portion of their profits with shareholders. Apple's reluctance to let go of the cash hoard was already famous but David Einhorn has taken the issue to a whole different level recently. Skeptics say the firm is nonchalantly allowing shareholder value erase every day.
Rebuttal #5: Back in November, Robert Leitao published this article highlighting that the share per ratio reached its highest level ever in 2012. Apple holding back its cash might not be such a bad idea because a) the cash represents one third of the $450 share price right now. While there might still be room for the stock to fall more given the pessimism, the floor established by the cash on hand is undeniable. b) It gives the company plenty of room for future dividend increases and buybacks. c) It shows the company does not believe in "di-worsification," a process where a company gets into unknown territory just because it has some spare cash.

Issue #6: Lack Of Innovation: Tim Cook has not innovated and Apple has just been releasing "evolutionary" products instead of the "revolutionary" products it's known for. Competitors have undoubtedly caught up and the casual user can no longer find any difference between Apple's products and the Samsung devices. The bulk of Apple's revenues today is from products introduced in the past 5 years. So, a new product is critical to remain dominant in the future. Moreover, Tim Cook is this era's Steve Ballmer.
Rebuttal #6: Tim Cook is no Steve Jobs. He does not claim to be. He does not have to be either. But what people fail to realize (or at least admit openly) is that even Steve Jobs did not push out a new product every two years as widely believed. He took over the reins in 1997 and the music revolution came 4 years later in 2001 with the iPod. The iPhone was released in 2007, a gap of 6 years. The iPad came out three years later in 2010, but Jobs and team had envisioned the tablet long before that. Cook is just into the second year of his tenure. He may or may not introduce a new product by 2014. But the point is that the innovation issue is overblown way too early.
If you believed in Steve Jobs' vision when he was alive, you should perhaps believe in it now too. Because this was a guy who said in the 1980s that he wanted to build a hand-held computer (that is the tablet). It is hard to believe that he would have selected a management team that is not fit to carry forward this vision. Those who read Jobs' biography might recall that he explicitly talked about "cracking" the smart television idea. And there was a subtle hint about the car industry as well. Who knows what is in the pipeline in this ultra-secretive company?
Conclusion: It's not an understatement to say that this stock touches the emotions of investors. The bullish frenzy has been replaced by extreme pessimism, which has now presented investors a chance to buy a relatively fast growing stock at 10 times current earnings and a PEG of 0.5.
We do believe Apple will a) boost its dividends significantly this year and keep doing so for years to come. b) strike a deal with China Mobile (remember even Steve Jobs said Tim Cook is a better negotiator because he is a "cool-customer") and c) introduce at least one more revolutionary product, be it the iWatch or iTV. And the crowd pessimism helps as well for the contrarian investor.
Disclosure: I am long AAPL. I wrote this article myself, and it expresses my own opinions. I am not receiving compensation for it (other than from Seeking Alpha). I have no business relationship with any company whose stock is mentioned in this article.