By G C Mays
With $16.7 billion in sales in 2012, Agrium (NYSE:AGU) reported another year of record revenues. However, with the tailwind of accretive earnings dissipated, dealers reluctant to take inventory risk, and crop prices slumping after rising to historical highs in late 2012, could this be the year that revenues and earnings flatten out for the company? This is after all a cyclical business and 2012 marks the fourth straight year of higher revenues and earnings for this agricultural chemicals behemoth. Let us take a quick look at the quarter and full year before we decide.
Retail
Following last year's sales increase of 38 percent in the fourth quarter due to accretive revenues from the Landmark retail operations that the company acquired as part of its December 2010 acquisition of AWB Limited, Q4 sales in 2012 rose a more modest 7.8 percent to $1.97 billion. For the full year, sales grew 11.3 percent to $11.4 billion. Revenues in the crop nutrients, crop protection, and seed product lines all swelled during Q4 and year over year. Merchandise was the only part of the retail segment down for both Q4 and the full year. Services revenues slumped in Q4 but for the year, sales rose to $718 million, an increase of 16.5 percent.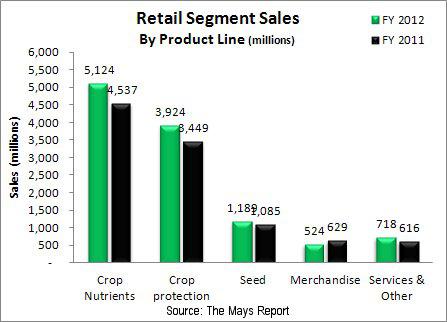 The crop nutrient and crop protection businesses make up about three-quarters of the company's retail operations. The company cites a large planting of winter wheat acres and good weather for sales gains in these businesses. The seed business also benefited. The latest WASDE report estimates that farmers planted 55.7 million acres of wheat in the 2012/13 marketing year, a year over year increase of 2.3 percent. Gross margins in the crop nutrients business were flat to slightly lower at 16.0 percent versus 16.7 percent a year ago. The crop protection business offset this slight decline with a slight increase to 23.6 from 23.1 percent in 2011.
Despite lower Q4 and annual revenues, gross margins in the company's merchandise sales business were more than 3 percent higher in 2012. The higher merchandise prices increased gross margins but may have reduced overall sales. The services business saw slumping fourth quarter sales as well. According to the company, this was due to price pressures in the livestock and wool sectors in its Australian retail operations.
Wholesale
For the year, the company's wholesale operations saw sales dip roughly 2 percent to $5.45 billion on what the company cited as weak international potash demand. However, phosphate sales were also lower as tons sold as well as price per ton slumped during the quarter and full-year. Sales of products purchased for resale, which accounts for nearly 27 percent of wholesale operations revenues, were also down during Q4 as well as the full year. For the full year, sales totaled $1.45 billion, 7 percent lower than a year ago.
Offsetting that weakness was strong sales in the nitrogen business during Q4 as well as for the full year. Record acreage planted in the US in the spring of 2012 and in South America during its spring planting season drove higher tons sold and revenues during both Q4 and for the full year. Nitrogen revenues were $623 million in Q4 and $2.29 billion for the full-year. This represents year over year increases of 5 and 12 percent, respectively.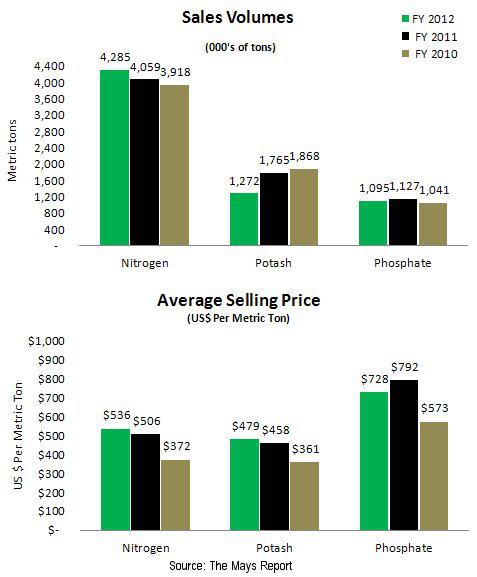 Demand for nitrogen has been strong while potash pricing has been elastic over the same period i.e., the higher the price, the lower the demand. At least in the case of India with its high inflation and weakening currency there were also some externalities involved in a wish to delay potash purchases and negotiate a lower price.
The company's wholesale business will likely continue to feel pressure as it remains uncertain where crop prices are going to settle at as we enter the spring planting season in the Northern Hemisphere. Currently crop prices remain high enough to encourage strong fertilizer applications during the spring planting season. That could change as crop harvests get underway in the Southern Hemisphere countries of Brazil and Argentina.
Advanced Technologies
Turf and ornamental sales of $63 million in Q4 was 22 percent lower than a year ago while agriculture posted an 18 percent gain to $77 million. For the full year, turf and ornamental revenues eked out 0.9 percent gain with sales of $314 million. Agriculture also posted a large year over year gain of nearly 33 percent with total sales of $264 million.
What's the Stock Worth?
Using basic price multiples the stock looks inexpensive compared to its broad peer group averages. Based on a recent closing price of $101.13, the stock is trading at a price to earnings, price to book, and price to sales ratio that is lower than its peer group averages. Note that these stocks tend to trade on a price to sales basis. Price to sales has the lowest standard deviation of the four price multiples.
Clearly, the stock is trading at a level that makes it look attractive. Does this mean that Jana Capital's assertion that the company is more valuable in pieces than as one is correct? Not necessarily, however, it is easy to see how one might see trapped value within the company. The author will take a detailed look into this in a future installment.
What's Next?
Agrium has a unique advantage in that it has a footprint across the value chain. This position allows them to shift normally higher wholesale margins downstream during economic weakness by lowering prices while other firms must absorb the effect of lower prices on margins. They can then shift them back upstream when demand for inputs increases during an economic upswing.
Clearly, this company occupies a unique space within the fertilizer industry. Just as with last year, I expect the company to outperform its peer group given the forecast of planted corn acres in the U.S. However, relative out performance does not always mean higher. With crop and fertilizer prices still at historically high levels, better weather this spring and summer could mark the beginning of a cyclical decline in the industry.
Disclosure: I have no positions in any stocks mentioned, and no plans to initiate any positions within the next 72 hours. I wrote this article myself, and it expresses my own opinions. I am not receiving compensation for it (other than from Seeking Alpha). I have no business relationship with any company whose stock is mentioned in this article.