On Thursday, November 21st, Governor Brian Sandoval of Nevada signed into law, new legislation that would legalize online gambling throughout his state.
According to Hanna Dreier of the Associated Press, "AB114 authorizes Nevada to enter into agreements with other states to offer Internet Poker. It sailed through both the Assembly and Senate on Thursday after a joint hearing before the two judiciary committees". With that said, I wanted to examine one social media gaming company and demonstrate how its real-money poker platform could improve its Average Daily Bookings Per User in both the US and Europe.
Zynga (NASDAQ:ZNGA) which is based in San Francisco, California develops, markets, and operates online social games as live services on the Internet, through social networking sites such as Facebook (NASDAQ:FB), and various other mobile platforms. One of the company's leading titles, Zynga Poker, could see a much larger influx of players and as a result play a vital role in increasing the company's average daily bookings per user.
Fundamentals: Shares of Zynga which closed at $3.19/share on Friday have a market cap of roughly $2.46 billion, possess $1.28 billion in total cash and carry roughly $100 million in total debt. In the past 12 months, Zynga has demonstrated an operating cash flow of $195.77 million and a negative free cash flow of -$105.70 million. It should be noted that shares of Zynga are up 33.47% since January 1st.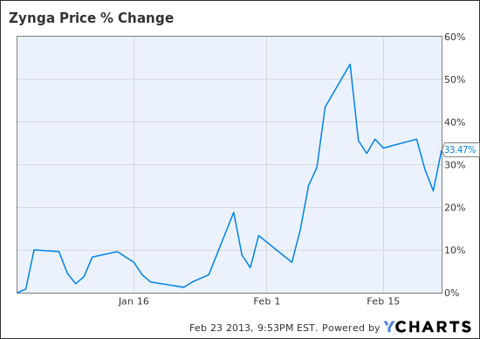 According to the company's website, "Zynga Poker was our first social game and is the largest free-to-play online poker game in the world. Players have the option to play at any table, meet new people from around the world or join friends for a game, choosing from casual Texas Hold 'Em tables, tournament play or VIP tables".
The Market: Analysts at Morgan Stanley (NYSE:MS) estimate more than 170 million people play simulated casino games on social networks, more than triple the number of real money online gamblers. However, the number of potential 'real-money players should increase not only with the passage of the Nevada law but the fact such laws are being considered in other states, most notably New Jersey.
As of the right now, free players are given the incentive to play more as they are awarded free chips when they log on to a majority of the casino, slot and poker-based applications each day. If players run out of chips, they can either wait roughly 2 to 4 hours for their chips to regenerate or buy more chips with real money. Although players are buying more chips with real money, this does not mean the games are for real money since the prizes are currently paid out in coins that are unable to be converted to cash. With the passage of AB114, and the potential approval of a Nevada gaming license, such interface options could change in the near future.
When it comes to the real money player, similar chip-type bonuses may entice players to deposit even more as complementary offers (similar to those which are present in physical casinos) could result in free chips or additional chips based on a player's initial deposit or subsequent deposits. These subsequent deposits could in fact boost Zynga's revenue and play a key role when it comes to the company's marketing efforts geared at attracting new players. Not only will Zynga benefit from maximizing the idea of a player bonus, the company will also enhance its revenue per user by offering players the ability to choose between play money and real money.
For example, Big Fish Studios, a Seattle developer, introduced Big Fish Casino, an iPhone app, in Britain last fall. According to Paul Thelen, Big Fish's founder and chief executive, "average revenue per player is exceeding $20 a day, whereas in virtual currency it was 30 or 40 cents".
If Zynga, which recently reported a 17% decline in year-over-year Average Daily Bookings Per User ($0.061/user in 2011 vs. $0.051/user in 2012), can demonstrate similar returns when it comes to its Zynga Poker platform, I see no reason why those numbers can't conservatively exceed $0.12 to $0.14/user.
Key Partnerships: Although no formal partnership with Caesar's Entertainment (NASDAQ:CZR) has been announced, Zynga should begin to strongly consider such an alliance as other competitors within the mobile gaming space have taken the steps needed in to capitalize on the legalization of mobile gambling.
For example, and in an effort to reach a greater mobile gambling audience, International Game Technology (NYSE:IGT) purchased casino mobile app maker Double Down Interactive in January for $250 million in cash, plus another $250 million if certain milestones are met.
It should also be noted that the front runner for a partnership with Zynga, Caesar's Entertainment, purchased Isreali-based Playtika, maker of the mobile gambling game Slotomania, back in 2011. As of Q1 2013, Slotomania currently averages 6.384 million active monthly users. In my opinion, it would be in Caesar's best interest to form a partnership with Zynga since Zynga Poker averages 27.845 million monthly active users which is roughly 4.5 times the size of Slotomania's reach.
What's Next: When it comes to the real-money player, online poker revenue tends to generate 100x times that of the revenue generated by the free poker player and therefore Zynga would need to not only expand its efforts to Nevada-based players but in a region where such online gambling is allowed, and that region is of course Europe.
According to fellow SA Contributor Kyle Coker, Zynga's plans to expand into the real-money gambling world could occur as early as first or second quarter of 2013. "In Zynga's most recent conference call, the company explained how they would have overseas internet gambling up and running by early 2013. Online gambling is expected to generate nearly $200 billion in revenue in 2015, according to most estimates, and previously declared-illegal US poker sites, such as PokerStars, have generated more than $5 billion a year in the past".
Final Analysis
For potential investors looking to establish a position in Zynga, I'd keep in mind that the Nevada law only pertains to Nevada-based users and therefore my attention would shift to focus on how well Zynga's real-money Poker platform performs in Europe. Even though the passage of Nevada's legislation is a step in the right direction for Zynga, I'd be much more open to a larger position once multiple states approve similar types of legislation.
Disclosure: I have no positions in any stocks mentioned, and no plans to initiate any positions within the next 72 hours. I wrote this article myself, and it expresses my own opinions. I am not receiving compensation for it (other than from Seeking Alpha). I have no business relationship with any company whose stock is mentioned in this article.