William Osborne, a member of the board of directors at Abbott Laboratories (NYSE:ABT), bought 10,000 shares of the company at over $33/share. This is positive news for Abbott, as this insider purchase indicates Osborne's confidence in the company. This purchase has also encouraged investors to buy ABT stock, and the consensus recommendation on NASDAQ and NYSE is indicative of this development.
Writing a general introduction about Abbott has become a lot more interesting since the company split into two separate entities this January. Out of the two entities, one retained the name of Abbott Laboratories while the other was named AbbVie Inc. (NYSE:ABBV). Each shareholder gained one share of ABT and one share of ABBV upon the split.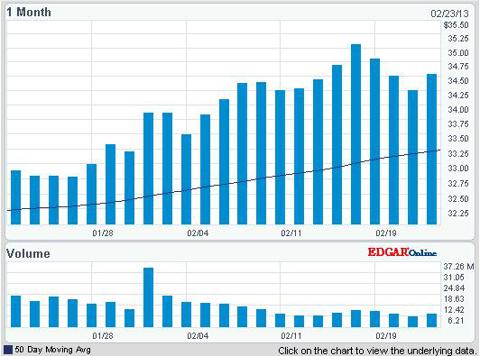 Currently, ABBV shares are valued at $38.46 with an indicated annual dividend of $1.6, a P/E ratio of 12.53, and an EPS of 3.1. ABT shares are valued at $34.26 with an indicated annual dividend of $0.56, a P/E ratio of 9.15, and an EPS of 3.75. Both companies operate in the pharmaceutical sector. AbbVie specializes in advanced research and development of pharmaceutics and therapies, and Abbott develops and sells healthcare products throughout the world.
Although Abbott has a diverse range of products, its main strength lies in its global outreach. Only 30% of Abbott's sales activities are directed at the US market, with another 30% catering to developed markets, and 40% to emerging markets. Abbott has operations in Canada, Europe, Japan, China, India, Australia, Brazil, and several other parts of the world.
The total revenue generated by Abbott Laboratories in 2012 was more than $39 billion with a gross profit of over $24 billion. These figures a slight improvement from the $38 billion in revenue and the $23 billion in gross profit earned in 2011. These numbers are going to change this year, but so far both ABBV and ABT have proven to have a greater combined worth than the legacy Abbott Laboratories.
The value of ABBV has risen from $34 to over $38 with a slight fall in the early weeks of February where the value dipped below the $36 mark. ABT stock was initially priced at $34, and briefly crossed the $35 mark a few days ago. It has been about two months since Abbott split into two companies, and AbbVie seems to be doing a lot better than Abbott when it comes to the stock market.
Why Would Osborne Buy Abbott Shares Instead Of AbbVie?
Given the discussion in the previous section, it seems obvious that any novice investor should go for ABBV instead of (or along with) ABT at this point in time. While ABT has shown stability, ABBV has shown significant growth. Does Osborne know something we don't?
When it comes to insider purchasing, it can be used as an indicator of future growth. If the purchase value is in hundreds of thousands of dollars, the insider surely expects greater returns and has therefore chosen to invest in the company instead of diversifying his portfolio. Although insider trading activity for Abbott has been high since Osborne's purchase, and more than $680,000 worth of stock has been sold by several executive vice presidents and senior vice presidents of the company from February 1 onwards, none of those individual sales were greater than $163,000, and the lowest one was just below $14,000.
Insider trading in smaller amounts is common in the stock market, and insiders sell when they reach their targets and wish to diversify their portfolios. However, insider selling in large amounts sends a negative message, and an average investor is inclined to think that the stock is about to drop. For an organization as large as Abbott, trades in the range of hundreds of thousands may not be very significant. However, $338,500 is still a lot of money, so why would anyone, especially an insider like Osborne, choose Abbott over AbbVie?
The answer to this lies in the long term risks associated with AbbVie and the growth potential in Abbott. Experienced investors like William Osborne do not buy shares based on the market trends of two months; they wish to invest in something that can grow over time and can build value over a longer period.
AbbVie's long-term plans indicate that their new products would be introduced in 2015, and until then they would depend on Humira and Androgel (drugs for arthritis patients) for revenue. The company has several products in the pipeline, mostly drugs for Hepatitis C, Parkinson's Disease, Multiple Sclerosis and Endometriosis. When those drugs are released in the market, they will generate an estimated revenue of $4-$6 billion a year. However, this pipeline will only start producing in 2015, so buying AbbVie is essentially committing your money for 3 or possibly 4 years knowing there may be little return.
Although AbbVie's indicated annual dividend of $1.6/share is more than twice what Abbott plans to pay this year, hey are still a high risk investment.
Meanwhile, the sales of Abbott's nutritional products in emerging economies are estimated to grow by 35% this year. Along with the nutritional products, Abbott's generic drugs will also do well in these markets. China has pushed generic drugs in order to reduce healthcare costs, and the market is ripe for Abbott to gain sales. In India, the generic drug market is estimated to grow even further, leaving Abbott with yet another opportunity to grow its market share.
With the per capita income rising in emerging economies, more and more people will be able to buy Abbott's generic drugs and nutritional products. Hospitals and other healthcare facilities in emerging economies would also be able to afford Abbott's medical devices. With Abbott making 40% of its sales in emerging economies, it seems as if 2013 would be the year of growth for ABT stock. Keeping all those factors in mind, it is no surprise that William Osborne chose ABT over ABBV for his insider investment.
What Does This Mean for You
As a potential investor, you have read about Abbott's split, stock value, growth potential and the recent insider purchase and trading. Now, we have to decide whether ABT is worth the investment.
Investors interested in the pharmaceutical sector have many options including GlaxoSmithKline (NYSE:GSK), Novartis AG (NYSE:NVS), Pfizer Inc. (NYSE:PFE) and Merck & Co., Inc. (NYSE:MRK). Compared to these companies, Abbott is a very low risk investment. Abbott has a diverse portfolio within the pharmaceutical industry, and holds a sizeable market share in emerging economies.
40% of Abbott's sales activity is based in countries like China and India. With these markets presenting new opportunities, Abbott's market share is bound to increase even if they do not drastically change their current strategy.
The only negative factor that may discourage investors from buying ABT stock is that the company's balance sheets, net worth, past trends and several other economic indicators from Q4 2012 cannot be applied to either AbbVie or Abbott. The fact that ABT has inherited its name from the legacy Abbot laboratories, and that AbbVie has inherited huge products such as Humira and Androgel do not make things easier.
AbbVie's rapid rise in stock value has come from the fact that the company inherited Humira, and Abbott's lineup looks rather flat in comparison. If you are looking to make a buying decision based on past performance indicators, you would have a tough time deciding whether to invest in ABBV or ABT at all. However, if you consider the growth potential, investing in ABT is a no brainer.
Many analysts advocate buying Pfizer and/or Merck, but we recommend you look at these two main ideas:
40% of Abbot's sales activities are based in emerging economies.
These sales activities are estimated to grow by 35% this year.
We recommend buying and holding ABT shares, as all factors indicate the company would grow steadily and that the investors would benefit in the long run.
Additional Disclosure: Catalyst Investments is not a registered investment advisor or broker/dealer. Readers are advised that the material contained herein should be used solely for informational purposes. This information is not investment advice or a recommendation or solicitation to buy or sell any securities. Catalyst Investments does not purport to tell or suggest which investment securities readers should buy or sell. Readers should conduct their own research and due diligence and obtain professional advice before making investment decision. Catalyst Investments or anyone associated with Catalyst Investments will not be liable for any loss or damage caused by information obtained in our materials. Readers are solely responsible for their own investment decisions. Investing involves risk, including the loss of principal.
Disclosure: I have no positions in any stocks mentioned, and no plans to initiate any positions within the next 72 hours.
Business relationship disclosure: This article was written by an analyst at Catalyst Investments.