Coach, Inc. (NYSE:COH) has recently found its way onto my dividend stock radar. It derives most of its revenues from the sale of upscale women's handbags, and is expanding its way into the men's market to further drive growth. Coach is trading at a new 52-week low at $46.80, over 40% off of its 52-week high of $79.70, due to concerns of losing market share to competition such as Michael Kors Holdings (NYSE:KORS). This pessimism is due to a temporary decline in sales, but I see management leading the way to a bounce back in the near future. Factors such as 50% expected earnings growth in men's business for 2013 provide plenty of opportunity for this stock to rebound. Here are five reasons why I believe the recent decline is a great buying opportunity:
1. Brand - Coach has one of the most powerful brands in fashion, and has proved that it is not just a fad. Although I am no expert on women's handbags, even I know that Coach products are known for their very high quality. The company ranked first in a 2012 Digital Luxury Group survey on brand popularity, ahead of Louis Vitton, Chanel and Gucci. Forbes ranked Coach the world's 51st most powerful brand in 2012, ahead of giants such as Starbucks, MasterCard and Verizon. Coach is very capable of adjusting to new competition and can use its strong brand to its advantage.
2. Valuation - The current valuation of Coach makes it extremely attractive as a value stock with room for growth. With a forward P/E of less than 12 and a PEG of 0.93, Coach looks very cheap when compared to its peers. I like investing in companies with solid histories that have recently fallen out of favor in the market. With most stocks trading near their 52-week highs, getting Coach at a 52-week low looks to be a great buy-low opportunity.
3. Margins - Coach has margins that any company would be envious of. Gross margins are currently over 72%, greater than Michael Kors and Ralph Lauren Corporation (NYSE:RL), each of which are under 60%. This means that it costs Coach only $0.28 to manufacture every $1 of goods for sale, a tremendous margin. Net profit margins are consistently upwards of 20%, also above both KORS and RL. Although margins will likely compress slightly going forward so that Coach can compete in both the upscale and midscale markets, it will still remain one of the strongest in the industry.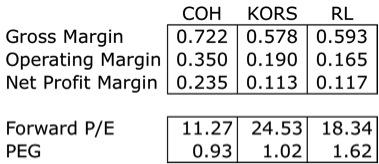 4. Strong Balance Sheet - Coach is very conservatively financed, with a debt /equity ratio of only .575. With over $850 million cash, and long-term debt of under half a million dollars, it is in a very flexible financial position. This would allow the company room for significant capital expenditures to accelerate growth, or allow for increased share buybacks. Coach has been aggressively buying back stock, decreasing its outstanding share count from 372 million in 2007 to about 280 million currently.
5. Dividend - Coach is now yielding 2.56% with a payout ratio of only 33%. Since COH initiated its dividend in 2009, it has been raised 87%, 53% and 30%, respectively. While this massive dividend growth cannot be expected to continue going forward, I could see Coach easily attaining 15% increases annually during the next five years, due to its low payout ratio and large cash position. With another expected increase coming in the next two months, Coach can make it five consecutive years of dividend hikes.
Although I do think Coach will outperform the market going forward, it is important to be careful and know the risks involved. Like I have stated above, the stock is at a 52-week low, meaning that Wall Street has reason to believe it is in decline. Concerns over revenue growth (or lack thereof) and margin pressure are driving the pessimism in the stock. Economic troubles in China would also cause problems for Coach, as it considers the Asian market its prime target for growth opportunities.
An investor who wishes for a lower entry price could sell out-of-the-money puts to collect a premium while waiting for the price to drop further. I would recommend selling a 44-strike April expiry put contract on COH for $95. I consider the April expirations to be much lower risk than anything else further out because they expire the week before Coach reports earnings. This takes away the possibility of another big drop in case of an earnings miss. These options would result in a $95 profit if the stock stays above $44. The investor would be assigned the shares on any drop below $44, with a breakeven point of $43.05, 8% below where shares are trading today.
I think the upside far outweighs the risk of investing in Coach. I believe that the stock will bounce back and trade much higher within the next year with a good earnings report or two. However, I won't mind being paid 2.5% annually to wait for this capital appreciation. The dividend growth also makes Coach an interesting candidate for a long-term income stock. Based upon the strong fundamentals mentioned above, I predict to see Coach trading close to $55 within the next year and providing great long-term shareholder value.
Disclosure: I am long COH. I wrote this article myself, and it expresses my own opinions. I am not receiving compensation for it (other than from Seeking Alpha). I have no business relationship with any company whose stock is mentioned in this article.