Thanks mainly to the largesse of the Federal Reserve, stocks are almost back to where they were five years ago. One of the things that has fascinated me over the last few years is the huge out performance of the retail sector. Over the past five years, the retail index (NYSEARCA:XRT) has beaten the S&P by some 100% (See Chart). On the surface, this does not make logical sense. Median income is down some 8% over the past five years and the housing market has just started to recover over the last year. Part of the resiliency of the consumer can be explained by the relatively low gas prices of 2009 and 2010 as well as temporary measures ($800B stimulus package in 2009 and the temporary payroll tax holiday of 2011 and 2012). In addition, the massive increase of government benefits such as the extension of jobless benefits to 99 weeks, an additional 17mm individuals on food stamps since 2008 and several million joining the disability rolls over that time span have also helped maintain spending levels even as they have ballooned the federal deficit.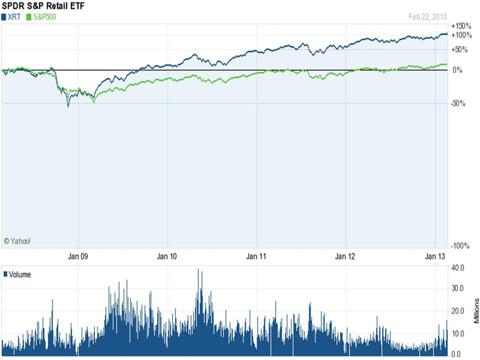 Click to enlarge
However, some of the supports under consumer spending are being removed and investors should be very attuned to how these developments will impact the retail sector and quite possibly the overall market as well. The expiration of the payroll tax holiday removed $120B out of consumer pockets and gas prices stand at a record high for this time of the year. In addition, chances of additional stimulus are virtually nil given the acrimony between the two political parties and the mixed results, at best, of the huge stimulus package of 2009. Listening to conference calls from retailers this week impacts from slowing consumer spending is already showing up in results and forward guidance.
Darden Restaurants (NYSE:DRI) Friday predicted a third-quarter profit Friday that was below Wall Street's expectations and the company also cut its outlook for the year. Revenue at Olive Garden, Red Lobster and LongHorn Steakhouse locations open at least one year is expected to fall 4.5 percent in the quarter ending Feb. 24. In addition, Darden's CEO added "higher payroll taxes and rising gas prices, along with severe winter weather, sent sales sliding in February."
This follows Wal-Mart (NYSE:WMT) offering a weaker forecast for the coming months. The company cited rising gas prices, delayed income tax refunds and higher payroll taxes as headwinds. This confirms that the poor and middle-class Americans that Wal-Mart caters to are struggling. These socioeconomic groups are big drivers of spending in the U.S. and this trend should hit other retailers that cater to the same groups.
The National Retail Federation just provided its 2013 economic forecast which projects retail industry sales to increase 3.4 percent, slightly less than the preliminary 4.2 percent growth seen in 2012. Online sales should increase at a much better 9% to 12% rate. The overall rate of increase will mark the slowest growth in retailing spending since 2010. I would look for this projection to turn out to be optimistic if we continue to see high gas prices and tepid economic/job growth.
Given the signs of decelerating consumer spending and the over performance of the retail sector over the last half decade. I would be very wary of putting additional funds into stocks into sector. In my own portfolio, I am substantially underweight the retail sector with only two small positions throughout the portfolio. I would be particularly negative on the prospects for firms that serve low income consumers that also lack an online presence. Dollar stores like Family Dollar (NYSE:FDO), Dollar General (NYSE:DG) and Dollar Tree (NASDAQ:DLTR) will be severely challenged in this environment. Something that has started to be reflected in their stock prices since the first of the year (see chart), and unfortunately a short opportunity missed.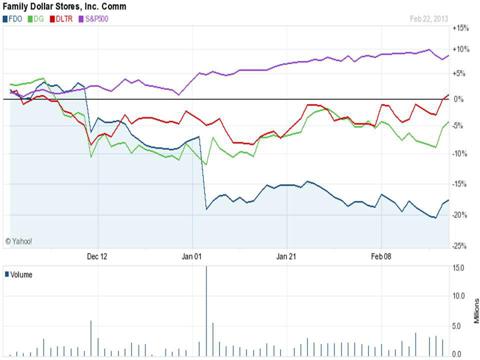 Click to enlarge
Disclosure: I have no positions in any stocks mentioned, and no plans to initiate any positions within the next 72 hours. I wrote this article myself, and it expresses my own opinions. I am not receiving compensation for it (other than from Seeking Alpha). I have no business relationship with any company whose stock is mentioned in this article.