The share price of Macy's Inc. (NYSE:M) has only appreciated by 6.5% over the past 12 months. At $39.08 per share, the stock is trading close to its 52-week high of $42.17 achieved in November 2012 and offers a 2.1% dividend yield. There are four reasons to support my view that the stock is poised for a material upside:
1. From a relative-valuation perspective, Macy's is priced attractively based on the company's healthy financial performance relative to its peers' (see chart below). Based on the consensus estimates, Macy's revenue and EBITDA growth rates are notably below the average estimates for a group consisting of the company's primary industry peers. However, the firm's near-term and long-term EPS growth rates are forecast to be fairly in line with the group averages. On the profit side, Macy's profitability margins are very comparable to the group averages, though the firm's ROE and ROIC metrics are below par. The company carries an above-average debt load as reflected by its higher debt to capitalization and debt to EBITDA ratios. In terms of liquidity, Macy's trailing free cash flow margin is slightly better than the peer average. Due to the higher leverage, the firm's interest coverage ratio is below par. Both Macy's current and quick ratios are below the peer averages, however, they remain within a healthy range on an absolute basis.

To summarize, Macy's relatively weaker top-line and EBITDA growth potential would likely be the primary drag on the stock valuation. However, given the company's solid profitability, healthy free cash flow, and its on-average EPS growth trend, I believe the stock's fair value should not deviate much from the peer-average level. Nevertheless, the current valuations at 5.5x forward (next 12 months) EBITDA and 10.5x forward (next 12 months) EPS together represents an average discount of 25.7% to the peer-average trading multiples, suggesting the share is modestly undervalued on a relative basis. Further, the stock's PEG ratio at 0.9x is 22.2% below the peer-average PEG at 1.1x, again indicating a tempting relative price level (see chart above).
2. Macy's trailing P/E multiple of 12.1x is trading near its three-year bottom level even with the following positive fundamental developments (see chart below):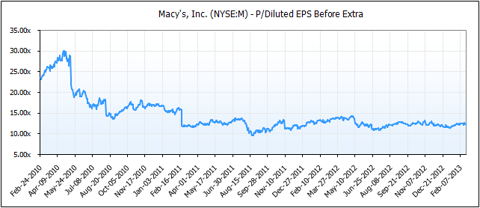 1) Macy's has been able to generate steady capital returns over the past three years (see chart below);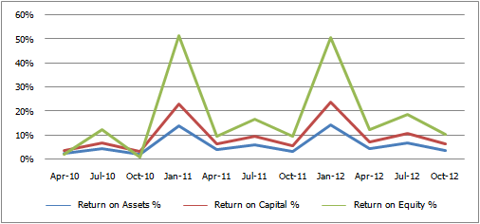 2) The company has also been able to maintain steady profitability margins over the same period (see chart below);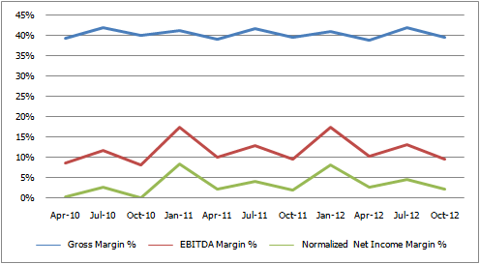 3) Macy's was able to cut its debt load and improve the interest coverage ratio in the past few years (see chart below); and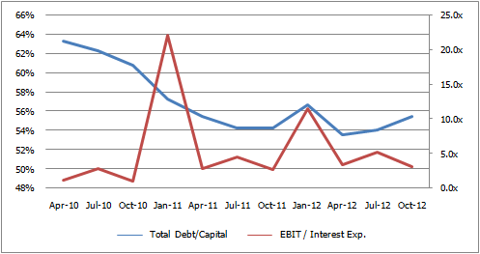 4) Consensus estimates for Macy's revenue, EBITDA and EPS for fiscal 2013 and 2014 have experienced notable upward revisions compared with their level 12 months ago (see charts below).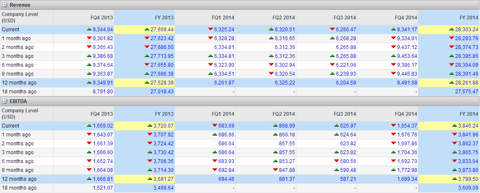 3. In addition, Macy's forward P/E multiple of 10.5x is currently trading at a 26.1% discount to the same multiple of S&P 500 Index, which stands at 14.3x at present (see chart below). The current valuation level presents a good entry opportunity considering that 1) Macy's P/E ratio has been trading at an average discount of 19.6% to the market level over the past 12 months; 2) Macy's long-term earnings growth rate of 12.0% is substantially above the average estimate of 8.2% for the S&P 500 companies; and 3) the stock's 2.0% dividend yield is not far off from the 2.2% average yield for the S&P 500 Index.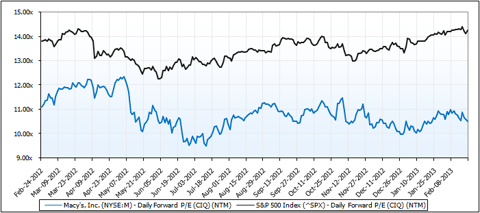 4. According to Thomson One, Macy's has consecutively beaten the market's revenue and EPS expectations over the past four quarters. Moreover, sell-side analysts are generally bullish on the stock. Of the total 17 ratings, there are four strong buys, eight buys, four holds, and only one underperform. In a research note dated February 8, 2013, David Glick, a research analyst at The Buckingham Research Group, listed the following reasons to buy the stock (sourced from Thomson One, Equity Research), which appear to be fair:
- We believe M's ecommerce, My Macy's and Magic Selling strategies should enable M to continue to gain market share in a tougher consumer environment.

- We believe M can manage expenses tightly to support margins in a LSD% comp environment.

- We expect M to continue to return its sustainable robust FCF (~$3.00/share) to equity holders with share repurchases and dividends.

- We view M's valuation as attractive at 10.8x '13 EPS and a ~9% FCF '13 yield.
Bottom line, in the light of Macy's solid fundamentals and compelling valuation level, the stock is a solid buy and should be worth your consideration.
All charts except for consensus estimate trend charts, which are sourced from Capital IQ, are created by the author and all financial data used in the article and the charts is sourced from Capital IQ unless otherwise specified.
Disclosure: I am long M. I wrote this article myself, and it expresses my own opinions. I am not receiving compensation for it (other than from Seeking Alpha). I have no business relationship with any company whose stock is mentioned in this article.