Dell (NASDAQ:DELL) will become a private company in 2013, but it won't be at the valuation of $24.4 billion - $13.65 per share - that Michael Dell and Silver Lake Partners are pushing for. Since the deal was announced on February 5, shareholders of the long-publicly traded company have expressed their dismay at the value of the buyout.
In order for the deal to be attractive to Michael Dell, Silver Lake Partners, and Microsoft (NASDAQ:MSFT) - who is providing additional financing for the deal - they have to believe that they are acquiring the company at a discount to its actual value. In order for the buyout to be attractive to shareholders, they need to believe that the company is being bought at a premium to its current value. For the market to be satisfied, one stipulation could be met - if Dell and his backers are, in fact, purchasing the company at a premium to current value, but believe they can increase its value significantly over their purchase price with the benefits of privatization. Unfortunately - as major investors like Southeastern Asset Management and David Einhorn (whose hedge fund is no longer an investor in DELL) have noted - the deal substantially undervalues the company.
Remember the Darling?
DELL was the longtime darling of the PC business. The company battled for twelve years with Hewlett-Packard (NYSE:HPQ) - trading off and on for the top spot in the business - and was consistently ranked highest for customer service, technical support, and PC reliability. They were true innovators; DELL was the first company to offer a personalized PC experience with the build-your-own model. It worked, as DELL saw terrific success through the early part of the new millennium.
The Wrong Kind of Innovation
DELL has been one of the most innovative companies of our time, and one of the leaders in innovation in the tech space since its conception in a dorm room in 1984. Why, then, did they miss the bus on expanding into new product categories?
DELL has long been a company about process innovation, and that's how they succeeded so well. They had tight supply chains and were first-to-market with various selling concepts (build-your-own, personalized customer service). But they didn't invest in research and development - they weren't a company about technological innovation. They didn't have the foresight to build out new pipelines - MP3 players, smartphones, and tablets. They missed all of the buses and were only ever able to catch the next bus. By that time they were too late. DELL was tightly saddled in the PC sales business, and with a maturing market and the beginnings of wireless/mobile devices taking center stage, they began to suffer in 2005. They had no entryways into the mobile music industry, no footholds in consumer electronics other than PCs. Sales slumped and poor earnings followed; the stock price suffered. DELL used strategic mergers and acquisitions throughout the later part of the last decade and even the early part of this one, but it was too late.
We Find Ourselves Here
There haven't been many cries that Michael Dell and his investors are making a mistake with the buyout. In fact, it has been pretty welcome news. They will be publicly traded once again, but it will take the less stringent rules and rigid structure of privatization for them to turn it around and begin their march back towards great levels of profitability (and maybe even market dominance?).
The only question is of value, and perhaps that's the hardest one to come to an agreement on. Let's take a look at value and see who is right.
FY2013 Earnings
DELL earnings call came last week on February 19 amid much anticipation given the recently announced terms of the deal.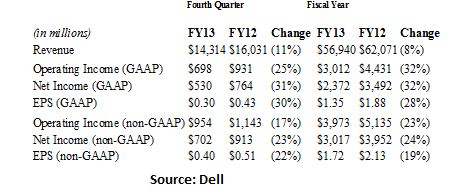 They announced annual revenues of $56.9 billion, which was an 8 percent decrease year over year, and annual non-GAAP earnings of $1.72 per share, which was down 19% year over year. The significant decreases are cause for alarm. Is DELL's business going away? Have they lost what they had left in market share?
Actually, although DELL did not release any forward guidance given the nature of the upcoming buyout deal, consensus analyst estimates have DELL earning $1.66 per share this fiscal year, which would be a 3% loss from this year. The stock - which closed Friday at $13.91 - is trading at 8.37x Forward P/E. Given their prospects for growth (loss), it can't be considered a cheap stock, but it certainly isn't expensive.
HPQ In The News: Positive Earnings; Whitman Turning Things Around
Michael Dell is mortified with the news that HPQ was successful in the implementation of their turnaround process. As Meg Whitman, fairly-new CEO of HPQ, told David Faber of CNBC, the numbers have to back up the progress they are making as a company. Whitman explained that they'll spend the next year trimming the company to become a more profitable machine - downsizing the workforce by 10%, exiting businesses, among other steps. HPQ and DELL are the brother and sister who battled for twelve years for market share. HPQ has announced that it sees viability in a turnaround process as a public company. DELL is being bought out at a price that is not premium to the company's value. There's a discrepancy there.
Whitman stressed in this earnings call that the company is not only engaged as a PC maker. In fact, 71% of their fiscal year revenues came from businesses other than what they call "Personal Systems," which is, in fact, their PC market. DELL, too, is not fully leveraged in the PC market. While a larger percentage of DELL's revenues come from the beleaguered business, they saw tremendous growth in their server (5%+), networking (42%+), and software (beat expectations) businesses. Desktop and mobility businesses fell 20%, pushed mostly by the consumer (25% decrease). While DELL also saw losses in its three other business regions - large enterprise, public, and small/medium business - they were significantly smaller than that it saw among consumers.
DELL is struggling in one particular business within one particular region - desktop and mobility with consumers. The answer is certainly a buyout. Michael Dell and his financial backers have the capabilities to put a super engine behind their company revamp without the tediousness and stringencies of being a public company. They'll be able to foster a new sense of (and new type of) innovation - product innovation on the technological front. They'll be able to apply the innovation they've mastered over the past thirty years on the consumer front. And they'll once again be a major industry player.
But all of this will happen after they buy DELL for $30 billion, or $16.75 per share.
Buy, Buy, Buy
Here's the play. If you own, increase your position. If you don't own, build a position. Downside is very limited. With the stock currently trading at $13.91, if the buyout goes through at the said price of $13.65, your downside is 1.8%. Your upside is unknown, but if the company sells for $30 billion, that will be the equivalent of the stock trading at a 10x Forward P/E. Many shareholders have called for $20 per share sale price, but that seems unlikely to materialize given the current valuation. Potential upside is significantly higher than potential risk. The company won't sell for less than $24.4 billion, so your loss is capped. Make the call on Monday. I'm buying DELL at $14.
Disclosure: I have no positions in any stocks mentioned, but may initiate a long position in DELL over the next 72 hours. I wrote this article myself, and it expresses my own opinions. I am not receiving compensation for it (other than from Seeking Alpha). I have no business relationship with any company whose stock is mentioned in this article.