Walt Disney Company (NYSE:DIS) shares have been in a solid uptrend for the past several months. Since May 2012, the stock has jumped from the very low $40 range to current levels of around $55. That is a gain of about 40% in less than a year, which far outpaces the S&P 500 Index (NYSEARCA:SPY) of about 13.4% for all of 2012. While there are many positives at this company, most of these same positives existed before the big rally and the stock now appears ahead of itself and even slightly overvalued when considering some metrics and the economic outlook for 2013. Here is a closer look at the stock and the company: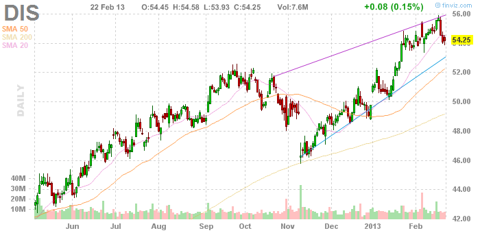 As the chart above shows, Disney shares have enjoyed a substantial rally in recent months. Part of these gains appear to coincide with a general stock market rally and a belief with a growing number of investors that the economy is rebounding. Disney operates a wide range of businesses that can benefit from an improving economic outlook, so it makes sense for the stock to be up. However, investors may have become over exuberant, especially after the company announced it would buy Lucasfilm, which is well-known for the Star Wars series, for about $4 billion. This gave hope to some investors that Disney would be able to further monetize this popular movie franchise.
Disney plans to release the next Star Wars movie in 2015, so profits from these films are a ways off for now. Furthermore, while Star Wars fans are excited about the prospects of more movies, some purists are concerned that if the films are not done right, the entire franchise could be diluted and disappoint many fans. The good news is that Disney has the money and technical know-how to produce a great Star Wars film, but money and technical expertise did not produce good results when the company released "John Carter" last year. One article points out that this highly-anticipated movie cost over $200 million, which some believe makes it the biggest flop of all time. Only time will tell if Disney gets the Star Wars franchise right, but it sure doesn't make sense to chase the stock at currently elevated levels over the Lucasfilm acquisition.
Analysts expect Disney to earn $3.44 in 2013, and about $3.88 per share in 2014. That puts the price-to-earnings ratio at about 16 times, which is a bit above the average of roughly 15 times earnings for the S&P 500 Index. However, since Disney earnings can be highly tied to the health of the U.S. consumer, it may not deserve to trade for an above-average multiple. Disney theme parks, cruises, movies, toys, media businesses like ABC and ESPN, could all be coming under pressure due to a couple of factors, which include a recent 2% payroll tax hike, and the fact that tax refunds are seeing delays in the first few weeks of 2013. Furthermore, taxes are rising for many Americans. All of these factors could cause weaker-than-expected sales, similar to the poor results that Wal-Mart (WMT recently reported for February) which were largely blamed on the payroll tax hike.
Disney is a great company with solid management, but after a substantial rally in the stock, investors should consider waiting for a meaningful pullback rather than chase it at these extended levels. In a correction, Disney shares might find support around $52, which is near the 50-day moving average and around $49, which is close to the 200-day moving average.
Here are some key points for DIS:
Current share price: $54.25
The 52-week range is $40.88 to $55.95
Earnings estimates for 2013: $3.44 per share
Earnings estimates for 2014: $3.88 per share
Annual dividend: 75 cents per share, which yields about 1.3%
Data sourced from Yahoo Finance. No guarantees or representations are made.
Disclosure: I have no positions in any stocks mentioned, and no plans to initiate any positions within the next 72 hours. I wrote this article myself, and it expresses my own opinions. I am not receiving compensation for it (other than from Seeking Alpha). I have no business relationship with any company whose stock is mentioned in this article.
Disclaimer: Hawkinvest is not a registered investment advisor and does not provide specific investment advice. The information is for informational purposes only. You should always consult a financial advisor.