After an unbroken rally in risk assets since the final week of 2012, last week saw a modest turn away from risk. As always in these situations we ask, is this a minor correction, or the start of a broader move down? Let's see if the data shed any light.
Economy: Before we get into the markets, we'll start with our customary review of the week's economic data and developments. Last week brought important data on the housing market and on prices. The numbers on housing were mostly on the weak side, as January housing starts and existing home sales were revised down, falling short of forecasts. The home builders' housing market index also came up short. On the positive side, building permits were better than expected.
Core consumer and producer prices in January ticked higher, but not so much as to provoke inflation fears; headline numbers were relatively flat. On the unemployment front, initial claims for the prior week were back above 360k, leading to some question as to whether the improvement in the jobs picture might be stalling. Conference Board leading indicators were positive, but weak. Overall, slow growth still seems to be the outlook, but the economy is not gaining much momentum.
Stocks: After a seven week run of gains, the U.S. stock markets pulled back last week. Among the major equity indices, only the Dow Industrials squeaked out a weekly gain, finishing just over 14,000 after closing the two previous weeks below that mark. The S&P 500 was down fractionally, while the Russell 2000 and NASDAQ Composite dropped nearly 1%. The Dow Transports traded above 6,000 for the first time ever on Tuesday, but promptly pulled back to close the week with a slight loss.
Sector action had a distinctly defensive tone, as the consumer staples, telecoms, and utilities all gained better than 1%. At the other end of the table, materials stocks corrected nearly 3% as commodity prices fell, and consumer discretionary stocks dropped 1.4%. Global markets once again presented a mixed picture, as five of our twelve foreign indexes finished higher, and seven traded lower. In particular we are seeing pronounced weakness in the "BRIC" countries; Brazil was off another 2% and has moved lower in six of the last seven weeks, while the Shanghai composite dropped nearly 5%, and the Russian and Indian markets extended losses into multiple weeks.
Last week's correction was well anticipated and perhaps overdue, so I can't imagine anyone who has been paying attention was very much surprised. Friday's action was encouraging, with a strong move up at the open, steady advance through the day, and a close at the high. However the Dow and NASDAQ undercut the February 4th low on Thursday, and volume on Friday's recovery was lower than the previous two down days, so those are concerns, but this rally has earned - in my view - the benefit of the doubt.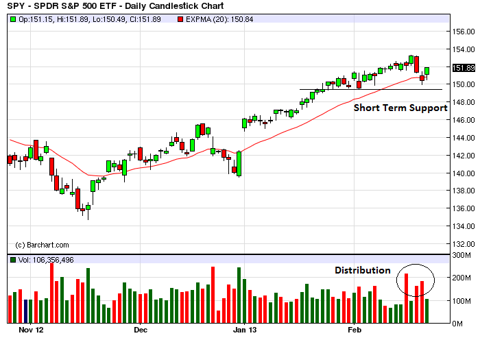 Even so, in my SPX trading strategy, I went from 50% long to cash. For shorter term trading positions, I am waiting for the picture to clear up before making any new moves. For longer term positions I am holding, it is still too early to make changes. We have one week to go in February, and one of the things I am watching for is the monthly close on the Dow, S&P 500 and Russell 2000 (the NASDAQ is a mess). The Dow has never posted a monthly close above 14,000 and the Russell has never seen a monthly close above 900. The S&P is just a couple of points from its own all time monthly closing high of 1,517.68 in August 2000. If we see a strong close to this month, my sense is that we could see considerably more upside, but a weak close may portend more weakness to come.
Bonds: Treasury yields slid back through the week, with the benchmark ten year note closing under 2% again, and the thirty year testing recent lows at 3.15%. The Moody's AAA and BAA corporate yields ticked down very slightly, but were nearly flat on the week. Municipal bonds had a fairly quiet week as well. After correcting in January, high yield bonds have staged a modest recovery. The last few months have been difficult for bonds and for bond fund investors in particular, but things seem to have settled down in the short term.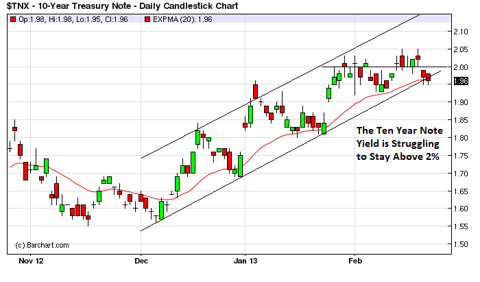 Commodities: It was another difficult week in the commodity markets. After failing to get through $98, WTI crude oil pulled back to $93, closing down 3% on the week. Natural gas, which had already been correcting over the previous four weeks, found support under $3.20 and posted a strong gain to start the week, then spent the remaining days consolidating that gain.
Gold sold off again on heavy volume, but buyers came in at $1,560, while silver found support around $28.50. If gold closes below $1,550 we could see much lower prices ahead. Copper joined in the high volume selling spree, falling more than 5% on the week and breaking down through the 200 day moving average. The grains also sold off again, with wheat going to a new low.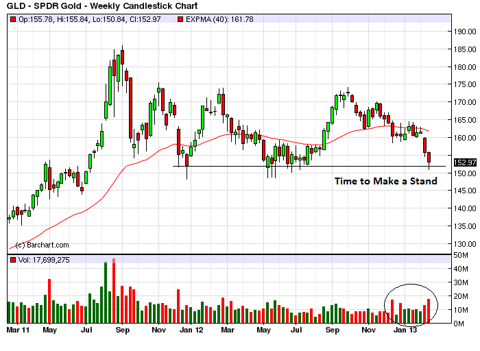 Currencies: The dollar index broke out of its recent range, pushing through its 200 day moving average, while the euro broke near term support and fell below $1.32. Even though the German Ifo business climate index rose to its highest level in more than two years, this weekend's elections in Italy seemed to unsettle the markets. Sterling, which opened the year above $1.62, fell below $1.52. The slumping Canadian dollar fell under $.98US, while the Aussie dollar bounced at week's end. After a three month slide, the yen seems to have found support around 94 to the dollar.
Key Takeaways:
The modest correction in the stock market should give traders and investors pause, but there isn't enough movement yet to give us a strong sense of direction for the coming days and weeks. Look for key levels to hold.
Commodities remain weak, but precious metals are finding tentative support at current levels - here as well, look for key levels to hold.
The inverse correlation between the dollar and risk assets appears alive and well…and with the dollar on the move, the risk rally has come under pressure.
Good luck, and good trading
Disclosure: I have no positions in any stocks mentioned, and no plans to initiate any positions within the next 72 hours. I wrote this article myself, and it expresses my own opinions. I am not receiving compensation for it (other than from Seeking Alpha). I have no business relationship with any company whose stock is mentioned in this article.