KLA-Tencor (NASDAQ:KLAC) is one of the stronger companies in the semiconductor industry. The company is the only pure-player in the inspection and metrology markets, where it sells tools to semiconductor manufacturers that help to control processes and increase the yield of each wafer. The company has a market cap of about $9B and sales in the past year of $3.1B.
In this article, I'll detail the strong business fundamentals of the company and show evidence of its dominant market share and competitive advantages. Despite this, no company is worth an infinite price, and my valuation analysis shows that the market is currently fully pricing in the future growth prospects. Therefore, I would recommend keeping the company on your watchlist, but only consider investing on a pullback when a more apparent margin of safety exists.
Note: Unless otherwise stated, financial figures are sourced from the latest annual report, Q2 2013 Conference Call, or Yahoo Finance.
Business Overview
KLA-Tencor is the market leader in process control equipment for the semiconductor industry. The company sells a variety of tools to allow its customers to increase yield and minimize the amount of defects per wafer processed. The company sells close to 100 different products, which cover all different aspects of the semiconductor market, including chip manufacturing and wafer manufacturing. The company also makes tools for LED, Data Storage, and MEM (micro-electromechanical systems) technology. Below is an example of one of the products, the 2900 wafer inspection system.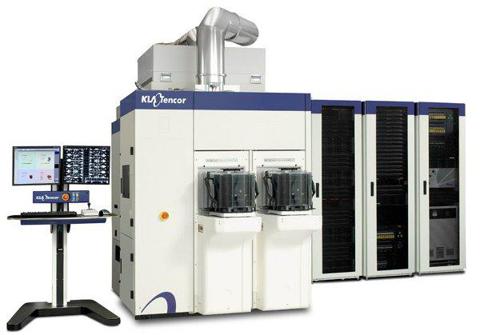 KLA-Tencor has seen strong growth in the past 10 years. Revenues have increased at a CAGR of about 9%, and the company has grown free cash flow at an impressive 18% average annual rate. A dividend was first instituted in 2005 at 0.12/share, and has since grown to 1.50/share as of 2012.
Business Prospects And Competitive Advantages
Prospects for the semiconductor industry in general remain very good. The ever-increasing demand for new electronics, smartphones, tablets, and more devices using integrated circuits should continue to fuel overall top line growth in the industry. By 2015, revenues should reach close to $400 billion, representing a CAGR of about 8% over the next few years: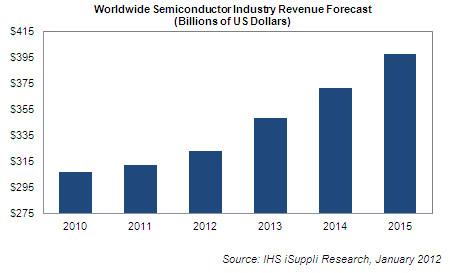 Historically, growth of sales in process control tools has mirrored the growth of the overall front-end semiconductor market. Although at times, it has grown significantly faster -- as much as 24% in 2011. In late 2013 and into 2014, growth is also expected to be robust, as customers are building up capacity for the transition to the next generation of chips at 20nm. Taking into account these long-term trends, and also including the company's ability to buyback stock every year (the company has reduced share count by 15% in the last 10 years), I think it is reasonable to estimate earnings will grow at about a 10% CAGR in the coming 10 years. Some years will be significantly more, and some less as the company rides the inevitable ups and downs of the industry.
KLA-Tencor has a strong competitive position in the market, which should allow it to sustain these high growth rates. The company has a dominant market share of 55% for process control tools. The company's share actually increased about 3% in 2012. Just a few years ago, the company had a share in the low 40s, showing that it has continued to take market share from competitors. Its biggest competitors are Applied Materials (NASDAQ:AMAT) and Hitachi (OTCPK:HTHIY). Although much larger companies, they are much more diverse and don't focus exclusively on process control equipment. KLA clearly has the most diverse product portfolio of the three, and is the only pure player in this market.
Beyond market share, the competitive advantages of KLA-Tencor can be clearly seen in the company's margins. Operating margins have a 5 year average around 20%, which is about triple the industry average. The company is also well run, and has return on equity % and return on invested capital % figures consistently in the 20s.
Shareholder Friendliness
KLA-Tencor first instituted a dividend in 2005. Since then, it has grown exponentially as the company has continued to grow free cash flow at a very high rate. As of 2013, the dividend yields 2.90%, and the payout ratio is only 37%. On this basis alone, with relatively strong growth rates expected to continue in the next 5 years, I think the company is an attractive dividend growth play. Most importantly, the company has also maintained payouts, even during cyclical downturns as it retains a high cash balance of more than $2.5B and debt/equity is at a very reasonable 0.22. With annual interest payments well under $100m and debt principal not due until 2018, the company should continue to raise the dividend for the foreseeable future.
Besides this, the company seems to be prudent with stock options and is repurchasing enough shares to counter any dilution effect, and is even reducing share count. The outstanding share count has decreased about 15% in 10 years, and should add 1-2% per year going forward to expected growth in earnings.
Catalysts For 2013-2014
KLA-Tencor continues to innovate with new product launches, and this coupled with the strong build-up in the industry for 20nm should provide good growth opportunities in the next few years for the company. I see the following key catalysts, which could propel further growth and stock price gains:
Technology leadership - the introduction of the new eS805™ Electron-Beam Inspection System
Faster buildup to 20nm by a broader base of customers than is currently expected
Memory to really pick up steam in 2H 2013 and increase CapEx more than expected
KLA-Tencor continues to be a technology leader in its field, and recently announced the electron-beam inspection system. The semiconductor industry faces a huge array of technology transitions -- including EUV and double patterning lithography, new materials, and 3D transistor structures. This requires new wafer inspection systems, and KLA-Tencor is on the leading edge of this market with new products like the eS805. Further market share gains, or any signs of misstep by competition, could drive the shares further upward.
Looking at the remainder of 2013, I think there is some potential that both foundry and memory CapEx levels could remain higher than the company is currently expecting in its guidance. In Q2, the company reported that foundry was 67% of sales, logic 17%, and memory 16%. Memory has been down for more than a year now, but last quarter, the company saw the first signs of an uptick in demand. As shipments of tablets and smartphones hit record highs in 2013, demand for NAND especially should increase again. Once these cycles start gaining steam, quite frequently demand accelerates quicker than anticipated, which could easily happen again this time around. Similarly, I think the build-up to 20nm capacity could also be broader than currently expected. The company said in the last conference call it currently expects foundry demand to drop all the way to 52% as a percentage of sales; however, depending on how many major players are really "in" for 20nm, this could also be higher. Competition is only getting fiercer from major logic and foundry customers, as they all want to stay on top of the race for superiority in mobile devices. Any sign that more customers are increasing CapEx on 20nm build-up will be a near-term positive for KLA-Tencor.
Investment Risks
The Cyclical Semiconductor Industry
A common risk across all semiconductor companies and suppliers is the well-known cyclical nature of this industry. KLA-Tencor is no exception to this rule. Looking at the 10-year history of sales and earnings, you notice right away there has been some very strong down years during periods of economic uncertainty: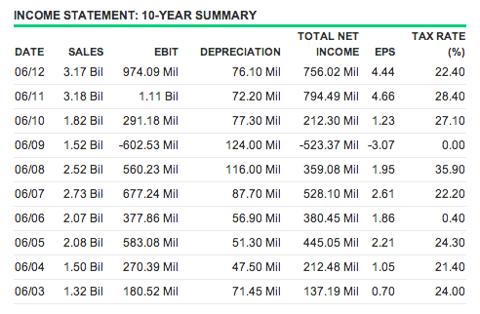 Source: MSN Money
Earnings have increased all the way from 0.70/share in 2003 to 4.44/share in 2012. Over the 10-year period, that is a CAGR of 20%. Sales have also nearly tripled from $1.32B to $3.17B. However, clearly this growth has been very lumpy, with significant drops seen in 2006, 2008 and 2009. Most of that growth has all occurred in the past 3 years. The stock price of the company has also been as low as $20/share in 2009, to as high as almost $60/share in 2003 and again in 2007. Today at $54.78, it is also on the upper end of this range. Overall, the stock has a beta of 1.78, and is, therefore, 78% more volatile than the overall stock market.
This goes to show that an investment in KLA-Tencor should not be done with a short-term horizon, as there is too much industry and macroeconomic uncertainty, which is very difficult to predict over the coming 1, or even 2 years.
Constant Change In The Technology Industry
Every few years, there is a new wave of semiconductor chips that become smaller and more powerful than previous generations. Historically, these transitions bring a lot of business for companies like KLA-Tencor, because their customers (logic, memory, foundries) need to constantly upgrade their equipment and build new facilities to be able to compete in the next generation. The cost to build next generation Fabs can easily be $5B or more. However, with many of these companies spending billions in R&D every year, there is constant change and new technological innovations. Although it is expected that inspection and metrology needs will continue to grow substantially as chips transition to below 20nm, there is no guarantee that some new different techniques won't be invented that cause KLA-Tencor's core competencies to become less important. Anyone who is involved longer term with KLA-Tencor as an investor or business partner would want to constantly revisit the strength of its position in the market and the need for its machines. The company gives some tangible examples in its latest annual report of change factors to watch carefully in the coming few years:
Industry transition from 300mm to 450mm wafers
The ever-escalating costs of next generation product development may require some joint development programs, which could limit the company's profitability for some of these tools.
Larger competitors might integrate products for inspection and metrology into their own products. An example of this could be the recent introduction by ASML Holding (NASDAQ:ASML) of the YieldStar machine, which can be used closely with its lithography tools and compete directly with metrology tools offered by KLA-Tencor.
Some semiconductor manufacturers might enter into joint agreements to share manufacturing capacity to lower costs due to the ever-increasing CapEx requirements for more expensive equipment. This could lower expected growth rates going forward for suppliers such as KLA-Tencor.
Although I believe the strength of KLA-Tencor's technology and its dominant market position outweighs the risks associated with constant change in the industry, this is not something that should be ignored, and any wise investor should continue to always monitor carefully. With these factors, I would at the very least demand a higher discount rate when trying to come up with a value on the company, which I have done below in the valuation section.
Valuation
DCF Analysis
The company has recently released Q2 earnings for 2013. In the first half of this fiscal year, which runs July 2012-June 2013, the company has earned $1.47/share. The company has guided for earnings to be between 0.76-0.96/share for the March quarter, an increase over recent levels due primarily to a favorable tax rate. The company has stated that the first half of 2013 is expected to see overall decreases in CapEx spending by major foundry customers in the range of 5-10%, however, momentum building significantly in the second half of the year as the ramp-up to smaller nodes moves into full speed. For my base EPS figure in my model, I therefore have chosen to take the midpoint of the Q3 guidance, 0.86, and a slightly higher figure of 0.90 for Q4, reflecting what I believe will be the early signs of orders starting to pick up. Most industry analysts expect a slight overall uptick in growth in 2013, driven by second half demand. This article from Susquehanna Financial predicts 3% growth in 2013, and 10% in 2014 for the overall industry. Therefore, taking this into account for the full fiscal year, I expect 1.47 + 0.86 + 0.90 = $3.23/share. I have used this as the starting point for my DCF model below.
In addition to this, I have modeled 3 potential scenarios. The likely scenario takes a 10% annual growth rate, which is in line with what I discussed in the business prospects section above, looking at the expected growth of the industry as a whole combined with the company's ability to grow earnings at a slightly higher rate due to efficiency gains and share repurchases. The higher growth rate of 15% in the optimistic case assumes that the transition to 20nm and then 14nm is much more intensive than is currently assumed, and there are a few years of outsized growth >20%. This is not out of the realm of possibility, looking at the past 10 years, where the company grew free cash flow at about an 18% clip, and several years saw growth in the high 20s. On the pessimistic side, this factors in the risks of technological change, and especially more than a few years from now, growth could slow dramatically if competitors invent newer and better techniques for this market.
Optimistic Scenario

Likely Scenario

Pessimistic Scenario

Current EPS

$3.23

$3.23

$3.23

Earnings Growth Rate Next 10 years

15%

10%

5%

Terminal Growth Rate

3%

3%

3%

Years of Terminal Growth

10

10

10

Discount Rate

12%

12%

12%

Intrinsic Value

$64.78

$46.80

$34.40

Probability of Occurrence

20%

60%

20%

Weighted Average

Intrinsic Value

$47.92/share
Taking the weighted average of these 3 scenarios, I have calculated an intrinsic value of $47.92/share. With a current price of $54.68, this would imply that stock is overvalued. There is, however, about $9/share in net cash on the balance sheet after subtracting debt. Factoring this in as well, I think the stock is fairly valued at current levels.
Relative Valuation
Comparing KLA-Tencor to its 2 biggest competitors in terms of EV/EBITDA, the company is much cheaper than AMAT, but more expensive than Hitachi:
| | |
| --- | --- |
| Company | EV/EBITDA |
| KLA-Tencor | 7.12 |
| Applied Materials | 12.07 |
| Hitachi | 5.04 |
Looking at this alone is not really a fair comparison, since AMAT and Hitachi are much larger companies, and only a portion of their business is competing directly with KLA-Tencor. Hitachi also has negative growth expectations and probably deserves to be cheaper. Interesting, however, is that analysts have long-term growth rates of 9% for AMAT, which is about comparable or slightly less than my estimates for KLA-Tencor. However, AMAT seems much more expensive currently, and also operating margins and returns on capital are significantly lower. Without going further into detail here, KLA-Tencor definitely seems to be the strongest company of the three, and is the one that I would recommend to focus on as a potential investment in this segment of the semiconductor industry.
The Bottom Line
KLA-Tencor is a very strong company with a good competitive position in its industry. The company has been growing consistently, increasing its dividend, and growth prospects remain very good in the coming 5 years as huge technological challenges in the semiconductor industry to go below the 20nm node will drive strong demand for process inspection and metrology tools. From a valuation perspective, my DCF analysis has shown the market is currently fully pricing in the growth prospects for KLA-Tencor. Although I think a company like this with a strong market position does deserve a premium valuation, I would not recommend purchasing shares with no apparent margin of safety. As the stock is quite volatile, in this case, I would take advantage of this to see if the price dips about 20% in the coming year, which could occur if there are any signs of delay or a slower ramp-up than expected to 20nm. I have a buy target of $44/share.
Disclosure: I have no positions in any stocks mentioned, and no plans to initiate any positions within the next 72 hours. I wrote this article myself, and it expresses my own opinions. I am not receiving compensation for it (other than from Seeking Alpha). I have no business relationship with any company whose stock is mentioned in this article.