American International Group, Inc. (NYSE:AIG) shares have been steadily climbing higher and the stock seems to be very popular with quite a number of investors. However, the popularity and the current valuation of this stock might be a reason to sell the stock now, rather than buy it.
According to a recent Goldman Sachs (NYSE:GS) report, AIG is currently the hedge fund industry's favorite stock. This position was previously held by Apple (NASDAQ:AAPL) as it surged upward, and we all know what has happened since. When everybody seems to love a stock, that is often a sign to sell it because it has become too popular and in many cases the old adage that "everyone who is going to buy the stock already has." This means a stock might be over-owned and it may be hard to keep it going any higher.
AIG is trading way above the valuation of many other major insurance companies. One recent article points out that companies like Metlife (NYSE:MET) and Prudential (NYSE:PRU) trade for about 7 times earnings. Analysts expect AIG to earn about $3.34 in 2013, and that puts the price-to-earnings ratio to nearly 12 times. That is a substantial premium to other major companies, and it might be another reason why AIG shares are too richly valued now. It is also worth noting that Prudential offers a yield of 2.8% and Metlife pays 2%, while AIG does not currently pay a dividend.
AIG shares appear extended in the chart shown below. In November, the stock was trading around $31, but it has been trending higher and is now above $38, which is the top end of the recent trading range. This could be another reason why a pullback is overdue for this stock, as it is trading well above recent support levels.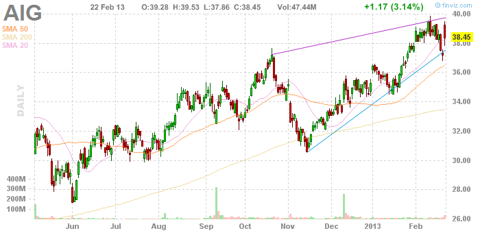 The markets in general are also extended after a significant rally in the past few weeks and may have topped out for now. Whether or not the markets see a correction soon, AIG shares appear "toppy" and it sure does not seem like the right time to be buying, more likely it could pay to sell the stock now and patiently wait for a meaningful pullback.
Key Data Points For AIG From Yahoo Finance:
Current Share Price: $38.45
52-Week Range: $27.18 to $39.90
Dividend: none
2013 Earnings Estimate: $3.34 per share
2014 Earnings Estimate: $3.87 per share
Data sourced from Yahoo Finance. No guarantees or representations are made. Please consult a financial advisor before making investments.
Disclosure: I have no positions in any stocks mentioned, and no plans to initiate any positions within the next 72 hours. I wrote this article myself, and it expresses my own opinions. I am not receiving compensation for it (other than from Seeking Alpha). I have no business relationship with any company whose stock is mentioned in this article.