I've been tracking the progress, or lack thereof, of Chesapeake Energy (NYSE:CHK) for the better part of a decade.
While I've always had reservations about the management style of departing CEO Aubrey McClendon, I've always found that there was one thing I could take his word on. That one thing that I could take Aubrey's word on was the value that Chesapeake could extract through selling pieces of its acreage in various unconventional resource plays.
If Aubrey said that Chesapeake could sell a piece of a property for $10,000 per acre, Chesapeake always backed him up by selling a piece of a property for $10,000 per acre.
I know that McClendon living up to his promises sounds hard to believe given all of the media controversy around him, but for each of the following Joint Venture deals McClendon delivered at the price points he advertised:
1) Haynesville Joint Venture with Plains Exploration (NYSE:PXP) - The timing on this one was extremely fortunate occurring as natural gas prices were over $10 immediately before the world fell apart in June 2008. Chesapeake sold 20% of its Haynesville acreage to Plains for $3.16 billion. That implied that the acreage retained by Chesapeake was worth $13.2 billion which was consistent with what McClendon had suggested.
2) Marcellus Joint Venture with Statoil (NYSE:STO) - At a time when deals couldn't get done, Chesapeake got a deal done. In November 2008 Statoil paid $2.1 billion for a 32.5% interest in Chesapeake's Marcellus shale acreage. The implied value of the retained acreage for Chesapeake was $7 billion, again as Aubrey had hinted.
3) Barnett Shale Joint Venture with Total (NYSE:TOT) - It is almost like Chesapeake is trying to learn new languages, this time teaming up with a French company. For $2.25 billion Total got a 25% interest in Chesapeake's Barnett shale properties, which implied that the retained value was $6.8 billion verifying prior claims by McClendon.
4) Eagle Ford Joint Venture with CNOOC (NYSE:CEO) - Chesapeake put its Eagle Ford acreage position together with blinding speed in 2010. In November 2010 CNOOC bought a 33% interest in the land for $2.2 billion implying that Chesapeake retained a land position worth $4.4 billion as expected.
5) Niobrara Joint Venture with CNOOC - Same partner, different property. This time the Niobrara where CNOOC purchased a 33% interest for $1.3 billion implying that the retained value is $2.6 billion to Chesapeake which was what investors were looking for.
Because I felt I could rely on the acreage values that McClendon provided with respect to Chesapeake's various resource plays, I used those numbers as part of my valuation work on Chesapeake.
Now I'm not so sure that is a good idea.
This week Chesapeake announced a billion dollar Joint Venture with China's Sinopec, and for the first time that I can recall, the metrics of the deal are far below what Chesapeake had previously suggested the property was worth.
The slide below is from Chesapeake's June 2012 investor presentation: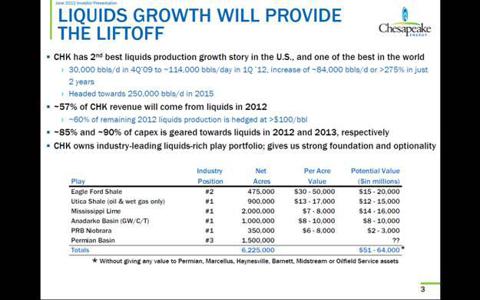 Click to enlarge
In this slide Chesapeake claims that its Mississippi Lime acreage is worth $7,000 to $8,000 per acre.
The actual deal with Sinopec falls far short of this valuation.
OKLAHOMA CITY--(BUSINESS WIRE)--Feb. 25, 2013-- Chesapeake Energy Corporation and Sinopec International Petroleum Exploration and Production Corporation (Sinopec) today announced the execution of an agreement which provides for Sinopec to purchase a 50% undivided interest in 850,000 of Chesapeake's net oil and natural gas leasehold acres in the Mississippi Lime play in northern Oklahoma (425,000 acres net to Sinopec). The total consideration for the transaction will be $1.02 billion in cash, of which approximately 93% will be received upon closing. Payment of the remaining proceeds will be subject to certain customary title contingencies. Production from these assets (including Mississippi Lime and other formations), net to Chesapeake's interest and prior to Sinopec's purchase, averaged approximately 34 thousand barrels of oil equivalent per day in the 2012 fourth quarter and, as of December 31, 2012, there was approximately 140 million barrels of oil equivalent of net proved reserves associated with the assets. All future exploration and development costs in the joint venture will be shared proportionately between the parties with no drilling carries involved.
Chesapeake has sold 425,000 acres to Sinopec for $1.02 billion. That is $2,352 per acre which is less than one third the value that Chesapeake had suggested the property is worth just a few months ago.
But it is even worse than that, because this acreage also carries with it a significant amount of production and booked reserves. Sinopec's half of the acreage will bring with it 17,000 boe/day of production and 70 million barrels of proved reserves. Chesapeake's presentations historically have pointed to the valuation of non-producing land that had not had much capital invested in it.
In other words, I would have expected Chesapeake's Mississippi Lime acreage to garner $7,000 to $8,000 per acre without any production.
This production sold is 54% liquids, and if you assume that it is worth $50,000 per flowing barrel it would suggest the production from the acreage alone was worth $850 million. That is only $150 million short of the entire price Sinopec is paying.
That means that the undeveloped portion of the acreage in the Sinopec deal is receiving a price that is a fraction of the $7,000 to $8,000 Chesapeake had suggested in its June 2012 presentation.
To be quite honest, this price received for this property is shockingly below what I would have expected in anything but a distressed asset sale. I don't know whether I should read this to mean that Chesapeake needs cash a lot more quickly than I expected or if it simply means its prior assertions about the value of this acreage was exaggerated.
Either way, the deal certainly reduces the value that I would put on shares of Chesapeake. And makes me leery to use other acreage values suggested by the company.
Disclosure: I have no positions in any stocks mentioned, and no plans to initiate any positions within the next 72 hours. I wrote this article myself, and it expresses my own opinions. I am not receiving compensation for it (other than from Seeking Alpha). I have no business relationship with any company whose stock is mentioned in this article.