Norfolk Southern's (NYSE:NSC) earnings took a 10% hit in 2012, primarily due to a decline in coal freight revenues, which fell by 17% year-over-year. Despite this slowdown in coal freight, NSC's coal division still raked in 26% of the firm's total revenues, and makes up around a quarter of the company's total value. We think that NSC's reliance on coal freight is likely to suppress bottom line growth in 2013, as low natural gas prices and a slowdown in coal export demand will hurt coal freight demand during the year.
Coal Use For Utilities Declining
Norfolk Southern's coal freight business is primarily reliant on coal used for generating electricity; coal for utilities made up approximately 65% of the coal that Norfolk Southern shipped in 2012. Utility coal tonnage fell by 17% in 2012, as low natural gas prices caused a substitution away from coal when it comes to energy production. This substitution of coal is troubling for NSC because if natural gas prices stay depressed for an extended period, utility companies could start shifting a material part of their electricity production to natural gas permanently. If this occurs, Norfolk Southern's coal freight demand might not recover in the coming quarters, hurting the firm's revenues through 2012.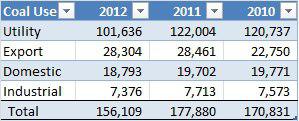 Coal Export Demand Will Also Slowdown
As can be seen from the table above, demand for coal export also slowed down during 2012, as weakness in the Chinese economy, the European Union and the United States ensured that global growth remained muted. Global growth fell to approximately 3% in 2012, and is expected to remain at this level in 2013.
However, it is important to note that global growth could miss these 3% estimates in 2013. The euro crisis has yet to see an end, and the outcome of the situation continues to remain uncertain. European GDP contracted 0.6% during Q4 2012, the third straight quarter of decline and the largest since Q1 2009. This situation, combined with the slowdown in China and India, is likely to have a negative effect on worldwide coal demand. We currently estimate that U.S. carloads of coal will fall to approximately 6.40 million in 2013, but if this number falls further to 5.5 million, we would see around 5% downside to our price estimate.
We currently have a $63 price estimate for Norfolk Southern, which is approximately 15% below the current market price.
See our complete analysis of Norfolk Southern here
Disclosure: No positions.