VIX - Market Sentiment:
Monday S&P futures were up heading into the U.S. open as optimizes out of Europe returned briefly. Futures opened near 1512 and ramped as high as 1524 before selling off, trading down to 1506 in just over an hour. Fear came back into the market as uncertainty around the Italian elections put a negative tone on U.S. futures. This was on the back of China seeing manufacturing slowing down again as the manufacturing index fell to 50.4 versus expectations of 52.2. Tomorrow, we have a few things on the economic calendar. At 10:00 a.m. ET, we get the CB consumer confidence numbers and the new home sales report which is always sure to drive the market. Also tomorrow we get Fed Chairman Bernanke to speak, which could add some volatility as the market seems to hinge on every word out of the Federal Reserve. Earnings releases out of Lowe's (NYSE:LOW) today had the stock trading higher in the pre-market, but went negative fractionally after weak numbers hurt the stock. Another name reporting today, 3D Systems (NYSE:DDD), a name we have been short for some time, reported disappointing numbers missing estimates. This sent the stock tumbling in early trading down 20% at one point. I unfortunately did not liquidate the full position but will be looking to exit in the future.
The spot CBOE Volatility Index (VIX) and futures gapped lower as the market rallied in early trading but reversed just before 10:30. Down early seeing lows of 13.60, the VIX then shot higher trading to 15.30 just as the noon hour rolled around. This, of course, turned out to be just the beginning as spot VIX went near 18.00 up 26% on the day. Volatility ETF (NYSEARCA:VXX), 2x ETF (NASDAQ:TVIX), and alternative 2x ETF (NYSEARCA:UVXY) saw selling pressure early, but as the VIX and futures reversed, so did these ETFs. Futures still lagged the spot VIX as traders are not convinced if volatility will explode to the upside. Take for example last week, the VXX saw some good size put spreads being bought in the face of volatility. Today, this theme continued as bulls continue to believe volatility will not skyrocket, sending VIX futures into contango. Interestingly enough, VIX block trades today were mostly bought on both the call and put side with only downside bets for volatility coming in the form of VXX options.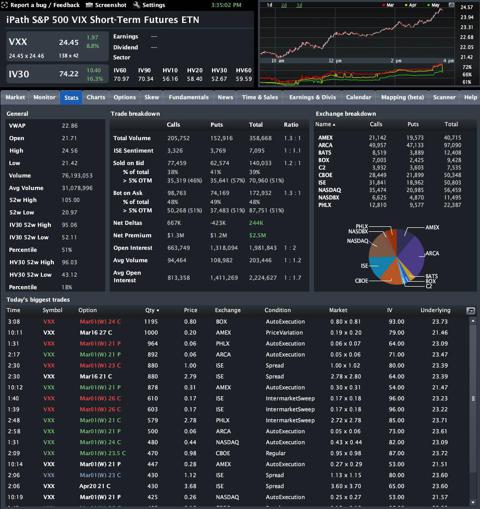 Statistics and Screenshot Provided By LiveVol
VIX futures are below.
Yesterday
· March VIX futures 15.03
· April VIX futures 15.80
· May VIX Futures 16.42
Today
· March VIX futures 16.33
· April VIX futures 16.78
· May VIX Futures 17.35 (Traded sub-16 just last week)
Options Paper:
Option paper was actually decent in Monday's trading session trading 12.1M contracts with 2 hours left in the trading day. S&P ETF (NYSEARCA:SPY), S&P Index (SPX), NASDAQ (NASDAQ:QQQ), Russell ETF (NYSEARCA:IWM), and VIX lead the market in terms of option paper. SPY for the first time in quite some time actually saw above-average option volume with 2.9M and climbing contracts trading against 2.2M average. Bank of America (NYSE:BAC), Apple (NASDAQ:AAPL), and Zynga (NASDAQ:ZNGA) were also active with ZNGA trading almost 3x average daily volume.
A name I need to mention today was a large bullish play on Texas Instruments (NYSE:TXN) after a 22,446 contract block of January 2014 calls went off for 2.50 just before 10:00 today. This is interesting as this strike has been incredibly bearish ever since December 4th when every large block of these have been sold and sold hard until today. Just look at the following institutional trades:
January 2014, 35 Strike Calls
December 4th - 17K sold @ 1.16 = 1.97M
December 5th - 4.2K sold @ 1.15 = 0.48M
December 6th - 12.5K sold @ 1.10 = 1.37M (Possible buy write as it appears tied to stock)
December 11th - 8.5K sold @ 1.37 = 1.16M
December 12th - 10K sold @ 1.48 = 1.48M
February 1st - 10.2K sold @ 1.90 = 1.94M
February 25th - 23K bought @ 2.50 = 5.75M
The current open interest of this strike currently sits at 63,201 contracts. This trade intrigues me because just like the majority of the other ones sold, this trade went off on the ISE exchange, which would indicate a new position not a closing short. This name has been on the sonar report in the past but mostly for bearish paper, so this trade perks my interest. Although I do not like this name up here with the market seeing some cracks, it is a name I'm adding to my watch list for a potential breakout / breakdown from this 35 level. Calls today were bought 91% on the offer with net premium of more than 6.4M as of the writing of this article. Options activity was more than 3x average daily volume with calls outnumbering puts 6.7 to 1.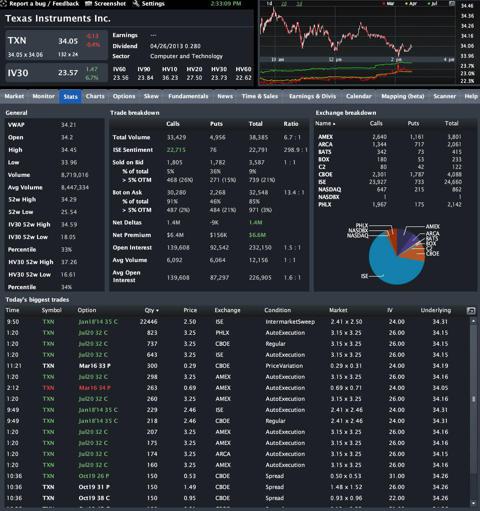 Statistics and Screenshot Provided By LiveVol
Last week (here) the sonar report highlighted bullish paper on Las Vegas Sands (NYSE:LVS) and sure enough the stock was up more than 2% in today's trading. Today SandRidge Energy (NYSE:SD) saw some big bearish bets as the stock traded down more than 5%. Today one bear stepped in buying the March 6 strike puts for .63 some 15K block times in combination. This went off as part of a massive trade buying the April 5 strike puts 30K times as well for .32. The paper today was very clear just as in LVS with puts being bought on the ask 67% of the time. Additionally, a large closing call spread appears to have went off selling the June 7-9 call spread 28.2K times for .20 further adding to the bearish flows. Net calls were sold to the tune of 610K against puts being bought more than 1.6M heading into earning is never a good sign for the stock. SD saw almost 5x average daily volume today with puts and calls almost even in trading.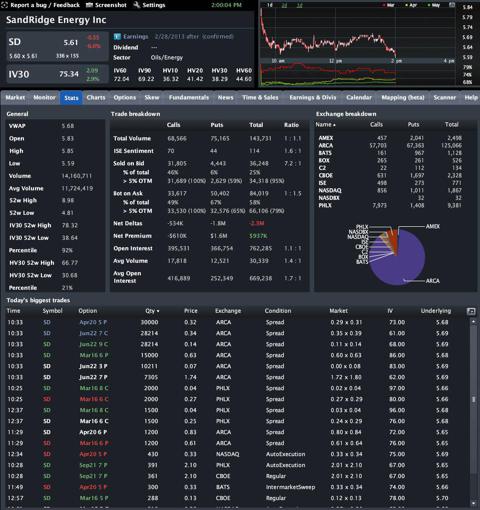 Statistics and Screenshot Provided By LiveVol
A name which was just destroyed today was Affymax (NASDAQ:AFFY) falling 85% after a drug recall sent the stock tumbling. This is a name I flagged back on January 24th (here) after large blocks of 4K OTM puts were bought on this name. These options of course expired worthless as February expiration has come and gone but as it turns out, other put buyers followed in on this buying puts throughout the last 30 days in smaller quantities. March puts trading at just pennies yesterday now are fully in the money with puts exploding up to 4,300% overnight after the massive drop. Some speculative paper did come into this name today playing for a rebound buying the March 5 strike calls 2K+ times. Options activity was more than 13x average daily volume with calls outnumbering puts 1.9 to 1. Yet another prime example of why I follow options.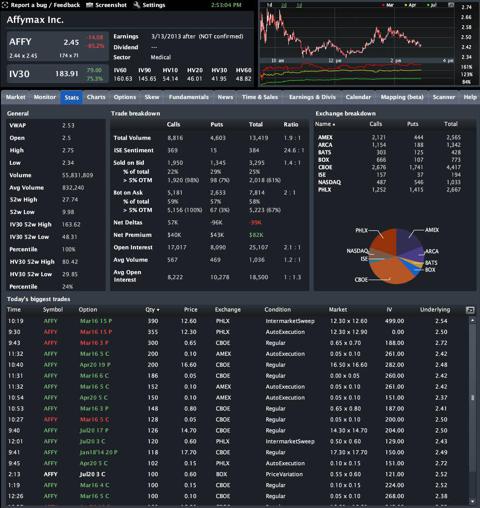 Statistics and Screenshot Provided By LiveVol
Popular ETF's and equity names with bullish / bearish paper:
Bullish Option Flows - ISE & % OTM calls bought on offer
Dynavax (NASDAQ:DVAX) 68% - OTM cheap shot call buyers
ADT Corp (NYSE:ADT) 63% - October 55 calls bought 2.5K times
Alkermes Inc (NASDAQ:ALKS) - 1.1K ISE calls bought
Bearish Option Flows - ISE & % OTM puts bought on offer
Berry Petroleum (BRY) 85% - 2.3K OTM puts bought
Rackspace (NYSE:RAX) 74% - 2.6K OTM puts bought
Banco Santander (NYSE:SAN) 72% - March / April 7 puts bought
Tyson Foods (NYSE:TSN) - 1.7K ISE puts
Guess? (NYSE:GES) - 1.5K ISE puts
MarkWest (NYSE:MWE) - 1.3K ISE puts
IAC/InterActiveCorp (IACI) - 1K ISE puts
Disclosure: I am long AGNC, BA, CBB, CONE, CRM, MTGE, NRG, TUMI, VHC, VOD, and I am short ARUN, DDD, EDU, LULU, SPY
Trades Today: Bought CRM calls.
Disclaimer: The opinions in this document are for informational and educational purposes only and should not be construed as a recommendation to buy or sell the stocks mentioned or to solicit transactions or clients. Past performance of the companies discussed may not continue and the companies may not achieve the earnings growth as predicted. The information in this document is believed to be accurate, but under no circumstances should a person act upon the information contained within. I do not recommend that anyone act upon any investment information without first consulting an investment professional as to the suitability of such investments for his or her specific situation.