Financial ETFs are among the best-performing sectors so far this year after solid fourth-quarter earnings from major banks and on expectations the economy will continue to improve in 2013. However, a narrowly-focused fund tracking broker-dealer firms is leading the pack.
The iShares Dow Jones U.S. Broker Dealers Index Fund (NYSEARCA:IAI) is up about 18% year to date.
"This ETF provides an opportunity for investors to participate in the recovery of the capital markets industry without taking on firm-specific risks," Morningstar says in a profile of IAI. "This ETF's targeted (and unique) exposure might appeal to those seeking a surgical way to gain access to some of the marquee names in the investment-banking and brokerage business."
It notes the "broker/dealer" rubric covers a wide variety of firms, including Wall Street banks with large trading businesses, retail and online brokers, exchanges and market specialists.
The fund's top three holdings are Goldman Sachs (NYSE:GS), Morgan Stanley (NYSE:MS) and NYSE Euronext (NYSE:NYX).
Bank ETFs have also been solid performers so far in 2013.
"Progress seen in the past one year gives a clear growth indication for the U.S. banking sector. Besides contraction in provisions for credit losses and cost containment, a marked recovery in the equity markets and consequent revenue growth led most of the banks to report higher-than-expected earnings," Eric Dutram wrote for Zacks.
Although fundamentals such as an improving housing sector, a turning unemployment picture and decent economic data support a run-up in banking stocks, the low-interest rate climate can be a headwind. Strong earnings reported from banking giants JP Morgan Chase (NYSE:JPM) and Goldman Sachs have bolstered sentiment for the financial sector. Furthermore, profits have been derived from sound, traditional sources rather than bad debt, reports Dutram.
Bank-related ETFs include SPDR S&P Bank ETF (NYSEARCA:KBE), PowerShares Dynamic Banking (NYSEARCA:PJB), PowerShares KBW Bank ETF (NASDAQ:KBWB).
A recovery in the banking sector has been long awaited, as this is the corner of the market looked to as an indicator of overall economic health. The growth momentum started in the third quarter of 2012, up about 7%, as banks posted healthy earnings not seen in about six years.
iShares Dow Jones U.S. Broker Dealers Index Fund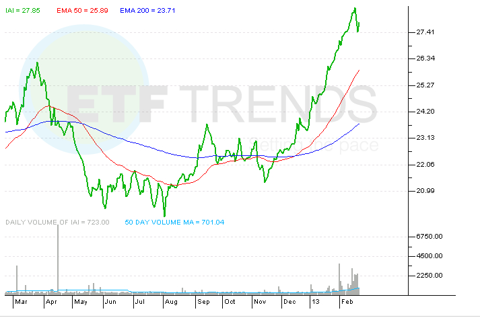 Tisha Guerrero contributed to this article.
Disclosure: I have no positions in any stocks mentioned, and no plans to initiate any positions within the next 72 hours. I wrote this article myself, and it expresses my own opinions. I am not receiving compensation for it. I have no business relationship with any company whose stock is mentioned in this article.