Are the bears coming out of hibernation?
The S&P 500 suffered its first weekly decline of the year, and a slight one at that. Still, it might be a good time to take a look at ETFs that short the market, and an active fund in particular.
For instance, the AdvisorShares Ranger Equity Bear ETF (NYSEARCA:HDGE), which is an actively managed portfolio that tries to achieve capital appreciation through shorting domestic stocks, has gained 4.6% over the past week after experiencing a 11.2% drop over the last three months during the most recent rally.
The fund managers try to identify companies with low earnings quality or aggressive accounting.
The ETF has 44 component holdings and has a total 93.9% in shorts and a 6.3% position in cash. Top short positions include Goodyear Tire & Rubber Co. (NYSE:GT) -4.2%, Cliffs Natural Resources (NYSE:CLF) -3.7%, Vale SA (NYSE:VALE) -3.6%, Fossil (NASDAQ:FOSL) -3.6% and Discover Financial (NYSE:DFS) -3.5%.
Sector allocations include information technology 22%, industrials 6%, healthcare 9%, financials 5%, energy 4%, consumer staples 4%, materials 16%, telecom services 4% and consumer discretionary 27%.
One of the portfolio managers/principals, John Del Vecchio, also helped launch the new Forensic Accounting ETF (NYSEARCA:FLAG), which tracks S&P 500 stocks weighted by earnings quality.
AdvisorShares Ranger Equity Bear ETF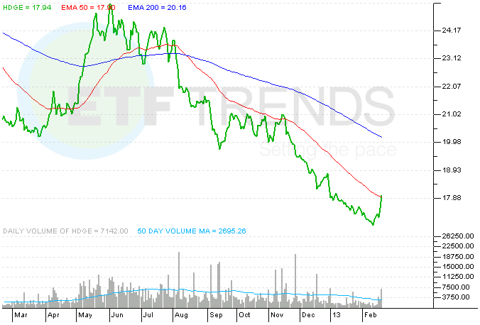 Max Chen contributed to this article.
Disclosure: I have no positions in any stocks mentioned, and no plans to initiate any positions within the next 72 hours. I wrote this article myself, and it expresses my own opinions. I am not receiving compensation for it. I have no business relationship with any company whose stock is mentioned in this article.