Now that the nearly $800 billion Stimulus Package is signed into a law, the question is how its provisions would affect the different industries, which companies would present attractive investment opportunities and which ones we should avoid. After discussing the possible effects on the Solar Industry, we now take a look at the Defense Industry.
Defense companies have enjoyed an abundance of government funding over the last several years. The estimated Defense Military outlays for 2009 are approximately 650 Billion, more than double the amount of the last budget before 9/11. As a result, companies involved with defense, homeland security and aerospace have outperformed the broader markets, with the SPADE® Defense Index (DXS) beating the S&P500 Index by 80.3% cumulatively for the 9/10/01 – 2/23/09 period.
However, this process may be coming to an end. Although historically, defense spending has not been much correlated with trends in the overall economy, increase in government deficits related to recent federal bailouts and reduced tax revenue may lead to downward pressure on defense budgets. Tom Shanker of The New York Times expects the U.S. Defense department to scale back on spending, as President Obama will need to identify at least some budget cuts after signing the new stimulus bill. Weapons programs that have suffered significant cost overruns are amongst the most likely to be affected, according to Mr. Shanker.
Although supplemental funding for weapons procurement and R&D is expected to decrease going forward, there is normally a lag between defense funding and the actual delivery of the purchased equipment. The Aerospace Industries Association estimates that since new procurement spending is basically committed for fiscal year 2009, and the new administration will have limited impact on fiscal year 2010, aerospace companies should see defense sales growth continue on-pace through calendar year 2012.
Whether the expected negative impact for the overall industry would come sooner or later, the key would be to identify which companies within it are relatively overvalued and most likely to suffer a severe price correction, and which have low market expectations embedded in their current stock price, thus being under lower pressure for meeting and beating analysts performance benchmarks.
Listed below are the companies from the Defense Industry according to AFG sector industry classification. Accompanying each stock, are its respective market cap, P/B, forward P/E, and sales growth expectations priced into the stock utilizing AFG's Value Expectation application (assuming their 5-yr median EBITDA margins and asset turnover levels remain constant in the next 5 years).
Defense Companies and Their Implied Sales Growth Expectations (click to enlarge):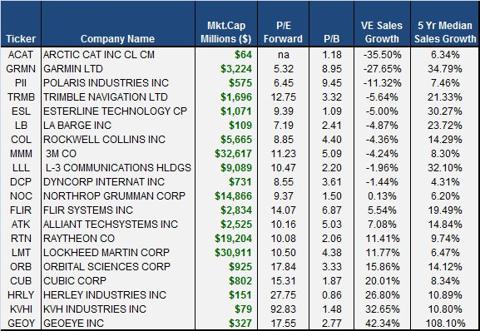 Click to enlarge