1. Gapping lower: Not only did the market gap lower on Tuesday, the action occurred on another day of surging volume. As the global economy continues to erode, look for the world indices to usher in further gap-downs in the U.S. European banks, with their $1.7 trillion in outstanding loans to Eastern Europe, could indeed be the next shoe to fall.
2. No up-trends in any Dow stock: International Business Machines (NYSE:IBM) is the only Dow Jones Industrial stock that has remained in an uptrend since the November lows.
3. Oil: With Oil on its way to the $20s in the next few months, former safe haven plays such as Exxon Mobil Corporation (NYSE:XOM) will continue to decline. A look at XOM's chart reveals a break of support below the 50-day simple moving average (SMA).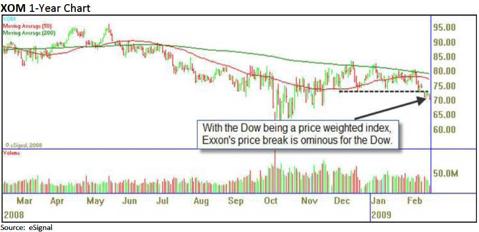 4. Stimulus plan: Most of President Obama's stimulus plan spending does not happen until 2011! I was outraged when I found this out. Dow component, Caterpillar Inc. (NYSE:CAT), is headed to the low $20s or the teens before this is all over, due to the lack of substantial infrastructure spending this year.
5. No support below November lows for the Dow: DJI 20-Year Chart .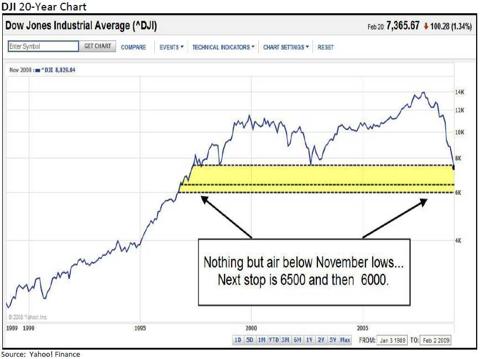 6. Volatility Index ($VIX): As the Dow broke to new lows on Friday, the $VIX only closed up 2.22 to 49.30, illustrating that fear was not palpable in the markets. However, the November lows saw the $VIX close at a high of 81.48. Might an extreme bear market low see the $VIX hit $100?
7. Insider buying: Where is it? Dow Components, Alcoa Inc. (NYSE:AA) and General Electric (NYSE:GE), have been decimated yet management has not stepped in with any insider purchases of stock – disconcerting, isn't it? After all, if they don't see value in their stock, why should general market participants.
8. Markets overshoot. Just as the indexes overshot to the upside in the Dot.com melt-up, look for stocks to overshoot to the downside before this bear market is over.
9. Gold in the $1000s will be the new game in town the next few years. Look for a mania in Gold to develop as stocks are cast overboard by a panic-driven public in favor of the history's currency of choice throughout the ages.