The recently concluded Oscars showcased a couple of emerging Hollywood stars, including Jennifer Lawrence and 9 year-old Quvenzhane Wallis. In the ETF industry, there is one clear breakout star - the PowerShares S&P Low Volatility ETF (NYSEARCA:SPLV), which gathered over $3bn in assets and the ETF of the year award.
The success of SPLV has led to the launch of a series of new Low Vol ETFs. So we decided to ask a fundamental question -- what type of exposure does SPLV give investors, and in what way is it truly different from the other available ETFs?
Our analysis showed an unexpected result: Over the time period since January 1, 2007, SPLV has had more of a growth tilt than a value tilt. This is very unexpected, since low volatility has traditionally been identified with value investing. A closer look reveals that since the beginning of 2007, U.S. growth stocks have actually been less volatile than U.S. value stocks. This doesn't mean that growth will continue to outperform or be less volatile than value in the long term. However, it does highlight that investors should not automatically equate low volatility ETFs with value exposure.
In this article, we focused specifically on a comparison with the iShares Dow Jones Select Dividend ETF (NYSEARCA:DVY). DVY is a good starting point, since investors have often considered dividend stocks as a safe haven in a volatile market, and SPLV offers an alternative approach. This article is an extract from our upcoming guide on low volatility and high beta ETFs.
SPLV And DVY - Comparing Their Historical Performance
We started by comparing the performance of the two ETFs since 5/5/11, which is SPLV's inception date. SPLV had a higher mean return and lower volatility than DVY, resulting in a higher Sharpe ratio (0.053897 as opposed to DVY's 0.039096, using the S&P 500 as the benchmark). Since this time period is too short to draw definitive conclusions, we then used the history of the underlying S&P Low Volatility index for our analysis. We started our analysis in 1/1/2007 to ensure a longer time period, and to incorporate the 2008 bear market and subsequent correction in our analysis.
As we can see in the chart below, SPLV outperformed DVY over this time period as well.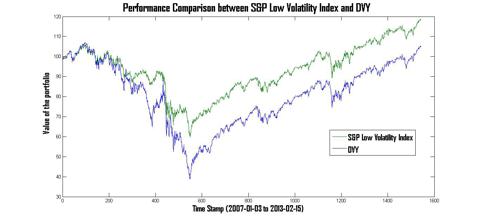 Factor Analysis: Comparing The "Type" of Exposure
In order to better understand the factor orientation of the 2 ETFs, we then used the Fama-French framework to analyze their historical returns.
For each index, we ran a linear regression against the 3 Fama-French risk factors using the historical returns for the above time interval (1/3/07 to 2/15/13). The risk factors were measured as follows:
· Market factor: Russell 3000 Index Returns
· Size factor: Russell 2000 Index Returns - Russell 1000 Index Returns
· Value factor: Russell 3000 Value Index Returns - Russell 3000 Growth Index Returns
We decided to use the Russell indices since their value definition is based on book/price (mirroring Fama-French), and their indices are widely used for benchmarking due to their breadth.
| | | |
| --- | --- | --- |
| | S&P Low Volatility Index | DVY |
| Sharpe Ratio | 0.03 | -0.005 |
| Αlpha | 0.020 | 0.011 |
| Annualized Return* | 4.404% | 4.04% |
| Standard Deviation of Return | 1.1139 | 1.583 |
| β (CAPM) | 0.649 | 0.934 |
| βMarket | 0.681 | 0.811 |
| βSMB | -0.157 | 0.171 |
| βHML | -0.030 | 0.707 |
*Calculated by annualizing the mean of the daily returns over the time period
The Fama-French analysis yielded the following results:
· The S&P Low Volatility Index had a higher historical alpha with a lower standard deviation than DVY over this time period. In other words, over this time period, the low volatility index offered a higher return with lower risk than DVY (with a Sharpe ratio of 0.03 vs. -0.005 for DVY, using the S&P 500 as a benchmark).
· The Low Volatility index had a much lower market beta (β) with respect to DVY, as expected.
· The Low Volatility Index had a lower exposure to small cap, which is not unexpected, since it is constructed as a subset of the large cap S&P 500 Index.
· The most surprising result from the analysis is that the S&P Low Volatility had a low tilt to the value factor over this time period. SPLV is constructed by picking the 100 stocks in the S&P 500 with the lowest historical 1-year volatility, so one would assume it has a value tilt or bias. However, the model showed that this was not the case.
Since this was an unexpected result, we dove deeper to see how growth and value have behaved over the same time period, using the Russell 3000 Growth and Russell 3000 Value Indices. As we can see in the table below, growth has significantly outperformed value with a lower standard deviation.
| | | |
| --- | --- | --- |
| | RAG (Russell 3000 Growth) | RAV (Russell 3000 Value) |
| Mean Return | 6.773% | 2.958% |
| Standard Deviation of the Returns | 1.503 | 1.707 |
| Sharpe Ratio | 0.041 | -0.043 |
*Calculated by annualizing the mean of the daily returns over the time period
The relative performance of the two indices is shown below.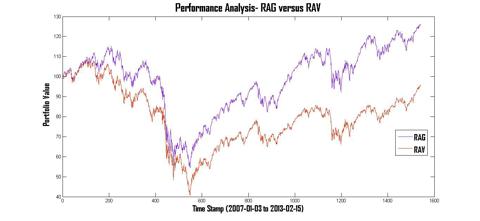 This is an important insight, since it shows that we cannot automatically equate low volatility exposure with value investing. However, it is also essential to add the caveat that these results are an artifact of how growth and value stocks have behaved in recent years, and that as the time horizon of the analysis is extended, low volatility indices may show more of a value tilt.
A Comparison Of Sector Exposures
In order to better understand SPLV, we also did a sector exposure comparison with DVY. We first regressed the returns of the S&P Low Volatility Index and DVY against those of the 9 Select Sector SPDRs, to see which sectors they have had exposure to.
The table below shows the results. Expectedly, SPLV had a high exposure to healthcare, consumer staples and utilities, all sectors that are traditionally associated with having lower volatility. DVY had higher exposure to the financials, utilities and consumer discretionary sectors. Interestingly, the utilities sector seems to have shown both low volatility and high dividend characteristics.
Table: Factor Loadings by Sector for SPLV and DVY
| | | |
| --- | --- | --- |
| | S&P Low Volatility Index | DVY |
| α (active return) | 0.0050 | 0.0035 |
| Consumer Discretionary (NYSEARCA:XLY) | 0.08 | 0.22 |
| Consumer Staples (NYSEARCA:XLP) | 0.22 | 0.16 |
| Energy (NYSEARCA:XLE) | 0.02 | 0.01 |
| Financials (NYSEARCA:XLF) | 0.01 | 0.28 |
| Health Care (NYSEARCA:XLV) | 0.22 | 0.07 |
| Industrials (NYSEARCA:XLI) | 0.09 | 0.05 |
| Materials (NYSEARCA:XLB) | -0.05 | -0.02 |
| Technology (NYSEARCA:XLK) | 0.08 | -0.02 |
| Utilities (NYSEARCA:XLU) | 0.28 | 0.22 |
Figures rounded to 4 digits
We then corroborated these results by looking at the actual holdings of the ETFs on 2/20/2013. The current sector exposures of SPLV and DVY are consistent with the historical sector exposures for these ETFs, as indicated by our model. It is important to note that over the last 5 years, the Low Volatility Index has shown more drift in sector exposure than DVY. For example, while SPLV's exposure to financials has increased recently, through a significant portion of 2009-10, its weight in financials was less than 1%. By contrast, DVY, since it holds dividend-paying stocks, has consistently had a higher exposure to financials.
Finally, we analyzed the historical returns and standard deviation for the 9 Select Sector SPDRs. XLE (Energy), XLB (Materials) and XLF (Financials) were the most volatile, which explains their low weights in the S&P Low volatility Index.


| | | | | | | | | | |
| --- | --- | --- | --- | --- | --- | --- | --- | --- | --- |
| | XLY | XLP | XLE | XLF | XLV | XLI | XLB | XLK | XLU |
| Sharpe Ratio | 0.0054 | 0.02879 | 0.0010 | -0.0278 | 0.0140 | 0.0022 | -0.0011 | 0.0055 | 0.0037 |
| Mean of Excess Return | 0.538% | 3.72% | 0.23% | -7.766% | 1.67% | 0.36% | -0.20% | 0.86% | 0.49% |
| Standard Deviation of Excess Return | 1.6948 | 0.9760 | 2.2050 | 2.7876 | 1.1883 | 1.6688 | 1.9388 | 1.5547 | 1.3222 |
Summary
Over our measurement period (1/3/2007-2/15/2013), the S&P Low Volatility Index has had higher average daily returns and lower volatility compared to DVY. Our Fama-French factor analysis shows that SPLV has a lower market beta and lower small cap tilt than DVY, both expected results. Surprisingly, it has had a significantly lower value tilt. However, a closer look shows this is probably because during this specific time period, growth has outperformed value with a higher return and lower volatility. The two ETFs also have different sector exposures. Since 2007, the Low Volatility Index has had a higher exposure to Consumer Staples, Healthcare and Utilities, while DVY has had more exposure to the Consumer Discretionary, Utilities and Financials Sectors.
Click here to get our supporting worksheets and a free summary of our upcoming guide to Low Volatility & High Beta ETFs.
This article was co-authored by Parivesh Priye & Aniket Ullal. Parivesh Priye is a research intern at First Bridge Data and a recent graduate from the Master's program in the Operations Research Department at Columbia University. Aniket Ullal is the founder of First Bridge Data, a provider of ETF data and risk monitoring dashboards.
Disclosure: I have no positions in any stocks mentioned, and no plans to initiate any positions within the next 72 hours. I wrote this article myself, and it expresses my own opinions. I am not receiving compensation for it. I have no business relationship with any company whose stock is mentioned in this article.