In a recent article (Sunshine Heart: When Drugs Don't Work and LVADs Are Too Risky), I sought to clarify the differences in operation and purpose between the Sunshine Heart (NASDAQ:SSH) C-pulse system and the LVADs of Thoratec (NASDAQ:THOR) and Heartware (NASDAQ:HTWR).
In brief, I described how:
Drugs mostly just slow the progression of Congestive Heart Failure (CHF);
LVADs take over the work load of the heart (but entail risks of blood clotting and strokes) ; and
The C-pulse system does not take over from the heart. It employs proven counter-pulsation technology, to reduce the workload of the heart, and to create additional blood flow to the heart muscle. This allows a tired heart muscle some opportunity to rest and recover, in a measurable way (NYHA Heart Failure class improvement).
I also stated,
I still have a feeling that the market does not fully understand nor appreciate this investigational device for what it potentially is and is not.
I now believe that a recent Seeking Alpha article by Stephen Simpson (Risky Sunshine Heart Looks Very Interesting) will create further misconceptions from an investment perspective.
In his opening remarks Stephen Simpson says,
Sunshine is at least worth a look from aggressive risk-tolerant investors.
This suggests to me, he is about to describe a high risk high reward investment opportunity.
Instead, in my view, he describes a high risk but relatively low reward scenario.
This is disappointing. It is likely to create misconceptions in the minds of readers as to what the investment opportunity is. Of course there are risks, but if these risks are overcome, a case can be made for very high rewards indeed.
For the most part, I think the article gives a good and fairly balanced overview of the C-pulse system product, and the risks involved.
My main issues with the article center on the last two sections (Still A Long Way To Go and The Bottom Line)
In my previous article, referred to above, I stated if C-pulse were a drug, it would be classed as a potential Blockbuster, with potential sales in the billions of dollars.
Stephen Simpson is probably correct. If Sunshine Heart were to go it alone, they might only achieve 3,000 units and $150 million revenue annually by 2020.
But that is a Low Case scenario, and in my opinion, a very unlikely scenario.
Sunshine Heart is no different to a small drug development company, that happens to develop a potential blockbuster. The only sensible way forward is to licence or sell to a major company. A major company, with the production, marketing, and selling infrastructure already in place, worldwide, to efficiently and expeditiously realize the blockbuster opportunity.
Make no mistake, Sunshine Heart has been designed as a takeover target since its foundation in 1999. Consider the following -
The company started operations and raised its initial capital in Australia. But it was incorporated in the USA to facilitate eventual migration from the ASX to NASDAQ;
Dr William Peters is co-founder of Sunshine Heart, and the inventor of C-pulse. In addition to C-Pulse, Dr. Peters has developed a number of other successful cardiac technology innovations, including an endovascular cardiopulmonary bypass system for minimally invasive cardiac surgery, which was commercialized by Heartport Inc., a NASDAQ-listed company that later was acquired by Johnson & Johnson;
The Board members have a wealth of experience in grooming companies for successful takeover. They also have significant connections with leading global medical device companies, including Medtronic (NYSE:MDT), Johnson & Johnson (NYSE:JNJ), Boston Scientific (NYSE:BSX), Baxter Healthcare (NYSE:BAX) and Edwards Lifesciences (NYSE:EW).
At a Special Meeting of Stockholders, on 18 August 2011, approval was given for a change in the Bylaws, to strengthen the position of the Board in any takeover negotiations (details here); and
The proposed de-listing from the ASX will reduce regulatory requirements, and give the Board greater flexibility in any takeover negotiations.
The question is, who might want to launch a takeover bid for Sunshine Heart?
In his article, Stephen Simpson says,
Any company with an effective treatment for congestive heart failure is a candidate to be bought by Medtronic, St. Jude (NYSE:STJ), or Boston Scientific (as well, perhaps, as Covidien (COV), Abbott Labs (NYSE:ABT), or Johnson & Johnson, but there's long been much more smoke than fire there.
He goes on further to say he would not bank on a takeover.
But, a takeover is the obvious and most likely High Case exit option. There needs to be some quantification, to meet the reader's expectation of a High Risk High Reward scenario, as implied in Stephen's opening remarks.
Table 1 below, summarizes data, for sales, SG&A and R&D, from the 2012 financial statements of Thoratec, Medtronic and Johnson & Johnson (Certain non-recurring and other expense items are not included. So Income from Operations differs from reported Earnings Before Tax) .
TABLE 1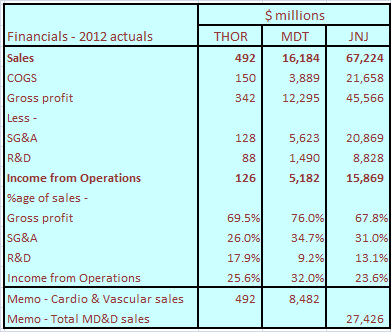 Table 2 below, is a pro-forma financial statement, depicting what sales and operating income C-pulse systems might generate, at various levels of penetration of the US and EU CHF market, addressed by the system.
This is not a forecast, and certainly not a forecast for Sunshine Heart.
Rather, it is a presentation, in pro-forma financial format, of what might be potentially achievable, by a company such as Medtronic or Johnson & Johnson, at some undefined future time, if the C-pulse system were to become widely accepted as an alternative to ineffective drug therapy.
In terms of sales and operating income, Table 2 below shows that:
0.2% of its target market could put C-pulse ahead of Thoratec's 2012 results (THOR market cap $2.1 billion);
6% of its target market could put C-pulse not far behind Medtronic's 2012 results (MDT market cap $45.2 billion);
10% could put C-pulse ahead of the entire Johnson & Johnson Medical Devices and Diagnostics division's 2012 results.
If all this seems unbelievable, then just consider, in the 1960s, industry forecasts predicted all-time worldwide sales of some 10,000 pacemakers, but by the 1990s an estimated 350,000 pacemakers were being implanted worldwide each year.
I do believe, if the levels of uptake shown below were to be achieved, it would require a Medtronics or a Johnson & Johnson (or any other of the large medical device companies mentioned in this article), with all their promotion, marketing, and distribution capabilities, coupled with their branding.
If Thoratec were to make a successful takeover bid, it is believed likely, they would, in turn, be subject to takeover by Medtronic or Johnson & Johnson.
TABLE 2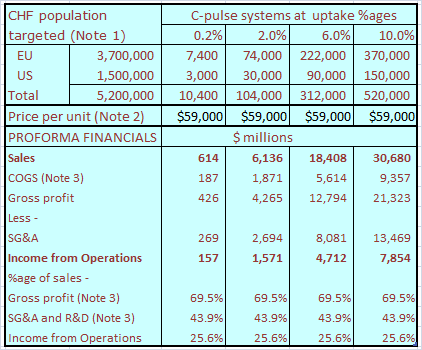 Note 1 - CHF population targeted by C-pulse system per prospectus filed with SEC, August 10, 2012, by Sunshine Heart;
Note 2 - Based on C-pulse device current sale price of US$59,000 while it's being evaluated in pre-marketing and post marketing clinical trials (see here);
Note 3 - Percentages based on Thoratec reported Gross Margin and SG&A and R&D costs for 2012.
In Conclusion
Sunshine Heart C-pulse system, at this stage, has only a 20 patient Feasibility Trial behind it. It does appear to have enormous potential, if, and only if, the results of that 20 patient trial can be confirmed in the current Pivotal Trial, and the post market trial proposed for EU.
Good outcomes from those trials could make Sunshine Heart a real "Pearl" in terms of Risk Reward ratio.
And take note of the sheer magnitude of the potential reward side of the equation -

Caution
Investing in micro cap companies is not suitable for all investors and can be risky. It's important that investors thoroughly perform their own due diligence and analyze the potential risks. Due to illiquidity, share prices can fall despite strong fundamentals, and possible inability to raise sufficient additional cash to continue to fund ongoing operations is always a serious concern. Fuller details of risks associated with Sunshine Heart as identified by the company may be found with their form 10-12B/A registration filing with the SEC. and their other SEC filings.
Disclosure: I am long SSH. I wrote this article myself, and it expresses my own opinions. I am not receiving compensation for it. I have no business relationship with any company whose stock is mentioned in this article.