Pre Nutshell: Oasis Petroleum (NYSE:OAS) reported better than expected EIBTDA on pre-announced 4Q12 production. This is our pre-call note.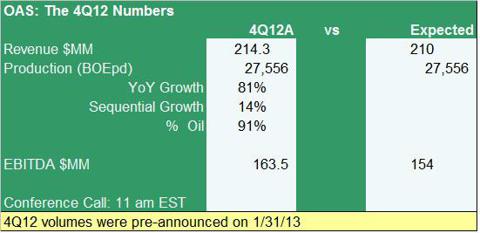 The 4Q Numbers: While 4Q12 production was pre-announced Oasis Petroleum exceeded consensus expectations for revenue and EBITDA and EBITDA per BOE hit $64.49 /BOE in the quarter, a new high. Strong cost control and contribution from the company's well completion segment offset sequentially lower oil prices (WTI averaged ~ $88 per barrel in the quarter, the lowest quarterly average of 2012). Moreover, given management's propensity for shying away from dilution, OAS recorded another new high in terms of production per share (see table at the bottom of this piece). While the name has risen from a 20 month sleepy period described in our last piece here it continues to trade near its lows on an enterprise value to production basis (see graphs below).
Guidance: Guidance was not mentioned in the quarterly press release but the company issued guided preliminary 2013 guidance at the end of January and there won't be any change likely on the call. Mid point of the official range of 30,000 to 34,000 BOEpd range for 2013 equates to 42% YoY growth and we expect management built in a little conservative cushion as usual. We're not alone as the Street has already cooked 33,600 BOEpd into their numbers (current consensus). Cost guidance equates to a slight improvement over 2012 levels.
Highlights:
No operations highlights as the company just had the outline of an operations update with that last press release but on Tuesday's call we'll be listening for:


timing on early tests of the lower Three Forks benches,
timing on results of tighter density pilots,
and the ramp of volumes getting into the rail delivery system with management's thoughts on 2013 differentials, something the company has not yet guided on yet. 4Q saw the best differentials to WTI yet as 80% of their oil was transported via rail to higher priced markets beyond Cushing.

Balance Sheet:


55% net debt to cap,
Liquidity of nearly $1 B as of year.
Nutshell: We often refer to Oasis as the "easiest to own name among the Bakken players". Costs continue to trickle lower and we expect 2013 to be a year of "beat and raise" as the quarters roll by. We continue to own the name as a top 5 ZLT position. On a forward TEV/EBITDA basis, the name trades at 5.8x 2013 estimated EBITDA and 4.4x 2014's number, which given the growth, the oiliness, and the resulting strong margins we find to continue to be appealing and augers for a move over the next 12 months above the $50 mark.

Disclosure: I am long OAS. I wrote this article myself, and it expresses my own opinions. I am not receiving compensation for it (other than from Seeking Alpha). I have no business relationship with any company whose stock is mentioned in this article.