The average stock in the S&P 500 has now declined 3.37% since the index made its last bull market closing high on February 19th (just last Tuesday). Below is a chart that shows the average decline for stocks in each S&P 500 sector. (This looks at the index on an equal-weighted basis instead of cap weighted.)
As shown, Energy and Materials stocks have by far been the worst performers since last Tuesday's close. The average Energy stock in the S&P 500 is down 5.83% since 2/19, while the average Materials stock is down 5.25%. The second-tier losers have been Consumer Discretionary, Industrials, Technology and Financials. Stocks in these sectors have averaged declines between 3.5% and 3.72%.
The four sectors whose average returns have been better than the S&P 500 as a whole are Health Care, Telecom, Consumer Staples and Utilities.
Based on this analysis, there's been a clear divide between the cyclicals and the defensives. All six cyclical sectors have underperformed, while the four defensive sectors have outperformed. Not surprising.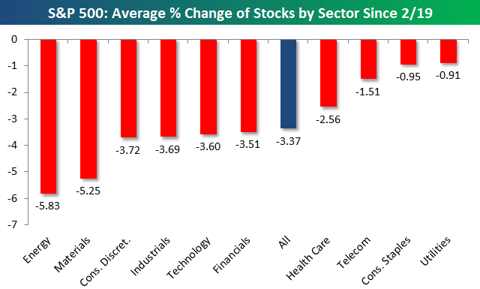 Click to enlarge
Below is a list of the individual stocks that have done the worst since the market's peak last week. All of the stocks below are down more than 8% over the last four trading days.
Three Energy stocks (NBR, NFX, BTU) and two Consumer Discretionary stocks (ANF, GRMN) top the list of worst performers. But all six cyclical sectors are represented in the list of losers. US Steel (NYSE:X) has been the worst performing Materials stock with a decline of 11.37%. Advanced Micro (NYSE:AMD) has been the worst Technology stock, while Masco (NYSE:MAS) has been the worst Industrials stock. Bank of America (NYSE:BAC) and Morgan Stanley (NYSE:MS) are down the most in the Financial sector with respective declines of 9.52% and 9.42%.
Not a pretty picture to say the least.
If you think the market is going to bounce, these stocks are likely to bounce back the most. If you think the market is headed lower, these stocks will likely continue to get hit hard. Well, which is it?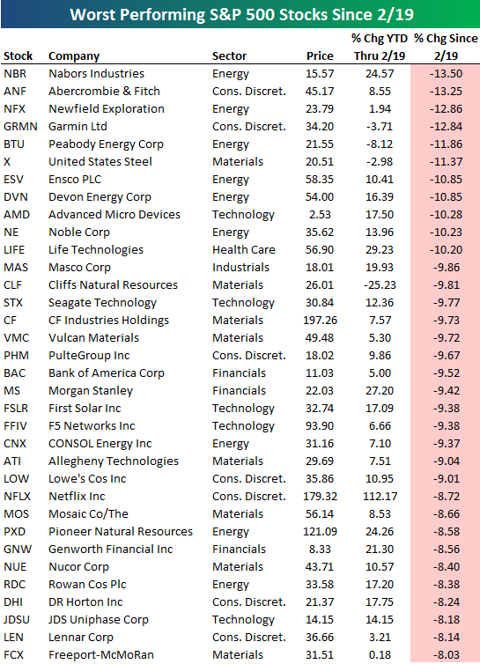 Click to enlarge