American International Group (NYSE:AIG), the company that previously looked like American Insolvent Group during the financial crisis, has been making a strong comeback in the past few years. The stock has risen from the single digits in 2009 to its current price of $38.45. The company has a few key developments to help its future success.
The company has driven down its long-term debt since 2008. AIG was drowning with over $177 billion in long-term debt in 2008, but ended 2012 with $48.5 billion. AIG has a commitment to continue to streamline its balance sheet. The company sold its remaining stake in Asian insurer, AIA Group, in December, raising $6.45 billion. The U.S. Treasury has exited its position in AIG in December.
Despite the negative effects of Super-storm Sandy, the company was able to maintain strong cash flow. AIG's twelve-month cash flow from operations for 2012 was $3.7 billion.
AIG set the stage in motion for future international success by signing an accord with PICC Group to sell life insurance in China. China is considered an underdeveloped market for life insurance. PICC Group's IPO debuted in Hong Kong in December. The IPO price opened at $3.59 and ended the day at $3.72. The stock is now trading at $4.53 on the Hong Kong exchange, 22% higher than the IPO debut closing price. China was the fifth largest life insurance market in 2011, and is expected to be the 2nd largest market by 2020 with a projection of $406 billion in premiums.
AIG received the following distinctions from Global Finance: best overall insurer, best property insurer, best environmental liability insurer, best employment practices liability insurer, and best cyber risk insurer.
The company has focused on capital efficiency and optimizing its risk profile. It has worked to achieve high-value business and underwriting improvements. Also, by investing in its business, people, and profitable growth opportunities, AIG has gained a strong competitive advantage in the industry.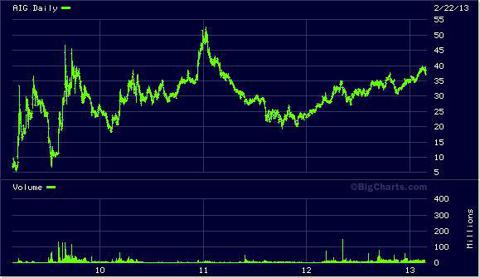 It is important to note that AIG is not without risks. The company is highly dependent on the business environment. It is susceptible to market risk, credit risk, operational risk, and liquidity risk. Although the economy has shown improvement following the financial crisis, there is no guarantee that conditions will continue to improve. Quantitative Easing has provided a boost to financial markets, but these record low interest rates can't last forever. If inflation creeps up, the Fed will be forced to raise interest rates, which may slow the economy and negatively affect AIG.
AIG is still significantly undervalued with a forward P/E ratio of 9.94, a PEG of 0.93, and a price to book ratio of just 0.54. With the current price at $38.45, and the book value per share at $68.87, it looks like the stock has plenty of catching up to do.
Although AIG doesn't currently pay a dividend, the company did hint at considering one in future as its financial situation allows. The company would also like to buy back more stock.
AIG is expected to grow earnings annually at 12.33% for the next five years. Given its undervaluation, balance sheet improvements, and strategic global moves, the company should outperform the market over the next five years.
Disclosure: I have no positions in any stocks mentioned, and no plans to initiate any positions within the next 72 hours. I wrote this article myself, and it expresses my own opinions. I am not receiving compensation for it (other than from Seeking Alpha). I have no business relationship with any company whose stock is mentioned in this article.