Clorox (NYSE:CLX) is a staple stock, often capable of providing a measure of balance in a portfolio. The company provides a range of household products, enjoys stable profits, and pays a dividend of over 3%. However, the rather large run in stock price since the beginning of the year may indicate a place to either take some profits off the table or else look for a way to profit from a potential turnaround. Let me be clear. Just because a stock in your portfolio has made a nice run does not mean you need to sell it. However, moves like this are justifiable reasons to examine the stock and consider if a move is warranted.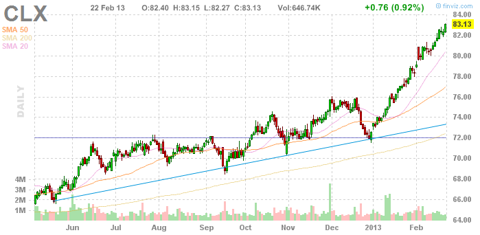 As you can see from the chart above, Clorox has run up from $72 to $83 since the beginning of the year - over a 15% move. The last time this stock made a move like this was in Jan-Feb 2011 when it increased 14.5% in five weeks. The stock then trended generally sideways for the next six months or so before spiking and then dropping sharply. The stock currently shows an RSI of nearly 85 indicating an overbought condition, and the mean analyst target price is $80.07, almost 4% below the current price. However, the forward P/E of 17.7 tends to indicate that the company is likely reasonably valued as it sits. Likewise, the payout ratio and expectations of future earnings growth indicate that the dividend is safe and actually likely to be raised in the future. Even after the recent run, the dividend still yields over 3%.
Possible Actions - Long Side
Investors long this stock may wish to stand pat. It has been a nice run since January, but really it has been a better one (over 27%) for the past year. Those who use dividend growth strategies might consider this company's projected earnings growth and track record of dividend increases positive enough to ignore the quick rise over the past seven weeks. Going long the stock at this point could be an alternative, although the fear would be that the majority of this run is already over.
Options traders have several choices in building positions to profit from sideways or continued upward movement in this stock. For example, a July 2013 call spread between $80 and $82.50 can be purchased for $185. This particular trade remains positive as long as the stock reaches the expiration date above $81.85, and nets a 35% profit if the stock stays above $82.50. With a current price of $83.13, this means that the stock can drop 63 cents and still attain the maximum profit. But in reality, there is not a large margin for error with such a trade. You should always remember that a small move in stock price can create a large move in the corresponding option, so your investment can become worthless very quickly.
Possible Actions - Short Side
I personally do not care for the strategy of a straight short position without a hedge. Such a possible hedged combination could involve shorting 100 shares of the stock and receiving $8313 in cash, while simultaneously purchasing a July 2013 call at $85 for $150. This results in a net credit of $8163 into your account. If the trade goes poorly and Clorox continues to rise, an investor has an out at $8500 and the loss is limited to $337. In order to profit from this trade, the stock only needs to drop 1.8% from its current level between now and July. At that point, the call becomes worthless, but the short position can be closed at a profit.
Final Thoughts
Clorox is a stable company that will remain profitable and should continue paying its steady dividend into the foreseeable future. However, the recent rise in the stock price may appear to be a bit overdone. Those who are long may be satisfied to let it ride, but consideration should be given to taking some of the profits off the table. Despite the price increase, there are positions that can be built to profit from either a further increase or sideways movement in the stock price over the next few months. If you believe that the stock has finished its run as it has not made a move like this in recent history, then a hedged short position may be the best way to profit from any drop in price as the stock consolidates.
Disclosure: I have no positions in any stocks mentioned, but may initiate a long position in CLX over the next 72 hours. I wrote this article myself, and it expresses my own opinions. I am not receiving compensation for it (other than from Seeking Alpha). I have no business relationship with any company whose stock is mentioned in this article.
Additional disclosure: I have no position in this stock at the time this was written. I may initiate a hedged options position in CLX in the next three days.