Things have not changed much since last year at Citigroup (NYSE:C), so it seems. In October 2012, Vikram Pandit, ex-CEO of Citigroup, along with John P. Haven, left on the issue of operations mismanagement, resulting in setbacks with regulators and cost credibility with investors. But it all started following the rejection of a proposed $15 million pay package for then-CEO Vikram Pandit.
We have to understand here that although $15 million was a really big sum, the big amount was only the indirect cause of the investors' disapproval. The direct cause of the investors' disapproval was the bank's poor performance in the market.
And now under the new compensation plan decided at a meeting of Board Chairman Michael O'Neill and other directors with nearly 20 shareholders representing more than 30% of Citigroup stocks, Citigroup's current CEO, Michael Corbat's compensation stands at $11.5 million (of which, $1 million is the base salary, $4.18 million is in simple cash bonus, $3.14 million is in deferred stock and another $3.14 million is in performance share units). The first thing to note is that as per Corbat's 2013 structuring plan, the company should save around $800 million a year from 2014 onward, factoring in reduction in revenues from discontinued operations. Now, that sounds to be a good way of starting your stint at the third largest bank in the US.
But when we come to the performance bonus part, the whole equation looks weak because of two things. Is not 30% of your total compensation as performance bonus too low a percentage attributed to a CEO's performance? On top of it, is Citigroup's performance really that good that it can boast of providing its CEO a hefty pay package of $3.14 million as performance bonus?
Nell Minow, a shareholder advocate at GMI Ratings, said the new approach was "far from perfect, or even good, but it's less terrible than it used to be."
Okay, the new formula puts Mr. Corbat at a similar compensation level to his peers. Mr. Corbat is being paid the same amount for 2012 that JPMorgan Chase (NYSE:JPM) recently said it was handing to its chief executive, Jamie Dimon. JPMorgan's board cut Mr. Dimon's pay from $23 million a year earlier after the bank suffered a multi-billion dollar trading loss. Bank of America announced this week that its CEO, Brian T. Moynihan, would receive $12.1 million, a raise from 2011.
Still, why pay a cash bonus to Corbat? Cash bonuses were missing from the pay packages already announced for Jamie Dimon, James Gorman, CEO of Morgan Stanley (NYSE:MS) and Brian Moynihan, CEO of Bank of America (NYSE:BAC). Among the major Wall Street bosses, only Goldman Sachs (NYSE:GS) CEO Lloyd Blankfein received a cash bonus of $5.6 million as part of his $21 million total compensation package.
With a current ratio of 1.1, paying a cash bonus does not seem viable to me at the moment. Okay, let us come to the next point. Is the $3.14 million as performance bonus justified with the current performance of the company?
Revenue dropped to $90.7 billion in 2012, compared $102.6 billion in 2011 and $111.5 billion in 2010. With a drop in revenue, net pretax income also dropped to $8 billion in 2012 compared to $14.6 billion in 2011 and $13.2 billion in 2010. But most of 2012 was under the reign of Pandit. The question is whether Q4FY12 was promising or not. Taking a look at the quarterly performance graph below, while revenue has spiked up in the last quarter last year by around 6% (not a mind-blowing number), net profit margin of 5.25% is not that impressive.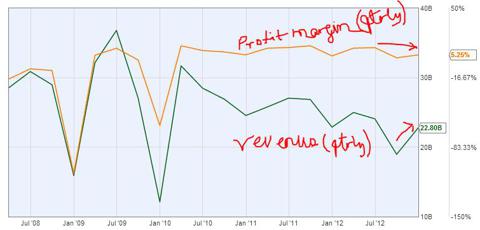 Yes, compared to 4.25% of Q4F11, it appears somewhat better. But when you put it beside 12.2% of Q3FY12, it lacks the necessary luster. Well, we cannot judge by this only. Corbat has already initiated his restructuring plan with a bold 11,000 job cuts move in December last year. That should show in Q1FY13. We are still waiting for that.
Regarding loans and deposits, take a look at the table below.
| | | | | | |
| --- | --- | --- | --- | --- | --- |
| Quarterly Period | Q4FY11 | Q1FY12 | Q2FY12 | Q3FY12 | Q4FY12 |
| Total Deposits - EOP | $865.9 | $906 | $914.3 | $944.6 | $930.6 |
| Total Loans | $647.2 | $648 | $655 | $658.4 | $655.5 |
| Allowance For Loan Losses | $30.1 | $29 | $27.6 | $25.9 | $25.5 |
(In Billions)
While allowance for losses has gone down steadily over time since Q4FY11, it is more to Pandit's credit rather than Corbat's. He probably laid down the structure before he moved out. On the other hand, deposits do not impress me at all. While steadily increasing over the last few quarters, total deposits decreased by $13 billion to $930.6 billion in Q4FY12. Deposits are the backbone of the banking business. Lower deposits mean lower loans and thus, lower revenue per se. Okay, so you are slashing down several uneconomic parts of the business. But that should show in the net profit margin. If it does not, all you are doing is scaling back the operations of the banking giant (not a good step at all).
Finally, let us take a look at the table below.
| | | | | | | | | |
| --- | --- | --- | --- | --- | --- | --- | --- | --- |
| Companies | EPS Growth % (YoY) | Sales Growth % (YoY) | Current Ratio | Debt-to-Equity | Return on Average Assets % (ROAA) | Return on Equity (%) | Net Margin (%) | Operating Margin (%) |
| Citigroup | 81.58 | 32.77 | 1.01 | 1.27 | 0.62 | 6.38 | 9.51 | 15.01 |
| Morgan Stanley | 421.43 | 49.50 | 0.84 | 2.65 | 0.41 | 4.59 | 0.23 | 11.21 |
| JP Morgan Chase | 54.44 | 10.16 | 0.93 | 1.41 | 10.95 | 0.88 | 21.93 | 21.18 |
| Goldman Sachs | 204.35 | 52.69 | 0.72 | 2.46 | 10.78 | 0.78 | 20.79 | 20.48 |
Disclaimer: Please do not rely on these numbers, which can vary according to the sites they are taken from. The formulae used to deduct them should be the same for all the companies, aiding in the comparison process.
Although Citigroup's leverage is quite healthy and should not be a huge problem for the company, the current ratio of 1.01 indicates that the company does not have enough cash to play with. If Corbat is paid a cash bonus of $3.14 million, it should be taken from somewhere (perhaps, from the dividend income of shareholders or some other investment?). While EPS growth is not that impressive compared to that of Morgan Stanley or Goldman Sachs, what bothers me still are the profitability margins. Net margin (MRQ) of 9.51% and operating margin (MRQ) of 15.01% is still far behind those of JPMorgan Chase and Goldman Sachs.
Does that justify the sudden spike in the compensation benefits below?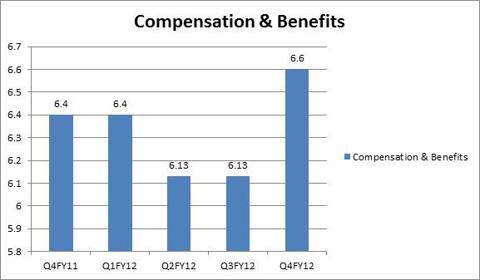 (In Billions)
No, it does not.
Firstly, 30% of total compensation in terms of performance does not sufficiently make top executives' pay dependent on their performance. Secondly, with Corbat yet to show his magic, there is no reason why he should be paid such a high sum in par with his peers, not to mention the cash bonus of a whopping $3.14 million a year.
What do you say, people? Please weigh in with your precious comments.
Disclosure: I have no positions in any stocks mentioned, and no plans to initiate any positions within the next 72 hours. I wrote this article myself, and it expresses my own opinions. I am not receiving compensation for it (other than from Seeking Alpha). I have no business relationship with any company whose stock is mentioned in this article.