Petrobras (NYSE:PBR) is how most people think you spell oil in Portuguese. However, there are other ways to invest in oil in Brazil. Today we look at a comparison between fully integrated major international oil companies and Ultrapar Holdings, Inc. (NYSE:UGP).
Exxon Mobil (NYSE:XOM), Chevron (NYSE:CVX), Total S.A. (NYSE:TOT), BP (NYSE:BP), Enersis S.A. (NYSE:E), and Royal Dutch Shell (NYSE:RDS.A) compose the six "Supermajor Oil Companies". Together, these six represent 50% of the entire oil and gas reserves of the world's non National Oil Companies (NOCs). Ultrapar Holdings, Inc. is a Brazil-based company active in oil and gas transport, wholesale and retail distribution, refining, storage, and terminal operations.
The Supermajors have performed poorly historically and yet they form a core holding in many broad-based mutual funds and ETFs. No portfolio can be considered balanced without a significant allocation to the energy and petrochemical industry. A review of the historic and near-term performance of the supermajors compared directly with Ultrapar is revealing.
Total return shows Exxon Mobil barely returning an investor's original $10,000, with a 5 year combined stock price appreciation together with dividends paid giving a total return of $10,500. The company failed to even meet the S&P 500 performance.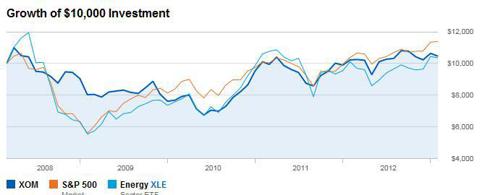 Click to enlarge
(source: schwab.com)
Chevron investors fared better with a total return of $13,600. It also consistently outperformed the S&P 500.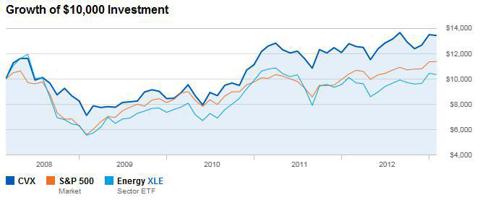 Click to enlarge
(source: schwab.com)
BP reduced the net worth of an investor from $10,000 to a current $6,900. It performed consistently poorly, never in the black after mid-2008. BP generated greater cumulative losses year after year.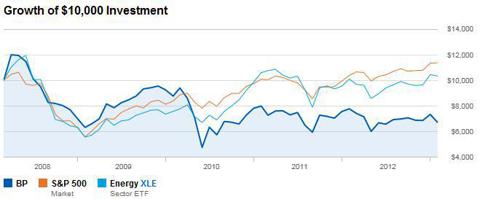 Click to enlarge
(source: schwab.com)
Total S.A. also disappointed investors, reducing a $10,000 investment to $6,400. This is another company which provided a consistent loss since mid-2008.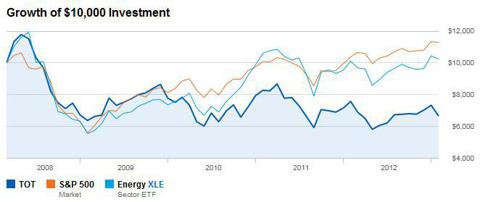 Click to enlarge
(source: schwab.com)
Enersis S.A. is also on the loser list. Investors saw their $10,000 investment reduced to $6,500. Again, another of the supermajors failed to return super or even major results.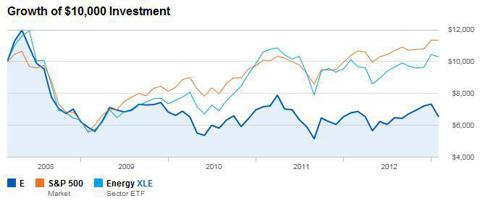 Click to enlarge
(source: schwab.com)
Royal Dutch Shell also disappoints, having pared a $10,000 investment to $9,400 in 5 years.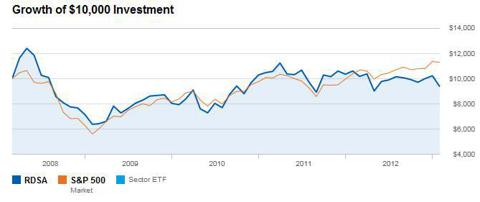 Click to enlarge
The six supermajor oil companies have been six major disappointments to investors over the past 5 years. Alone among them, Chevron returned investors a 36% gain. Even this is a loss when the total dividend payouts for the last 10 years are considered. Share price depreciation actually eroded the net results of its cash distributions.
At the same time, Ultrapar Holdings, Inc. was rewarding the stray investor wise enough to not be blinded by the dust kicked up from the herd. In comparison to the widely held supermajors, UGP converted an investor's $10,000 into over $30,000 for the same 5 year period. Not only did it beat all of these majors handily, it did so more consistently. Being a BRIC-based company, it did all this while also providing important portfolio diversity for Region, Currency, Political environment, and population demographics.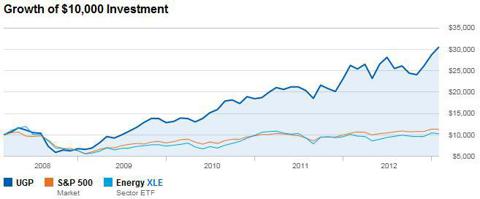 Click to enlarge
(source: schwab.com)
Compound growth returns are even more impressive, as summarized in the following table:
Compound Return With Dividends Reinvested on Pay Date
| | | | |
| --- | --- | --- | --- |
| Company | 1 Year Return | 3 Year Return | 5 Year Return |
| UGP | 21.9 % | 158.7 % | 229.9 % |
| CVX | 11.5 % | 75.5 % | 60.9 % |
| E | 6.5 % | 21.7 % | < 5.8> % |
| TOT | <3.1> % | 3.8 % | <10.8> % |
| RDS.A | <4.6> % | 32.8 % | 18.8 % |
| BP | <6.3> % | <15.0>% | <19.9> % |
Ultrapar also holds its own on dividend growth. It offers a very attractive history of increasing its dividend and compares well against the six supermajors.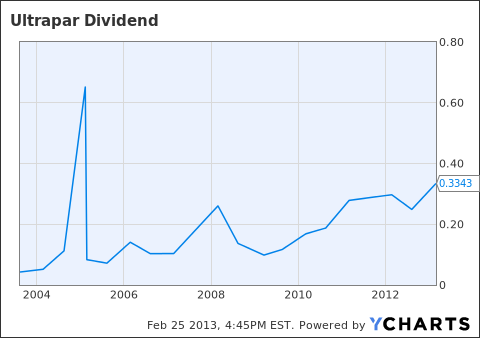 UGP Dividend data by YCharts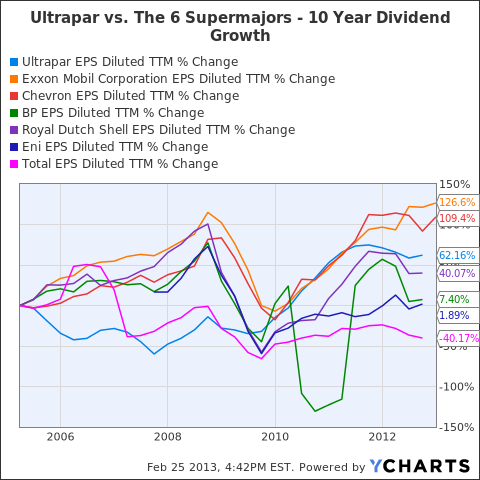 UGP EPS Diluted TTM data by YCharts
Ultrapar Holdings has growth written in its metrics, as shown in the following chart.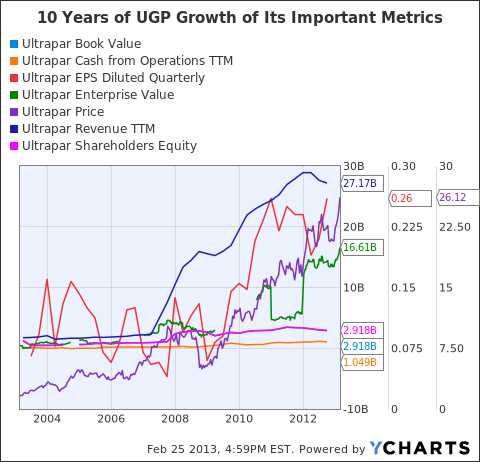 UGP Book Value data by YCharts
Ultrapar reported its 4th quarter and full year results for 2012 last week on February 20th. Management opened the discussion of results with these highlights:
We present in 4Q12 one more quarter of positive results progression, with 32% and 36% growth in EBITDA and net income, respectively. We closed 2012 achieving significant growth and record levels of results, even in a more challenging macroeconomic environment.

Ultrapar's net revenues reach R$54 billion ($27B) in 2012, an 11% growth over 2011.

Ultrapar's EBITDA amounts to R$2.4 billion ($1.2B) in 2012, up 18% over 2011.

Ultrapar's net income exceeds R$1 billion ($500M) in 2012, growth of 19% over 2011

Ultrapar receives the 2012 IBGC corporate governance award.

Approval of additional dividend distribution of R$354 million ($178.7M), resulting in total dividends of R$627 million ($316M) for 2012, corresponding to a 62% payout for the year and a 19% growth over 2011.
No company is perfect. Some clouds are present on the horizon which management will have to stay aware of and address to remain the Alpha performer that it continues to be year after year. Gross profit margins have declined slowly over the past several years. They appear to be stabilizing or improving in the most recent results. Room to improve margins when coupled with the continuing growth of gross revenues may turn out to be a positive contribution to net earnings in the future.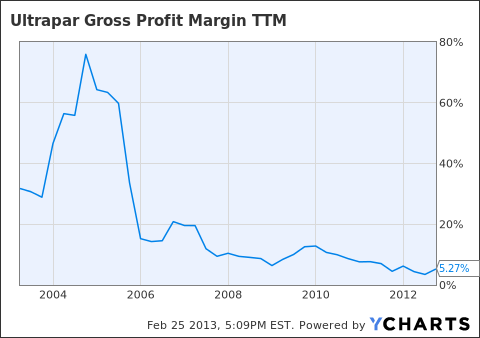 UGP Gross Profit Margin TTM data by YCharts
Oil and petrochemicals remain an important part of any diversified portfolio. The study offered here defies traditional recommendations and allocations which focus on investment in the supermajor International oil and gas companies. My recommendation is to underweight the supermajors with replacements of them focused on smaller cap integrated oil and gas companies. The majority of your petro dollar investments should be in the downstream refining, marketing, and distribution. An emphasis on specialty products adds a premium return for many companies with this focus.
Investors currently in BP, RDS.A, and TOT should exit them immediately. In no event should dividend reinvestment be considered in any of the supermajor holdings other than possibly Chevron.
The outstanding historic performance of Ultrapar Holdings, Inc. coupled with its excellent quarter and full year reports last week make it a good value for investment now. Continuing earnings and dividend growth make the company a good choice for both value and income investors. Buy UGP now.
Disclosure: I have no positions in any stocks mentioned, but may initiate a long position in UGP over the next 72 hours. I wrote this article myself, and it expresses my own opinions. I am not receiving compensation for it (other than from Seeking Alpha). I have no business relationship with any company whose stock is mentioned in this article.
Disclaimer: I am not a licensed securities dealer or advisor. The views here are solely my own and should not be considered or used for investment advice. As always, individuals should determine the suitability for their own situation and perform their own due diligence before making any investment.