It's getting worse, both in Greece, and in Europe. And yet our elites are celebrating the end of the crisis.

- Yanis Varoufakis in "Varoufakis on Valve, Spontaneous Order, and the European Crisis", EconTalk (February 25, 2013)
This quote started a long diatribe from the Greek perspective on the crisis in the eurozone that was well-timed for Monday's resurgence of dire eurozone headlines. Across the board, Europe-related equities were slammed hard on a day that was difficult across financial markets. There are many developments worth noting as I did with "Pound Vs. Euro - Debt Downgrade Vs. GDP Downgrade", but here I want to shine a quick spotlight on Spain.
Last month, Spain's unemployment rate reached Depression-like levels when it hit a record 26% and projections are for it to increase to 27% this year. In this day of infinite monetary easing and abundant money printing, a Spanish central bank would have 0% interest rates and a plummeting currency. Instead, Spain has a confident European Central Bank (ECB) which has essentially engineered a strong comeback for the euro (NYSEARCA:FXE). The euro has jumped about 8% from 2012′s lows against the U.S. dollar and had been up as much as 13%. During this time, the iShares MSCI Spain Index Fund ETF (NYSEARCA:EWP) has followed the euro off the lows. EWP is up an astounding 44% off 2012 lows and was up as much as 65% when it slammed into resistance at 2012′s peak. This strong relief rally looks like it has topped out for now.
Three weeks ago, I pointed out a topping pattern in EWP as it broke down below its 50-day moving average (DMA). This breakdown seemed to confirm that the rally had finally ended at 2012′s highs. After that breakdown, EWP snaked along its 50DMA, refusing to sell-off further. On Monday, February 25th, the index finally succumbed with a 5.5% plunge that covered the entire range of trading for February (for technicians, this is essentially a bearish engulfing pattern). Monday's high trading volume is only exceeded by the high selling volume that accompanied the breakdown on February 4th. Together, these bouts of selling provide very strong signals of a top in EWP for now.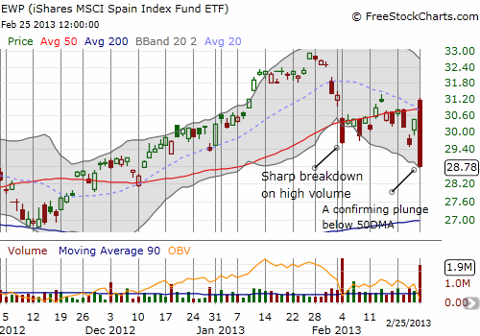 EWP breaks down
Visually, it is easy to see that EWP remains trapped in a persistent downtrend. So while the relief rallies provide tremendous gains, ultimately, the demise of these rallies has led to fresh and extended pains.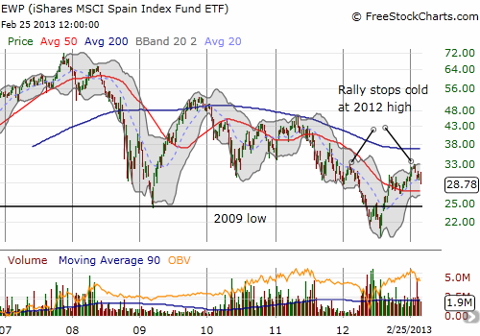 The trend remains DOWN for EWP
Source for charts: FreeStockCharts.com
Ironically, optimism seemed to continue to build as Prime Minister Mariano Rajoy announced that Spain was on target with budget reduction plans, and last week the government held yet another successful bond auction on falling yields. This optimism will quickly fade if austerity simply worsens Spain's job market even further. Given the typical response to extremes of high unemployment has been to ease monetary AND fiscal conditions, I strongly suspect things will indeed get much worse for Spain before they get better (economists can argue endlessly as to whether this is ultimately better for the long-run). Forecasts for 2014 should get slashed sooner than later.
Be careful out there!
Disclosure: I am short EWP. I wrote this article myself, and it expresses my own opinions. I am not receiving compensation for it (other than from Seeking Alpha). I have no business relationship with any company whose stock is mentioned in this article.
Additional disclosure: Short EWP through put options.