Dan Loeb founded Third Point in 1995 and is known for his blunt and direct public letters to company executives. In Q3 2012, Dan Loeb's big (and public) bet was Yahoo (NASDAQ:YHOO), although no shares were added in Q2 and only a modest increase in Q3.
This past quarter, however, Loeb added a new name to his activist crusade (as anyone who hasn't been living in a cave knows) which is his big (and public) bullish position in Herbalife Ltd. (NYSE:HLF) after fellow hedge fund activist Bill Ackman disclosed a massive short position stating that the company was a well-run "Ponzi scheme." (Read Loeb's Q4 letter discussing the position here) There were a number of other new and closed positions in Q4, but Loeb's big bet (by far) remains YHOO and his most public one is HLF: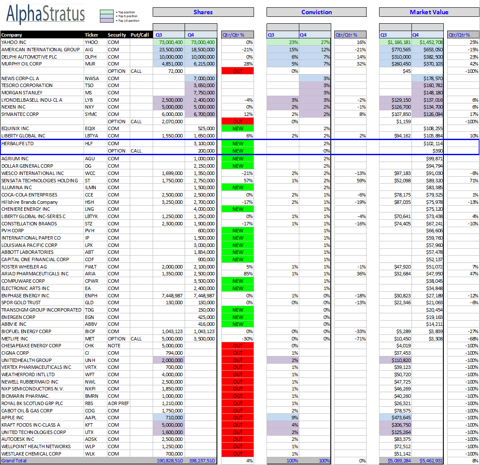 Herbalife, "a network marketing company, sells weight management, healthy meals and snacks, sports and fitness, energy and targeted nutritional products, and personal care products." Bill Ackman is arguing the company fits the SEC definition of a "Ponzi scheme" because revenues depend on signing up new members as opposed to actually selling products. Dan Loeb (and Carl Icahn) disagree and are putting their money where their mouth is.
Despite the publicity, this position only represents 2% of Loeb's total reported long positions, and depending on how recently in Q4 he purchased the shares, they could represent a profit:

Despite being a relatively small position in Third Point's portfolio, they still represent one of the largest institutional shareholders:

It will be interesting to see the hedgies battle it out over Herbalife. Either way, someone is going to win and someone is going to lose big.
Disclosure: I have no positions in any stocks mentioned, and no plans to initiate any positions within the next 72 hours. I wrote this article myself, and it expresses my own opinions. I am not receiving compensation for it. I have no business relationship with any company whose stock is mentioned in this article.