Facebook (NASDAQ:FB) Inc. has traditionally monetized by showing its users advertisements, as well as selling their precious information. Back in January 31st, Facebook quietly announced its venture into retail - the Facebook gift card. The corporation has started rolling out the gift card to people in the U.S., and looks to disrupt the thriving (read: $100 billion) gift card industry by offering a unique and convenient alternative.
What makes Facebook well situated to offer a gift card service is their access to data. Let's say it's your friend's birthday and you feel like doing something nice. Confusion sets in quickly about exactly what kind of gift to get them. With Facebook, you can scan their "likes" and page interactions to know exactly what they want. Facebook will even do it for you.
The gift card offered by Facebook will be seamlessly integrated into the social network's website. With just a few clicks, you select a friend, choose the amounts/retailers, and pay. The friend receiving the card is instantly notified that you gave them a gift. Within several days, they receive the card in their mail. From that point on you can gift that same person and the amount will be credited to their card. Through Facebook, users of the card will be able to check on the remaining balance on their cards. This has the potential to be a highly disruptive system; a new generation of social media users would find it remarkably easy to use.
The Facebook gift card is different in the sense that it isn't "closed loop" or "open loop". When a gift card is "closed loop", it means that you can only use it at one retailer. When a gift card is "open loop", such as the ones offered by American Express (NYSE:AXP), it holds a monetary value that is reduced every time you use it. The Facebook gift card, however, presents a new spin on the concept. When you are gifted a card from Facebook, you can choose the retailers that you want to give the recipient credit towards, and assign an amount to each one. Since the program is in its infancy, Facebook currently only allows you to use the card for Olive Garden (NYSE:DRI), Jamba Juice, Target (NYSE:TGT), and Sephora (OTCPK:LVMHF). It's a safe assumption that the company is aggressively trying to expand this list, and sources say that Facebook has close to 200 brands already signed up.
Gift cards have grown in popularity since their inception. They offer an easy alternative to getting an actual gift, all while allowing the recipient a choice in how to spend their money. According to data compiled by First Data, people are more partial to receiving gift cards than gifts, even if the card is worth less than the gift: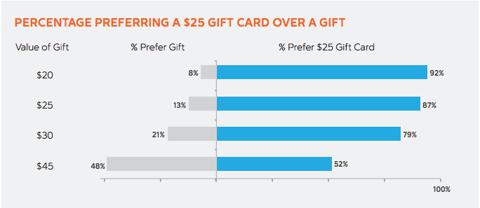 What does this mean? It means that people aren't as thoughtful as they think they are when buying gifts. People want the flexibility of cash in a neat card form.
The Facebook gift card has the makings of a truly disruptive product. The company's social integration, as well as its unique business model, may allow it to penetrate the market and change the way we think of Facebook forever. Although the creation of the card might not result in a breakout quarter right away, Facebook may end up raking in huge profits as a result of its innovation. I personally think that this new idea will yield serious dividends, and will be going long Facebook as a result.
Disclosure: I am long FB. I wrote this article myself, and it expresses my own opinions. I am not receiving compensation for it (other than from Seeking Alpha). I have no business relationship with any company whose stock is mentioned in this article.