Why should you care about Mohnish Pabrai?
Pabrai learned the craft of investing by studying the strategies of value investors such as Ben Graham, Warren Buffett and Charlie Munger. His investment firm's fee structure is modeled after that of the Buffett Partnerships in the 1950s and '60s. Pabrai's main fund delivered a cumulative return, net of fees, of +90% versus a return of -27% for the S&P 500 Index from inception on October 1, 2000 through December 31, 2008. Pabrai is also author of The Dhandho Investor: The Low-Risk Value Method to High Returns.
The Manual of Ideas estimates that Pabrai's top three ideas at this time are Leucadia National (NYSE: LUK), Teck Cominco (NYSE: TCK) and Horsehead Holding (NASDAQ: ZINC). Our analysis is based on a recent Form 13F-HR filed by Pabrai with the SEC. We also consider his past 13F-HR filings, recent 13G and 13D filings as well as the latest market prices of the portfolio holdings. Please see below for an explanation of the MOI Signal Rank™ methodology.
click to enlarge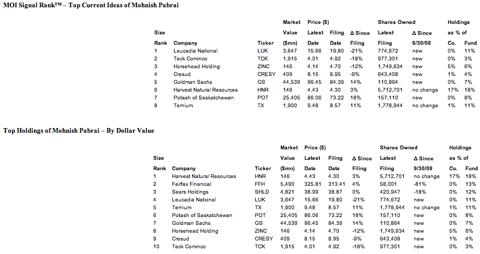 Click to enlarge
Portfolio Metrics
| | |
| --- | --- |
| Portfolio Size | $140 million |
| Top 10 Holdings % of Portfolio | 92% |
| Median Market Cap ($mn) | $1.7 billion |
| Average Market Cap ($mn) | $15.5 billion |
| Average Dividend Yield | 3% |
| Average P/E | 10x |
| Average P/B | 0.8x |
Sold-Out Positions
Jackson Hewitt Tax Service (NYSE: JTX)
MDC Holdings (NASDAQ: HSNI)
New Positions
Cresud SACIF y A (NASDAQ: CRESY)
Goldman Sachs (NYSE: GS)
Horsehead Holding

Leucadia National

Potash Corp of Saskatchewan (NYSE: POT)
Teck Cominco

Ternium SA (NYSE: TX)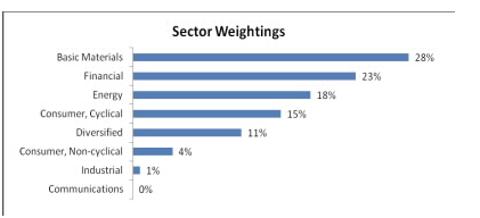 Click to enlarge
About MOI Signal Rank
MOI Signal Rank answers the question, "What are this investor's top ideas right now?" Rather than simply presenting each investor's largest holdings as of the recently filed quarter end, MOI's proprietary methodology ranks the companies based on the investor's current level of conviction in each holding, as judged by The Manual of Ideas.
Our proprietary methodology takes into account a number of variables, including the size of a position in an investor's portfolio, the size of a position relative to the market value of the corresponding company, the most recent quarterly change in the number of shares owned, and the change in the stock price of a position since the most recent quarterly filing date.
For example, an investor might have the most conviction in a position that is only the tenth-largest position in such investor's portfolio. This might be the case if an investor invests in a small company, resulting in a holding that is simply too small to rank highly based on size alone. On the other hand, such a holding might represent 19.9% of the shares outstanding of the subject company, suggesting a high level of conviction. Our estimate of the conviction level would rise further if the subject company has a 20% poison-pill threshold, thereby suggesting that the investor has bought as much of the subject company as is practically feasible.
Disclosures: Long HNR, CRESW.