Homebuilders are showing clear signs of exhaustion. They seem to be forming topping patterns, and housing data is coming in mostly lower than expected this year. Some of these stocks might be good short sale candidates, and I will reveal my arguments to support the idea in this article.
Let us start with the big picture. Overall market also seems to be exhausted at the moment, and there are signs of trouble ahead. Indexes made little progress in February, and distribution days are showing up in the indexes. Sequester is also right around the corner, and investors and traders are increasingly nervous, which the VIX is showing, with a surge last week. Defensive sectors are outperforming recently. All of this advises caution, and might speak in favor of short sale setups.
Treasury yields are rising recently, which might put the economic recovery in danger, which is dependent on cheap money to keep the already sluggish rate of recovery going. The housing market is highly sensitive to this, and homebuilders could see deterioration in their business activity, because rising rates could slow investments in real estate.
According to Martin Pring, we moved to stage 4 of the Pring Turner's business cycle in late January. This stage is specifically negative for bonds, which means rising yields, which in turn might hurt the housing market, as said in previous paragraph. Homebuilders are historically underperforming the market in this stage. They do great in stage 1, and do well in stages 2 and 3, but perform poorly in later stages. This has been consistent so far, as they were leaders of the bull run so far, and started to underperform just as the stage 4 started in late January.
Housing data has been weak this year. On the table below, you can see that almost all of the housing data was below what analysts were expecting.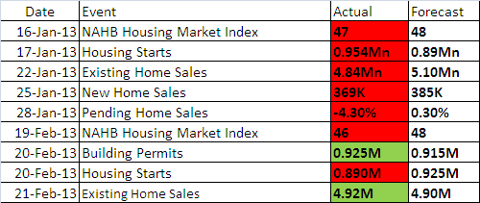 Source for data: Investing.com
And the last, but not the least, homebuilder stocks themselves seem to have made topping patterns. They have underperformed the broad market for some time now, and are showing clear signs of distribution and exhaustion, and some of them formed head and shoulders topping patterns.
There are three prime short sale candidates. Two of them have the above-mentioned head and shoulders topping patterns and all of them are below the 50-day moving average, a closely watched and a key support level, which in this case turns into a resistance level. A failure to move above the 50-day moving average and a subsequent decline in higher volume would present a shorting opportunity.
PulteGroup, Inc. (NYSE:PHM), which has the largest market cap among homebuilders, has grown earnings in recent quarters, after being negative before. Trailing P/E is 35, and forward P/E is 13.22. Analysts expect a 5% growth rate in next five years, and the PEG ratio is a pretty high 3.05, according to Yahoo Finance. The price pattern looks like a head and shoulders top. It pierced the neckline and the 50-day moving average at the same time on 20th February, and is attempting to move back above those lines for the time being.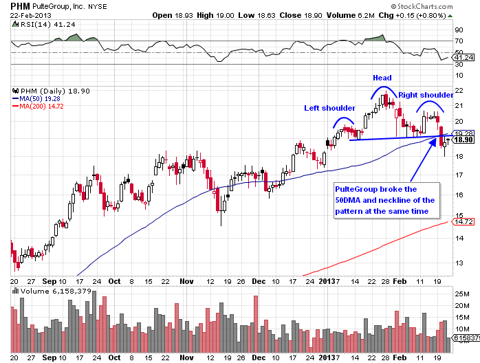 Source: Stockcharts
Lennar Corp. (NYSE:LEN) has the second biggest market cap in the group, and was among leaders of the homebuilders run. It has a forward P/E of 16.99 and an estimated earnings growth rate of just 2.12%. Lennar also formed a head and shoulders topping pattern, and broke through the neckline in above average volume. The two-day rally attempt it had after breaking the line, and the 50-day moving average at the same time, looks rather weak.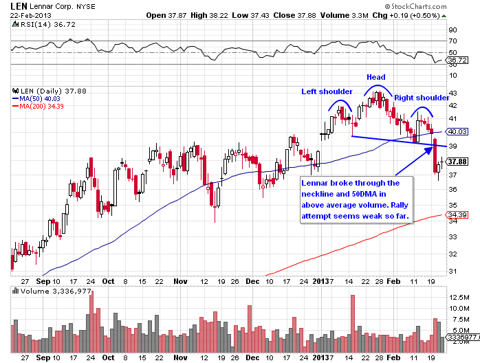 Source: Stockcharts
Toll Brothers Inc. (NYSE:TOL) has an estimated growth rate of 36.63% for the next five years, which is the best expected rate among the stocks which are covered in this article, and the lowest PEG ratio of 1.15. As the two stocks before, it dropped through its 50-day moving average in higher volume, but did not form a head and shoulders top. It has also tried and failed to move above the 50-day moving average in the next two days, and ended the week below it.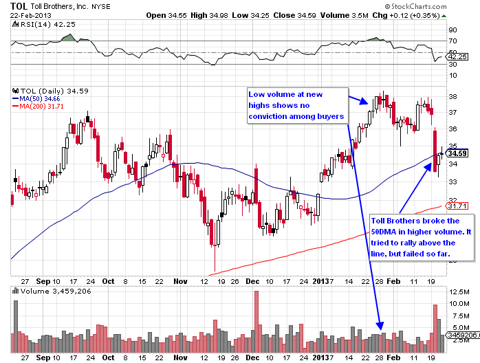 Source: Stockcharts.
Other stocks in the group were also hit hard last week. A more safe, and less volatile way to play the short side of a possible homebuilders group decline is through the iShares Dow Jones US Home Construction (NYSEARCA:ITB) ETF. Above-mentioned stocks are among the top holdings of the ETF, and account for about 28% of assets. The ETF itself broke down below the 50-day moving average line, but managed to close slightly above it.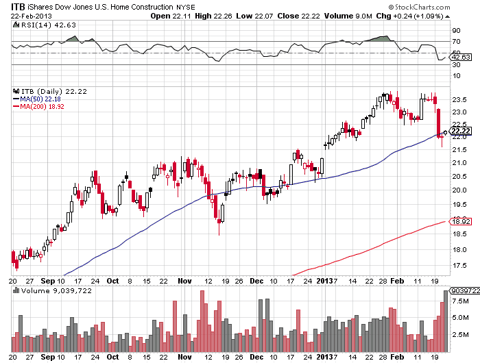 Source: Stockcharts.
Conclusion
When all the mentioned arguments are taken into account, this presents a compelling opportunity in the near term. These stocks had tremendous runs in the last 15 months, and show signs of exhaustion and clear topping patterns. Fundamentals, which were in their favor, are showing signs of deterioration lately, and could push these stocks and the iShares Dow Jones US Home Construction ETF further down.
Disclosure: I have no positions in any stocks mentioned, but may initiate a short position in PHM, ITB over the next 72 hours. I wrote this article myself, and it expresses my own opinions. I am not receiving compensation for it (other than from Seeking Alpha). I have no business relationship with any company whose stock is mentioned in this article.
Additional disclosure: This writing represents my personal opinion, and is for informational purposes only.