The marijuana industry has significant growth potential as the industry undergoes its transformation to legalization. With these various forms of legalization occurring at the state levels, there are tremendous opportunities for profits to be made by marijuana focused companies. While there is a lot of progress being made at the state level, federal law is still barrier to entry for US corporations. But once again, the leadership at Medical Marijuana, Inc. (OTCPK:MJNA) is using its licensing strategy to remove those barriers, and in doing so, will greatly expand its potential for accelerated growth for its PhytoSPHERE Systems, LLC subsidiary.
Medical Marijuana, Inc., here after referred to by its stock symbol MJNA, is a portfolio company that is made up of 5 separate subsidiaries. I recently wrote about how through its Red Dice Holdings subsidiary, the use of licensing allows the company to legally tap into the market for THC without exposing the company to litigation risk. The article was titled "Medical Marijuana, Inc.: The Secrete to Legally Tapping into the Market for TCH". And now a similar strategy is going to be applied to PhytoSPHERE.
The strategy was revealed in the CannaVEST Corp February 12, 2013 Form 8-K filing. The document revealed that MJNA will sell all of PhytoSPHERE's assets to CannaVEST in exchange for payments totaling $35,000,000. The purchase will be made with 5 payments that can be either cash or stock for the amounts shown in the table below: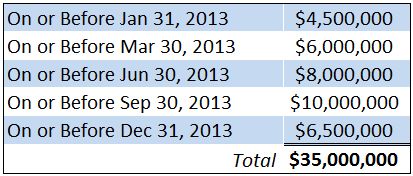 CannaVEST gets everything in this arrangement to include the total cash balance of $50,774.55 in existing bank accounts. What this tells you is that MJNA does not want to change anything about the operations of the business. One important thing to understand is that in this agreement, CannaVEST gets all of the assets and liabilities of PhytoSPHERE but not the name itself. However, MJNA will grant CannaVEST exclusive use of the names "PhytoSPHERE" and "PhytoSPHERE Systems" for the commercialization of the products though a licensing agreement. So what is CannaVEST really getting in the way of assets?
PhytoSPHERE Systems is focused on the development of Cannabinoid [CBD] based technologies that support the cultivation, extraction and production of marijuana and hemp based products. The company doesn't garner much media exposure but is actually a key contributor to MJNA's product lines. The company's core competency is designing and building highly efficient hemp cultivation environments and facilities for the production of hemp oil.
The recent expansion of PhytoSPHERE provided MJNA as a whole, full control over the manufacturing and quality of its products. So I doubt that his agreement would put those achievements at risk. MJNA had recently commented on the "vertical and horizontal" growth of the subsidiary in a press release this past November. Vertical expansion focuses on the growth of internal operations which centers on the core business. The horizontal growth allows for other opportunities to be capitalized on that take advantage of those core competencies. This helps the business mature its operations and supply chains to support efficiency.
As the push for the legalization of marijuana and hemp at the federal level continues, one area that is likely to produce the least amount of resistance is the legalization of hemp farming.
Growing industrial hemp is banned in the U.S., so currently companies have to import raw materials from other countries to make its hemp based products. The legalization of hemp farming is gaining bipartisan support in congress and many other states are considering some form of legalization in the current legislative session. But as pointed out in the CannaVEST 8-k filing, the State of Colorado Constitutional Amendment 64 which passed on November 6, 2012 supports the planting of hemp as early as this spring.
This is where the genius of the strategy comes in. With MJNA selling all the assets to CannaVEST and granting them license to the name, CannaVEST can farm hemp in the U.S. without exposing the MJNA corporate entity to the risk of federal prosecution. CannaVEST will now be able to produce and refine raw hemp as well as provide hemp oil obtained from foreign suppliers to the MJNA subsidiaries.
In an agreement signed on February 4, 2013, MJNA agreed to purchase up to $15,000,000 of its raw hemp requirements from CannaVEST. CannaVEST would receive the purchase price of $25,000 per kilo until the total purchase priced reached $7,500,000. The price would then be reduced to $10,000 per kilo until the $15 million value is reached. The parties would then enter negotiations for future purchases.
Now let's take a closer look at the strategic value of the transaction. As mentioned above, CannaVEST has the option to pay all or portions of the $35M asset purchase price in stock. Shares can't be issued above $6.00 or below $4.50 per share. The first payment was made by CannaVEST to PhytoSPHERE (remember, MJNA till owns PhytoSPHERE and only licenses the name) with 900,000 shares of CannaVEST's stock which had a calculated value of $5.00 on February 23, 2013 to make the $4,500,000 payment. The shares represented 11.4% of the issued and outstanding shares of the company as of February 11, 2013.
While the company is authorized to issue up to 190,000,000 common and 10,000,000 preferred shares, there are currently only 7,900,000 common and no preferred shares issued as of February 11, 2013. If MJNA were to be paid the $35M asset purchase price entirely with stock at a share value of $5 per share, it would have 7,000,000 shares which would represent an 88.6% ownership interest in the company. So in this scenario, MJNA could have a controlling interest in the company.
Actually it would have a controlling interest long before the last payment, but the point is that, as long as MJNA doesn't occupy any leadership positions or positions on the board of directors, it are not liable for business operations that might violate federal law. It's considered an investor. But if legalization is realized, it could take formal control of the company. I say formal control because as investors it would still be able to influence the board of directors by voting its shares.
CannaVEST was formally known as "Foreclosure Solutions, Inc" (FCLS.OB), an entity that was never profitable. Foreclosure Solutions was incorporated in Texas in November of 2010 with the intention of selling realtor services to home buyers looking for foreclosed residential properties. The company was unable to obtain financing to start the business and subsequently changed it business focus and name.
On November 16, 2013 the company was purchase from H.J. Cole by Mai Dun Limited, LLC, Mercia Holdings, LLC, General Hemp, LLC and Bamburgh Holdings, LLC. The group acquired 5,000,000s shares from Cole and 1,979,900 shares of common stock from other shareholders in a series of private transactions for a total share count of 6,979,900 shares. As part of the transaction, Cole resigned (without any controversy) and Michael Mona, Jr. assumed the role of President, Secretary and Treasurer of the company.
The name change was only recently completed on January 29, 2013. The company has requested a new trading symbol which is expected to be assigned around the 26th of February.
This type of licensing arrangement is akin to that of Red Dice Holdings, LLC relationship with Dixie Elixirs & Edibles. Red Dice was established as a holding company which owns the formulas, equipment, and extraction processes for hemp oil based products. I would not be surprised to see PhytoSPHERE placed under this business unit as it has been extremely successful using the licensing strategy with the Dixie product lines.
Red Dice actually markets both the Dixie Botanicals and Dixie Elixirs & Edibles' product lines. Dixie Botanicals offers over-the-counter hemp oil based dietary supplements and a topical balm while Dixie Elixirs offers THC infused foods and beverages. You can see how PhytoSPHERE and Red Dice would fit well together.
The Dixie Elixir products are the most popular. The state of Massachusetts recently legalized medical marijuana and Boston's WCVB Channel 5 News Team visited Colorado based Dixie Elixir's Denver facility to explore the possible impact on their own economy. Massachusetts is a larger market than Denver and thus represents a significant opportunity for the company. This should give those who doubt the company's legitimacy some pause.
The company was recently the subject of a series of negative articles that can be accessed from its Yahoo Finance page. The company has been very vocal about defending itself as demonstrated in a recent interview on iCannabisRadio's Overgrow the Radio show. Tripp Keber who is the President of Red Dice Holdings Licensing for MJNA and is the Managing Partner of Dixie Elixirs & Edibles appeared on the show along with Christie Lunsford, Dixie's Director of Marketing. After his vigorous defense of the company, Tripp went on to offer some very exciting news about new products and the company's expansion into new states such as Arizona, Washington (state), California, Oregon and the District of Columbia [DC].
Medical Marijuana is taking many important strategic initiatives to ensure that it continues to grow its business and stay on the right side of federal law. But as a micro-cap stock, there is still a lot of risk in these types of investments. Many will not be able to tolerate the volatility of the stocks in this class. For MJNA, I would recommend buying on the dips and adding on the way up as the issue gains strength. I believe that this is a industry that is in its infancy and a long term investment in a legitimate company such as Medical Marijuana will prove to be a very successful strategy.
Disclosure: I am long OTCPK:MJNA. I wrote this article myself, and it expresses my own opinions. I am not receiving compensation for it (other than from Seeking Alpha). I have no business relationship with any company whose stock is mentioned in this article.