DCT Industrial Trust Inc. (NYSE:DCT) is a REIT that engages in the ownership, acquisition, development, and management of industrial real estate properties. It invests in real estate markets in the US, Mexico, and select other international markets. It primarily invests in commercial real estate properties, including generic distribution warehouses and light industrial properties. Some of its biggest markets are South California, Houston, Seattle, and Miami. Its CEO, Phil Hawkins, says he is cautiously optimistic about 2013. Some fund managers may be more so.
The commercial real estate market has been recovering slowly, but DCT has been outperforming in this regard. It had 74% tenant retention over the last twelve months. The chart below of its occupancy rates shows its steady upward trend in occupancy rates.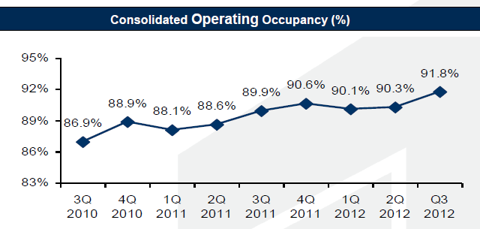 Click to enlarge
Its net effective rents have improved in all markets. The chart of the average rent per square foot shows a strong upward trend in pricing. The chart below it (from Property and Portfolio Research 11/1/12) shows that the change in supply has been very small while the change in demand has been much healthier. This bodes well for DCT for 2013 and beyond.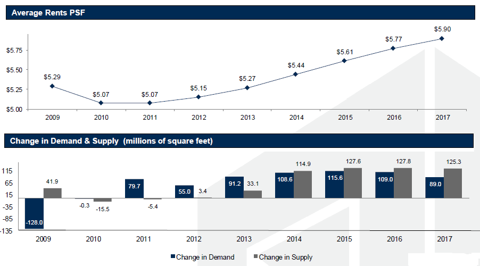 Click to enlarge
A part of DCT's business is also to acquire assets that will generate favorable returns. 2013 may be a great year to get great bargains. DCT could possibly set itself up for many years into the future with a great 2013. There may be a recession coming, and that will mean problems for a lot of businesses. There has already been a significant slowdown. The Q4 2012 GDP growth first estimate was -0.1%. The chart below shows that CMBS delinquencies are already at a historical high.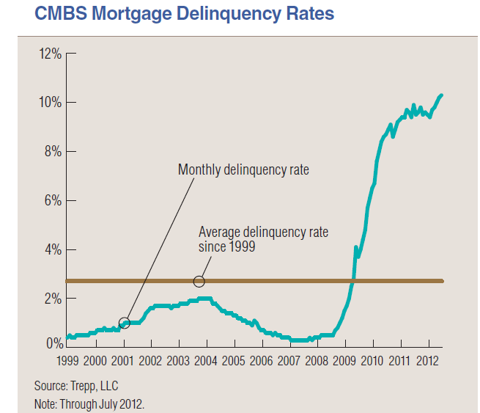 Click to enlarge
A US recession in 2013 could easily push some great properties into foreclosure. This might make them available to DCT at greatly reduced rates. On top of that, DCT has managed to keep above market occupancy rates due to its great properties (coastal and in good areas) and great services. It expects to be able to continue this throughout 2013.
More specifically, DCT had good Q4 2012 and FY2012 results. It reported same store NOI (Net Operating Income) growth of 8.6% on a cash basis and 4.9% on a GAAP basis for Q4. Same store occupancy increased 170 bps year over year to 91.7% in the 53.5 million square feet of same store pool (look at the chart above to see the uptrend in occupancy rates). If DCT made a few adjustments for recently sold properties, it believes the occupancy rate was really 92.7%. This is great. Consolidated operating occupancy increased 50 bps to 92.3% in Q4. Rental rates increased 15.3% on a GAAP basis and 3.4% on a cash basis in Q4 2012.
DCT acquired 21 buildings for $241.7 million, and it sold seven buildings for $111.1 million. Funds from operations were $0.11 per share in Q4 2012 and $0.42 per share for FY2012 ($118.1 million). This was an increase of 5.0% year over year.
For the year DCT acquired 32 buildings for $338.4 million. It grew its assets under active development to $128.2 million. It purchased 8 land sites, which will support further development of 4.5 million square feet. Plus it sold 40 buildings, which totaled 6.2 million square feet. These sales added demonstrably to cash flow.
DCT has also been constructing new facilities. Recently DCT's under construction properties were already 70% leased. Plus, there is good activity on the remaining spaces. This bodes well for 2013 revenues and profits.
With regard to fiscal stability, DCT invested $328 million during the year. Plus it spent another $116 million funding its development activity. The money for these activities came from $285 in dispositions (property sales) and $172 million in net proceeds from equity issuances. In total this left DCT plus $3 million on the year. It left DCT in excellent position to pursue further real estate activities in 2013 and beyond.
DCT's FY2013 guidance is for FFO of $0.40 - $0.45 per diluted share. Occupancy is expected to average 91% - 94%. Same store net operating income is expected to increase 2% - 5% on a cash basis and 1% - 4% on a GAAP basis. DCT expects continuing occupancy increases and positive rent growth in many of its markets. DCT is currently planning for $100 - $200 million in acquisitions.
DCT's FFO guidance excludes real estate gains and losses, impairments, and acquisition costs. For the $175 million in maturing debt in June 2013, DCT plans to refinance it in conjunction with other debt financing activities. In sum DCT believes 2013 will be very similar to 2012. It expects its fundamentals to continue to strengthen. This makes DCT a buy.
The five year chart of DCT provides some technical direction for this trade.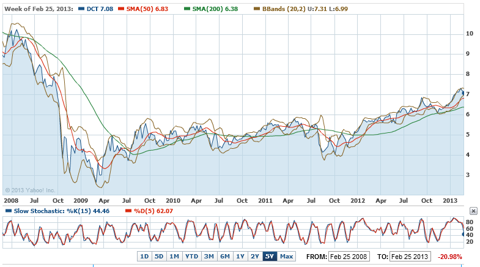 Click to enlarge
The slow stochastic sub chart shows that DCT is neither overbought nor oversold. The main chart shows that DCT has been in an uptrend since the market bottom in 2009. Real estate values fell a lot in the "Great Recession". It is unlikely that they will fall that much again, even if we see a recession in 2013. The Fed is supporting the real estate market. 2013 could still be a great year for DCT. However, its stock price will likely move with the US equities markets. Its Beta is 1.00. Its Price/Book ratio is 1.49. This is a little high for this type of stock. The chart above shows that an investor might technically be better off to wait for a pullback in DCT before buying.
Many think the overall US equities market is due for a 7%-10% retracement soon. It may have started that retracement on Monday February 25, 2013. It may be wise to wait for the bottom (or for the near bottom) of the retracement. Then you might start to average in over the whole of the 2013 year.
There may be a recession in the US. The EU credit crisis has been rearing its ugly head again lately. If you average in over 2013, you should obtain an overall good price for the stock. Plus, DCT should recover from any falls in 2013 quickly with the Fed backing the real estate market with QE3, QE4, and low rates and businesses may recover faster than the residential real estate market. This should make DCT a good long term buy with a dividend of 3.95%. Potential great commercial real estate deals in 2013 could help this dividend rise.
NOTE: Some of the fundamental financial data above is from Yahoo Finance.
Good Luck Trading.
Disclosure: I have no positions in any stocks mentioned, but may initiate a long position in DCT over the next 72 hours. I wrote this article myself, and it expresses my own opinions. I am not receiving compensation for it (other than from Seeking Alpha). I have no business relationship with any company whose stock is mentioned in this article.