In last week's article, we discussed a strategic approach to hedging one's portfolio using (SPX) or (NYSEARCA:SPY). The position profited immensely due to the explosive 35% move in the VIX, which was accompanied by a 1.83% retreat in the S&P 500.
Despite strong PMI numbers released Sunday evening from China, there is much concern over global economic growth, which has spread from the U.S. to Europe. Catalysts this week will include Bernanke's testimonies, corporate earnings, jobless claims, the Chicago PMI Index, and elections in Italy. Meanwhile, the price of S&P 500 Index Options have been in rare territory, cheaper than they have been in years. In fact, in the past five years the VIX has found itself lower than 14.50 only 3.57% of days, closing Friday at 14.17. Monday, the VIX exploded back above its mean closing at 18.99.
Right now, there absolutely is justification in insuring one's portfolio as information unravels the next couple of months. What are some indications of our sluggish recovery that justify caution?
SLOW EMPLOYMENT & GDP GROWTH
The original data for the following graphs comes from the Federal Reserve Bank of St. Louis.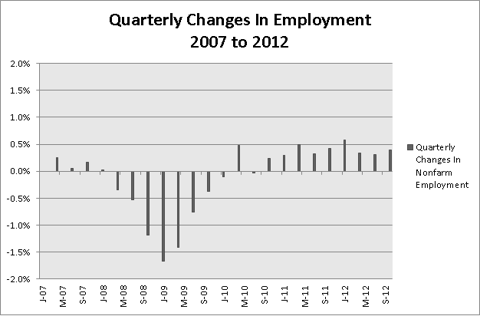 The U.S. labor force has hardly experienced a robust recovery, in fact, growth has been negative or less than .5% consistently over the past five years. The slow growth has also been reflected in Gross Domestic Product numbers.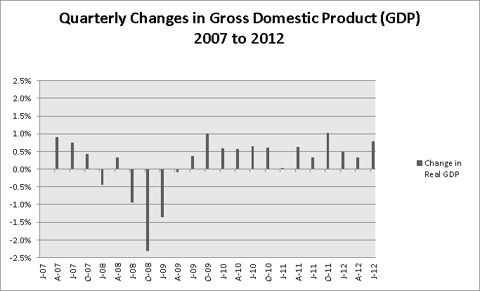 The retraction in GDP has been more impactful than the employment contraction. Nonetheless, both justify the value in hedging one's portfolio while U.S. equities approach record highs with numerous data points on the short-term horizon. The above charts of the "great recession" reflect the questionable horizon for U.S. equities, which also justify near-term portfolio protection.
RELATIVE VALUE OF INSURANCE ON THE S&P 500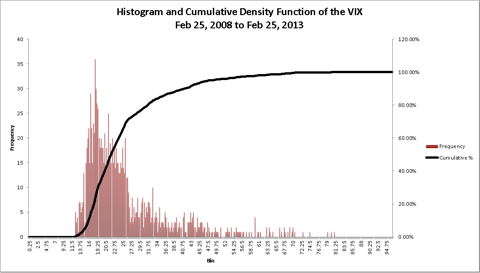 Although insurance was cheap last week, it is not this week and you do not want to be on the buy-side of a put option or holding a levered inverse ETF on the S&P 500 for an extended period of time.
Net of everything, you want to benefit (or not be hurt) in the event of a downturn and do not want to waste money purchasing put options that have just exploded in value. With that in mind, let's look at a few ways to make certain bets in such uncertain times.
You can exploit ETNs and ETFs that track the VIX. For example, (NASDAQ:XIV) and (NYSEARCA:VXX) can be traded against each other particularly well when the VIX spikes. See the diagram below for the dollar-for-dollar payoff of holding VXX against XIV.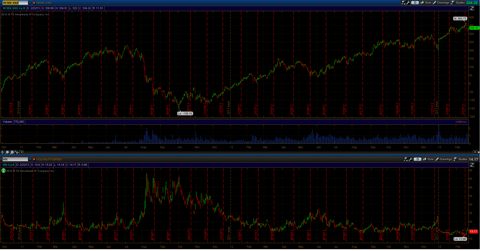 A position like this does not require anything fancy and simply takes advantage of the way the ETNs roll over futures contracts each month. As discovered in my research, this type of trade is most desirable to enter when there is a spike in the VIX.
Another idea is to adjust your short position (as discussed last week) to be less vulnerable to volatility. In this case, you can simply sell another 1450 put in September, and move your 1325 contracts to 1375. This allows you to remain short, but be less sensitive to a crush in volatility.
Sell 2 X SPX Sep 2013 1450 Put @ -$55.40
Buy 3 X SPX Sep 2013 1375 Puts @ $36.50
Total: Receiving a net credit of - $1.30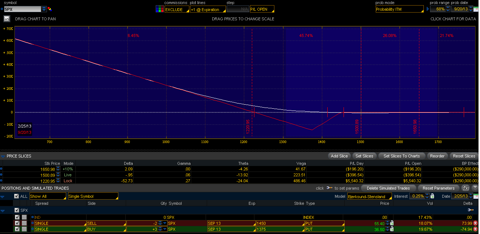 Besides margins, the trade costs nothing if the markets rally. Another positive aspect is that by moving the strikes closer together, you are less vulnerable to changes in the volatility skew and capture profits from Monday's incredible price action.
CONCLUSION
As equities hit new highs, be wary of a technical pullback or something worse. The economic backdrop is far from perfect, so take advantage of downside protection in the most efficient way possible. Cheers.
Disclosure: I have no positions in any stocks mentioned, and no plans to initiate any positions within the next 72 hours. I wrote this article myself, and it expresses my own opinions. I am not receiving compensation for it (other than from Seeking Alpha). I have no business relationship with any company whose stock is mentioned in this article.