Coach, Inc. (NYSE:COH) is a prominent global designer, producer, and marketer of fine accessories and gifts for women and men including handbags, men's bags, leather goods, weekend and travel accessories, footwear, watches, outerwear, fragrance, jewelry and other related accessories. Its goods are sold through its own retail outlets as well as through other department stores as well as specialty and online retailers. Their "premium lifestyle" products target middle and high-income consumers. Coach has expanded from its North American base into other markets such as Japan, China, Taiwan, and Singapore in recent years.
1. Nearly Zero Long Term Debt
Coach boasts a balance sheet that is nearly free of long-term debt, with a long-term debt-to-equity ratio of 0.01. Long-term debt signifies how much leverage is being used to operate a company. Increased debt increases the fixed costs of a business, limiting flexibility because interest payments must be made in both good and bad economic times. Luckily for Coach shareholders this is not a concern because they are owners of a true cash cow with strong internal growth.
2. Very Strong ROE
Return on equity reveals how much profit a company earned as compared to the total amount of shareholder equity. Return on equity accounts for retained earnings as well and lets investors know how effectively their capital is being reinvested. ROE was over 50 percent in 2012, which attests to strong management.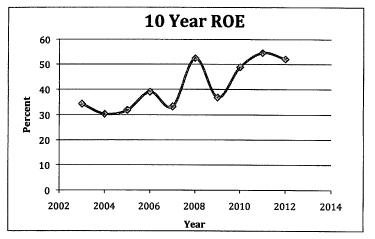 3. Impressive Profit Margins
Coach has an extraordinary gross profit margin of 72%, way above the industry average of 46%. This is indicative of its competitive advantage when it comes to pricing and cost control as compared to other firms. Its pretax and net margins of 31% and 21% respectively are nearly double that of the industry averages.
| | | | |
| --- | --- | --- | --- |
| PROFIT MARGINS % | COMPANY | INDUSTRY | S&P 500 |
| Gross Margin | 72.76 | 46.57 | 38.99 |
| Pre-Tax Margin | 31.26 | 15.94 | 17 |
| Net Profit Margin | 21.31 | 11.31 | 12.48 |
| 5Yr Gross Margin (5-Year Avg.) | 73.1 | 49.3 | 38.2 |
| 5Yr Pre Tax Margin (5-Year Avg.) | 32.4 | 16.3 | 15.4 |
| 5Yr Net Profit Margin (5-Year Avg.) | 21.4 | 11.5 | 11.1 |
(Source: MSN Money)
4. Low P/E based on Historical Standards
| | | | | | | | | | | |
| --- | --- | --- | --- | --- | --- | --- | --- | --- | --- | --- |
| Year | 2003 | 2004 | 2005 | 2006 | 2007 | 2008 | 2009 | 2010 | 2011 | 2012 |
| Avg. P/E | 21.5 | 29.4 | 29.9 | 28.0 | 24.9 | 16.9 | 11.3 | 15.3 | 17.5 | 18.4 |
Coach is right now trading at a P/E of 12.9, which by historical standards is unusual. Yes earnings growth is slowing, but with future growth projected at nearly 12% annually over the next five years, the current P/E is relatively low. It should also be said that while Coach trades at a multiple of 12.9, the rest of the S&P 500 index trades at an average P/E of around 17. Why should an excellent company such as Coach trade at a multiple that is below the S&P average? Also the PEG ratio is 0.93, which suggests that a company with such a strong track record as Coach's is modestly undervalued.
5. Trading at a 52-Week Low
Coach as of 02/22/13 is trading at $46.79, the bottom of its 52-week price range of ($46.47 to $79.70). While some investors shy away from companies tipping the scales at their lows, it makes sense to determine if the market has overreacted. In the case of Coach, shares started a four-week tumble when Q2 earnings came in at $1.23 a share missing the street estimate of $1.28 a share. Shares immediately fell 16% on the news even though this is a $0.05 increase from the year-ago quarter.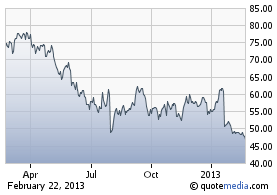 6. Dividend Increases and Stock Repurchases
Coach issued its first quarterly dividend of $0.075 per share in 2009 and increased it to $0.15 per share the following year. In 2011 it was raised by another 50% to $0.225 per share. On Feb. 13, 2013, Coach declared a quarterly cash dividend of $0.30 per share (source: financial reports). At the current market price this yields a cool 2.5% per annum, and over the last four years the dividend payout has increased by 300%. It would appear that this trend of increases could continue because of Coach's impressive free cash flow growth.
Another way management is increasing shareholder value is through its buyback program. Since 2003, the company has repurchased nearly 81 million shares or 22% of all outstanding shares. By doing this, shareholders are getting a larger slice of the total profits. During fiscal 2012 and fiscal 2011, 10.7 million shares and 20.4 million shares were repurchased, respectively, at average prices of $65.49 and $53.81, respectively. With the market price at a 52-week low, it wouldn't be surprising if management becomes even more aggressive in this pursuit.
7. Rapid Growth in China
Coach China operates department store shop-in-shop locations as well as freestanding flagship, retail, and factory stores. Since 2010, the number of China locations has increased by 134% to 96 total locations by the end of 2012. Total revenues were roughly 300 million and expected to increase to around 500 million by 2014. Sales grew by 40% in Q2 FY13 as compared to the year-ago quarter, and sales are on course to generate at least $400 million this year. With 1.3 billion people and a growing middle-class in China, Coach will have a growing consumer base for its products moving forward.

(Source: Form 10-K)
Conclusion
Since the Q2 earnings miss on January 23 [see call transcript], shares have fallen more than 21% to a current 52 week low of $46 a share. It is rare for such a strong company to trade at such a bargain price. If you take the forward earnings of $4.15 with a conservative P/E of 15, it would appear Coach is trading much below its intrinsic value. As Benjamin Graham once said, the market is a voting machine not a weighing machine in the short run. At current levels, it seems Coach is an attractive buy for the long-term investor.
Disclosure: I have no positions in any stocks mentioned, but may initiate a long position in COH over the next 72 hours. I wrote this article myself, and it expresses my own opinions. I am not receiving compensation for it (other than from Seeking Alpha). I have no business relationship with any company whose stock is mentioned in this article.