Nokia Corporation (NYSE:NOK) continues to receive positive updates for its Lumia phones around the world. In this article, positive developments will be updated for Lumia phones and the speculation for two new lower-cost Lumia phones, Lumia 720 and Lumia 520, will be reviewed.
Positive Updates for Lumia
Lumia 620: Lumia 620 are sold out in UK and is one of the top selling phones at Singtel, Singapore. Black, white, and Lime Green Lumia 620 are in stock at official Nokia Shop in Germany now. Lumia is reported to take surprisingly good "close to real" photos in low-light and daylight. Lumia 620 now holds "top 5 ranks" in the Top selling phone list at Expansys USA. Nokia Lumia 620 is an excellent choice for younger phone fanatics or just those wanting to take their first steps into Windows Phone 8.
Lumia 822: Lumia 822 are in demand and are the most popular phone at Verizon and RadioShack Wireless
Lumia 920: Nokia is upgrading AT&T Lumia 920 with LTE Band 2 and Band 5. Yellow Lumia 920 phones are sold out at Nokia Shop in India. Red Lumia 920 phones are sold out at AT&T. Nokia's Lumia 920 has stolen the Mall of America from BlackBerry, and was voted Smartphone of the Year by Engadget readers.
India: Nielsen consumer rankings rates Nokia as the most preferred mobile handset brand in India.
Brazil: Brazil welcomes Lumia 920, 820, and 620 launch with long in-store queues, where Lumia 920 phones are sold out in-store and online.
China: Lumia 920T are in stock at China Mobile's GuangDong stores, where the phone climbs back to the top of best sellers list.
Speculation for Lumia 720 and Lumia 520 Launch
There is speculation that Nokia will launch Lumia 720 (codename Zeal) and Lumia 520 (codename Frame) at Mobile World Congress 2013, scheduled for February 25-28, 2013. According to BGR's report,
"Design wise both the devices continue Nokia's tryst with funky color pallets and removable back panels. The Lumia 720, actually looks very similar to the Lumia 820, save for the fact that it has a curved glass display. The back of the device according to the leaked image shows a Carl Zeiss branding for the camera and there are also three dock contact points which could point towards some wireless charging solution. The Lumia 520, looks similar to the Lumia 505 which was released in Mexico. It also retains Nokia's signature design language."
Both phones will features:
Windows Phone 8 OS
Running on 1GHz dual-core Qualcomm (NASDAQ:QCOM) Snapdragon S4 Play CPU
Carrying 512MB of RAM and 8GB of storage with expandable memory using microSD card
The Lumia 720 will sport a 4.3-inch Clear Black Display, HSPA+ connectivity, and a 2-megapixel front-facing camera apart from a 6-megapixel rear camera. The Lumia 520 will have a smaller 4-inch super sensitive display with only a 5-megapixel rear camera and without any front-facing camera. Lumia 520 is far better than any low end device in the market.
Right Strategy
While Nokia is relatively popular among the age group of 18-24 and the income group of $0-$30K, Nokia's lower-cost and competitive pricing strategy is on the right track for its target customers. Nokia's Lumia phones are also gaining traction to become the "cool" phones based on their new designs and bold colors. If Lumia continues to develop on these positive factors, NOK has much more upside potential at the current price of $3.78 (vs. NOK's book value of $2.81).
Risks
In the long-term, NOK needs to see margin improvement to have significant boost to its share price. Lower pricing strategy may affect its margins but it is important for NOK to gain/maintain its market share before moving to the next step.
Fundamentally, NOK has an enterprise value of $8.34B with a market cap of $14.03B. NOK has a total cash of $13.43B with a total debt of $7.18B. NOK generates an operating cash flow of $-458.32M with a levered free cash flow of $1.08B. NOK has a negative profit margin of -10.29% and a negative return on equity of -32.44%.
Technically, the MACD (12, 26, 9) indicator is showing a bearish trend. The momentum indicator, RSI (14), is declining and indicating a bearish lean at 39.72. NOK is currently trading below its 50-day MA of $4.11 and above its 200-ay MA of $3.04, as seen from the chart below.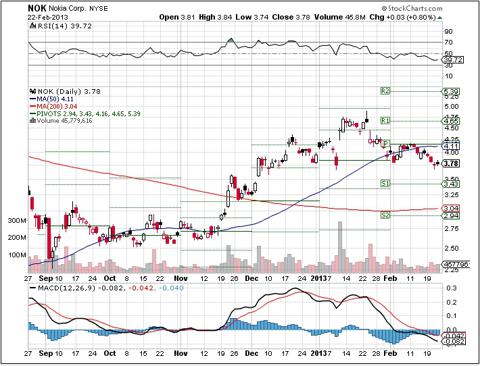 Source: StockCharts.com
In short, while there is still more upside potential with the positive developments for Lumia phones, conservative investors may want to wait for price stabilization to establish the long-term positions. In the short-term, investors can wait for MACD to turn neutral or bullish and RSI (14) to pick up to establish the long position.
Note: All prices are quoted from the closing of February 22, 2013 and all calculations are before fees and expenses. Investors and traders are recommended to do their own due diligence and research before making any trading/investing decisions.
Disclosure: I have no positions in any stocks mentioned, but may initiate a long position in NOK, QCOM over the next 72 hours. I wrote this article myself, and it expresses my own opinions. I am not receiving compensation for it (other than from Seeking Alpha). I have no business relationship with any company whose stock is mentioned in this article.