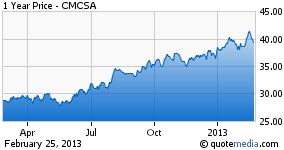 The fourth quarter of 2012 was a significant period for Comcast (NASDAQ:CMCSA) as all segments of its business marked a noteworthy growth. The company reported a 7%-increase in revenue while NBC Universal sales grew by approximately 5%. Broadband services continued to march on at a rapid pace, as it added 1.2 million paying subscribers. Pay-TV subscriber segment has normally been a struggle for Comcast as it is with its competitors but this year the subscriber loss was considerably less relative to 2011. On the contrary, its prime competitor Time Warner Cable (TWC) struggled to keep base in the pay-TV segment and lost a huge number of pay-TV subscribers in 2012.
For Comcast, the success in Cable TV operations was underpinned by a marked hike in the prices, while NBC Universal continued its success as the NBC ratings grew. Nonetheless the company has striven hard to keep the segment of the business up and come a long way in 2012.
Exhibiting Improvement
Comcast lost more than 17000 pay-TV subscribers in the fourth quarter of 2011, compared to only 7000 in 2012 resulting in a slight growth of almost 3% in the pay-TV revenues in 2012. The success was underpinned by the Xfinity Streampix and rapid growth in other services.
Performance of the company's broadband business was robust with an addition of 350,000 subscribers in the fourth quarter. Revenue per subscriber grew considerably over 2012 as many customers upgraded to premium packages leading to a noticeable increase in the ARPU (average revenue per user).
Going forward the company has a massive opportunity to gain from its Xfinity Streampix services. The company can develop on it by promoting the High Definition and DVR videos, which in turn will enable it to raise prices, whilst re-structuring the services by offering them on several different device platforms. The upward trend noticed in the broadband services is also likely to continue.
NBC Universal gained heavily from a significant improvement in the TV ratings of its broadcasting network. The new season has witnessed NBC rocket as the top broadcasting channel, especially in the key demographic of 18-50.
Competitors
Time Warner Cable, one of the main competitors of Comcast, offers services in the field of cable TV, broadband Internet services and digital phones. It is the second largest cable provider in the US and generates roughly 46% of its total revenues through cable TV operations. Its current market cap is $26 billion. It reported a total revenue and EBITDA of $21 billion and $8 billion respectively in 2012.
Another top line competitor is DirecTV (DTV). DirecTV offers satellite TV, HD and DVR services to the US and Latin American markets. It has market cap of $29.7 billion, and it reported a total revenue and gross profit of $30 billion and $14 billion respectively for 2012. It generates roughly 50% of its revenues through US satellite TV. The HD and DVR services are starting to generate robust revenues, and going forward it is expected to lead the way and become the key revenue generating stream.
Key Trends Driving the Industry
For the first time since 1992, TV ownership dropped last year. However, TV viewership grew by 22 minutes, which incidentally is approximately the length of an average sitcom, per month. The industry is seeing the following trends taking shape.
The Internet: With good quality video streaming available from Hulu and Netflix (NASDAQ:NFLX) over mobile devices through the Internet, people do not necessarily need a TV set to watch TV. Moreover, TV manufacturers are investing in a big way in Internet-enabled

TV models.

The Movie Industry: The popularity of 3D movies is rapidly pulling people away from their sofas to movie theatres.
Challenge to Advertising Revenues: Most surveys show that TV watchers multitask (surf the web, make phone calls or send text messages or IMs) even while watching their favorite programs. This poses a major challenge to advertisers and in turn to cable

TV operators.
Investment Thesis for Comcast
Comcast plans to make a strategic shift to the digital platform by offering promotional offers to all analog subscribers. This provides them a higher leverage as it saves up lot of bandwidth. Furthermore, with higher margins digital services would lead to high profitability relative to analog services.
In a matter of five years, 2007 through 2012, Comcast has been able to double its revenues from $30.89 billion to $62.57 billion, representing an effective average annual growth of 15.16%. The company is likely to maintain this growth rate, riding as it is on the success of NBC and the content segment of Comcast. Based on this it is safe to assume that the company's revenue will cross $80 billion by the year 2017.
Additionally, there has also been an improvement in the company's profit margin (from 8.40% to 9.90%), which is likely to result in a free cash flow of $9.6 billion in 2013.
Three other factors that suggest that investment in Comcast is a safe bet for the long term are:
Favorable valuation parameters; CMCSA stock is trading at an attractive price-to-book ratio of 2.36 and price-to-sales ratio of 1.94.
Dividend yield of 1.89%
Institutional holding is to the tune of 63.51%, suggesting a big thumbs-up by those who have access to detailed information and market trends.
However, there are few threats going forward that must be addressed by Comcast.
On financials, Comcast needs to address the issue of its net debt of $38.4 billion, which calculates as $14 per share.
Subscription prices are likely to decline by the introduction of fiber-optic TV services. These services have gained lot of attention in some regions and are likely to drive down the subscription prices. In addition, the video streaming service space is likely to face intense competition as many big players are expected to enter sooner than later.
Summary
By the end of 2011, Comcast had approximately 22 million pay-TV users and 18 million broadband subscribers. Going into 2013, we expect broadband services to grow and drive its revenues. However, pay-TV services may not exhibit adequate incremental growth but is expected to squeeze down the subscriber loss seen in previous years. As consumers shift to premium packages the company is likely to witness a significant increase in ARPU. Considering everything, revenue and earnings outlook is highly positive. CMCSA stock is currently trading at very close to its 52-week high. The stock is good for buying at every dip and to hold with a long-term horizon.
Disclosure: I have no positions in any stocks mentioned, and no plans to initiate any positions within the next 72 hours. I wrote this article myself, and it expresses my own opinions. I am not receiving compensation for it (other than from Seeking Alpha). I have no business relationship with any company whose stock is mentioned in this article.