I believe Mr. Market has undervalued Caterpillar, Inc. (NYSE:CAT) stock since the summer of 2011; likely by over 30 percent. Through review of recent earnings conference calls, the 2012 10-K report, and the historical correlation between price / earnings, I will highlight key aspects of this premise, including:
Current fundamentals
Recent developments
Forward stock value expectations
Background
Caterpillar is a manufacturer of construction and mining equipment, diesel and natural gas engines, industrial gas turbines and diesel-electric locomotives. It operates in two segments: Machinery and Power Systems, and Financial Products. CAT closed upon an $8.8 billion deal to purchase Bucyrus International, Inc. on July 8, 2011.
Over the past two years, the stock price has vacillated from below $70 a share to a peak of nearly $117 in February 2012. I submit that the price has flashed green for "undervalued" most of this period.
Caterpillar Two-Year Price and Volume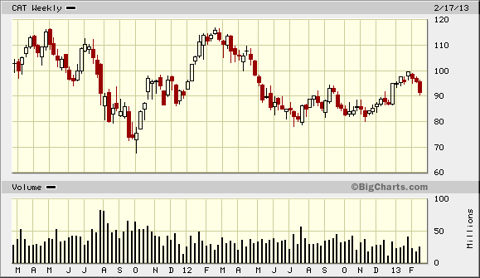 courtesy of bigcharts.com
Fundamentals
It appears the fundamental thesis for Caterpillar remains intact. The Bucyrus acquisition has not led to a deterioration of the basic storyline.
The 2012 year-end ttm Return-on-Equity and Return-on-Assets are strong, registering 34 and 6.4 percent, respectively. These figures are within historical norms, and exceed the Machinery Industry averages.
Indeed, confirming these data points, the ttm ROCE (Return-on-Capital-Invested) is a healthy 22 percent. A ROCE above 15 percent is considered excellent.
The Price / Cash Flow and Price / Sales ratios are likewise favorable at 11.7X and 0.93X. However, I would prefer to see the P /CF below 10X. The P/E ratio is at low ebb. I will discuss this further into the article.
Here's a brief summary of the aforementioned:
| | | |
| --- | --- | --- |
| | Caterpillar | Machinery Industry Peers |
| Return-on-Equity | 34% | 21% |
| Return-on-Assets | 6% | 7% |
| Price / Cash Flow | 11.7x | 16x |
| Price / Sales | 0.91x | 1.3x |
| Price / Earnings | 10.3x | 19.3x |
Debt-to-Equity and Debt-to-Capitalization ratios are high: 228% and 69%. However, these figures are now below Caterpillar's comparable measures at YE 2011.
Liquidity is acceptable. The current ratio is 1.4. There is $5.5 billion is cash and short-term investments on the balance sheet. This equates to $8.19 a share. CAT has access to credit lines of $9 billion.
Revenues have increased smartly over the past few year, largely in response to the Bucyrus deal. YoY sales figures were up 41 percent in 2011, and another 10 percent last year.
Margin analysis is instructive.
Please find below a table highlighting three-year trends in gross and operating margins. Note that overall margins have remained strong despite the Bucyrus integration. The merger has not impacted margins negatively, despite the downturn in global mining equipment markets.
Caterpillar management targets overall gross margins at 25 percent.
The CAT margins are fully consolidated. For perspective, I have carved out Bucyrus margins from data found on the 2012 10-K report.
| | | | |
| --- | --- | --- | --- |
| | 2012 | 2011 | 2010 |
| CAT Gross Margins | 28.6% | 27.5% | 28.1% |
| CAT Operating Margins | 13.0% | 11.9% | 9.3% |
| Bucyrus Gross Margins | 21.9% | 14.5% | - |
| Bucyrus Op. Margins | 5.4% | (neg.) | - |
Readers may note that Bucyrus operating margins were 14.9 percent in the fourth quarter 2012. The trend has been up.
For the past three years, cash flows have been solid overall, but 2012 saw a dip in both operating cash (OCF) and free cash flow (FCF).
The downdraft could be largely traced to a build-up in inventories. In the fourth quarter 2011, CAT inventories stood at $14.4 billion. In the third quarter 2012, they had ballooned to $17.6 billion. Caterpillar management subsequently promised significant emphasis to bring the inventory levels down. Indeed, they did so; knocking off over $2 billion by the end of 2012. The YE recorded balance sheet figure was $15.5 billion.
Senior leadership stated their intent to work off an additional $1 billion in early 2013.
Nonetheless, the Caterpillar board has substantially raised dividends over the past three years. Cash dividends per share have been $1.74, $1.82 and $2.02. The current annualized dividend is now $2.08 per share.
I also reviewed pension funding and goodwill.
Pension Funding: CAT has booked a pension liability-to-market capitalization ratio of 18 percent. I red flag a ratio over 20 percent. Caterpillar is close to the mark, but I believe management is well on top of this one as demonstrated by their recent union negotiations.
Goodwill: Summing up Caterpillar's YE balance sheet goodwill and intangibles as a function of total assets, I found a declining post-Bucyrus trend. Please see below.
| | | | |
| --- | --- | --- | --- |
| | 2012 | 2011 | 2010 |
| Goodwill+Intangibles / Tot Assets | 12.2% | 14.1% | 5.3% |
If one adds back the recent $580 million Chinese mining company acquisition goodwill write-off, the 2012 figure above increases to only 12.9 percent.
Recent Developments
The 2012 4Q earnings conference call offered few surprises. Caterpillar management has continued to deal with several ongoing issues:
Weaker end markets in several key regions, most notably China and Europe
Reducing a large build-up in inventories
Digesting the Bucyrus acquisition in the face of a falloff in global mining equipment markets
If I were to sum up senior management's commentary of the business, I suggest they have no point of view on the 2013 end markets. Hence, they offered a wide guidance spread: revenues of $60 to $68 billion (the midpoint about flat with 2012), and earnings per share between $7 and $9. Inventory reduction in the first quarter 2013 will knock back EPS figures.
I did not find the communication to be optimistic, nor did I come away despondent.
It appeared to me that the management team was trying to say 2013 should be a decent year, likely reflecting softer markets. There is no implication of a looming global recession. In addition, I suspect they were trying to tamp down overly-exuberant expectations given a record set of YoY comps.
It should also be pointed out that CAT management has beat Wall Street EPS expectations thirteen of the past sixteen quarters. There have been three "misses," including the most recent quarter.
Finally, my biggest concern was Caterpillar's announcements regarding a $580 million goodwill writeoff of their China-based acquisition: ERA Mining Machinery Limited (ERA), including its wholly owned Chinese subsidiary Zhengzhou Siwei Mechanical & Electrical Manufacturing Co., Ltd., commonly known as "Siwei."
While I understand fraud was involved and the investigation may not be complete, I was a bit turned off by the timing and handling of the accounts reporting. I would have liked to have heard more about the audit and due diligence functions around the purchase, and less brush-aside talk about it being a "non-cash" charge. I suspect that some larger stockholders may press for more transparency.
Forward Stock Value Expectations
In the preceding, I've outlined that Caterpillar Inc. fundamentals remain sound, and the near-term business prospects afford challenges and a lukewarm outlook, but no impeding collapse.
Yet I contend the stock price remains historically undervalued; perhaps going so far as to suggest the market may be pessimistically baking in an EPS tumble commensurate with a significant recession. I see the market action demonstrating a significant dislocation between earnings, normal P/E multiples, and the stock price.
Let's take a look at some details.
To begin, I offer a 15-year F.A.S.T graph for Caterpillar.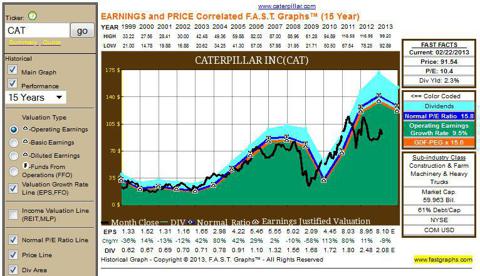 courtesy of fastgraphs.com
Notice how in the particular case of CAT stock, price (the black line) and operating earnings track consistently with the normalized P/E multiple (the blue line). Furthermore, Caterpillar has a 15-year operating EPS growth rate of 9.5 percent; this coincides with a Graham-Dodd / PEG theoretical expected price / earnings multiple of 15X (the orange line). It has been a tight correlation.
It appears that whenever the price and earnings have disconnected, they eventually "revert to the mean," or synchronize again.
However, since the summer of 2011, the two have remained separated. Reasonably, one may be expect they will converge again.
Since the price line is below the historical P/E ratio line(s), the stock appears to be undervalued.
The following graph offers what may be expected if we accept the premise that over time, earnings and price should correlate with an approximate historic P/E multiple.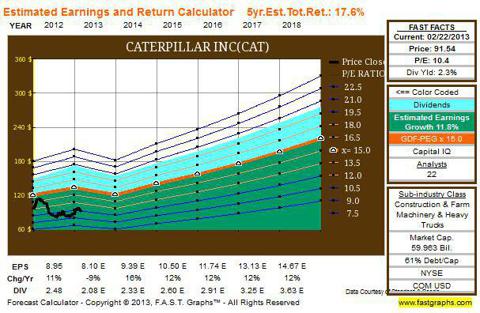 If we assume that CAT will earn $8.10 per share in 2013, and accept a 15X price / earnings ratio, we obtain a target price of $121.50. (The 2013 diamond point along the orange line). This represents a 33 percent increase in share price versus last Friday's close at $91.53.
But what if the market HAS properly priced Caterpillar stock, because the 2013 operating earnings are much too high?
Let's review that scenario.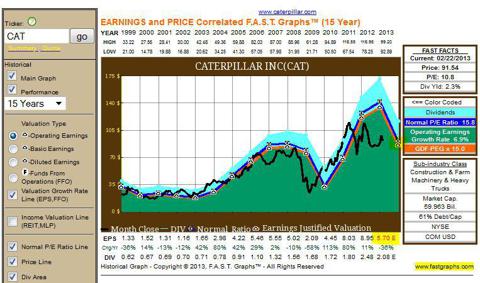 Notice how I've inserted a 2013 estimated EPS figure to roughly equate with the historic multiple of 16X (yellow highlight). If correct, the CAT stock price should remain about $90 a share, given a P/E of about 16.
As shown, it would take a drop in 2013 operating EPS to approximately $5.70 a share to correlate with the current share price. I submit this is an unreasonable assumption. It presumes a precipitous tumble in global economies, on the scale of the 2008-09 crash.
Let's take the analysis another step.
Here is another 15-year Caterpillar F.A.S.T. graph, but this time I compare price with FFO (Funds from Operations). FFO is a close relative to Operating Cash Flow.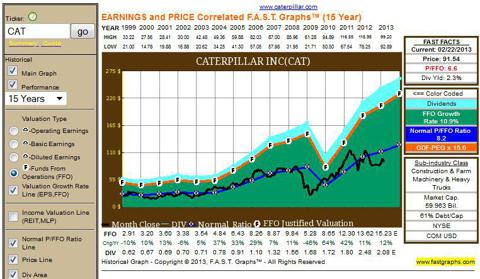 In this case, we notice how the stock price (the black line) conforms to the FFO ratio line (the blue line) at least as well as the operating earnings graph shown earlier. Maybe better.
In this case, the price and FFO became disjointed a bit later than the operating earnings graph: sometime during the spring on 2012.
Nonetheless, the 15-year record seems to indicate a reversion to the mean should be expected sometime in the future. With it, a significant uplift in stock price will ensue.
Finally, I analyzed Caterpillar's Price / Earnings multiples over the past ten years. With the exception of a brief period during the 2008 market crash, the ratio has not fallen below 9X.
When I averaged CAT's lowest annual P/Es over the past ten years by first eliminating the highest and lowest figures, the average is 11 times earnings.
The current P/E stands at 10.3X, clearly below the average annual low P/E multiple.
Bottom Line
Here's my key takeaway points from this review:
Caterpillar fundamentals remain intact. Despite near-term softness in the global construction and mining equipment business, it does not appear that the company's underlying financial metrics are pointing towards significant deterioration. Several measures indicate CAT continues to fare better than their Machinery industry peers.
Recent business news, the fourth quarter earnings report, and 10-K filing underline ongoing challenges, but senior management is not anticipating overwhelming problems in the business. Indeed, they are making strides to correct some issues: for instance, managing excess inventory levels down.
The stock is currently undervalued by reviewing operating earnings or FFO and their corresponding historic multiples. Over an extended period of time, CAT stock has demonstrated a consistent penchant for "reversion to the mean." Indeed, the current P/E multiple sits at the low end of the ten-year range.
Sans a 2013 earnings collapse on the scale of 2008-09, the market may be underpricing the stock by some 30 percent. Assuming a fall in 2013 operating earnings to about $8 a share, coupled with a recovery to somewhat over $9 in 2014, the shares appear to be even more undervalued to a long-term investor. The rising cash dividend is a bonus.
Please do your own homework, and always make careful, informed decisions. Good luck on all your 2013 investments.
Disclosure: I am long CAT. I wrote this article myself, and it expresses my own opinions. I am not receiving compensation for it (other than from Seeking Alpha). I have no business relationship with any company whose stock is mentioned in this article.