As the automatic U.S. spending cuts take hold in the next week (unless some major breakthrough is achieved by Democrats and GOP), the market is expected to tread nervously. Good investment opportunities might be hard to come by due to higher near-term volatility until there is some clarity over the breadth and magnitude of the spending cuts. Despite the looming macroeconomic challenges, we continue to look for companies that have considerably lower business risk along with cheaper valuations and higher dividend payouts. Although it does not guarantee higher returns, a lower trailing P/E multiple significantly reduces the downside risk while making these stocks even more attractive if trading lower from current levels.
Entry points can be established based on the individual investor characteristics/preferences/risk profile and the extent of price correction these stocks undergo in the short term.
Total SA (NYSE:TOT)
Sector: Basic Materials
Industry: Major Integrated Oil & Gas
It is currently trading at a trailing P/E of 8.2x with earnings per share of $6.18 and a dividend yield of 6.01%. It has a strong upstream portfolio along with a Net Margin (5-year average) 7.64%, healthy 5-year average ROE at 21.1% and only 33.8% in Long-Term Debt to equity, which reinforces the view about the company's financial strength. TOT is also partnering with a number of firms globally on reserve replacement and the outlook seems reasonably stable to continue with a long-term positive view on profitability growth. Any dip in the share price from here should not only boost the dividend yield but also the valuation on account of lower P/E multiple, which is already in single digits.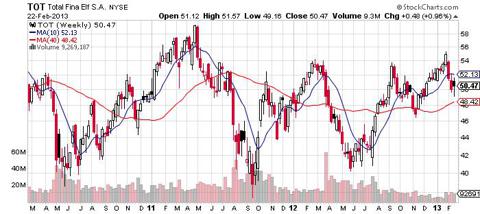 Calumet Specialty Products (NASDAQ:CLMT)
Sector: Basic Materials
Industry: Oil & Gas Refining & Marketing
Calumet Specialty Product recently announced its results with annual revenues up by 49% and earnings up by 258%. The 4QFY12 net income was $45.7 million compared to $26.9 million in 4QFY11 and $42.4 million in 3QFY12. The stock is currently trading at a trailing P/E multiple of 10.5x and a dividend yield of 7.02%. CLMT has announced refinery turnaround period from late April-2013 for 30 days and expects seasonally lower volumes in its asphalt business, which might subject the price to some short-term selling pressure. However, that would be a good opportunity to accumulate the stock as the recently acquired San Antonio refinery output will also start contributing to the topline in 1Q-2013.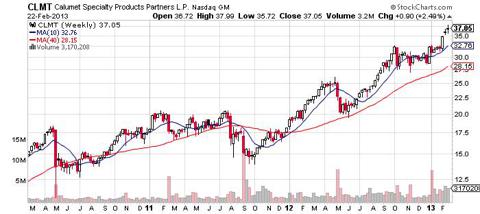 Pitney Bows Inc. (NYSE:PBI)
Sector: Consumer Goods
Industry: Business Equipment
The stock has already appreciated by 25% year to date, has a dividend yield of 11.15% and a trailing P/E of 6.2x, arguably making PBI one of the most attractive investment opportunities to investigate further. The main advantage the company has is the large recurring revenue stream and a leadership position within its market. The relatively modest demand in office equipment business as expected in short-term might affect sales potential, however the sales should pick up decently once the uncertainty over the economic growth subsides. Meanwhile the company has also been working on a number of cost-saving initiatives including enterprise-wide systems and common platforms, and more efficient business processes. However, one must keep an eye on the fact that the company has $4 billion in long-term debt while having a 71% payout ratio, which could (preferably) be lowered in order to reduce the debt and financial risk while still maintaining a dividend.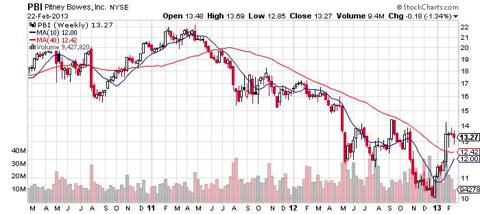 Elli Lilly (NYSE:LLY)
Sector: Healthcare
Industry: Drug Manufacturers- Major
The company is currently facing a loss of patent protection on Zyprexa antipsychotic and decline in sales due to impending patent expirations on some other drugs. However the company intends to aggressively pursue growth avenues in Japan, emerging markets, animal health and drug franchises in oncology and diabetes. With 13 drugs currently in Phase III testing pipeline - the most at any one time in its history - LLY expects key developments on eight of them in 2013. The company also has 23 drugs in mid-stage testing. Having said that, it might not be a good idea to buy LLY at current price as the year 2013 is expected to be a turbulent one with sales growth expectations to be flat to negative. Nevertheless, at a reasonable dividend yield of 3.6% with trailing P/E multiple 14.8x, LLY is seems to be an attractive candidate to consider accumulation on dips.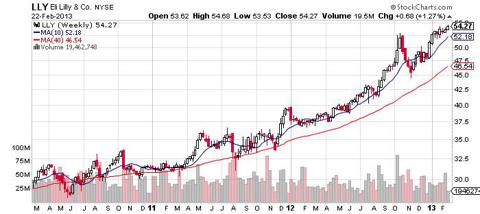 Footlocker (NYSE:FL)
Sector: Services
Industry: Apparel Stores
The company sells athletic footwear and apparel through approximately 3,400 stores in 23 countries. The institutional ownership of the stock is 93% so the float is quite limited for its 150.7 million shares outstanding. Long-term debt to equity is only 5.8% while the ROE is 17%, which it can increase considerably in case it decided to increase leverage on its books. Sales have also picked up since 2010 along with net income, which has grown from $47 million in 2010 to $278 million in 2012 while net margins improved from less than 1% in 2010 to 4.9% in 2012. The company recently announced its capital allocation plans for 2013 including a quarterly cash dividend of $0.20 per share, share buyback program ($600 million extending through Jan-2016) and US$220 million in capital expenditure program.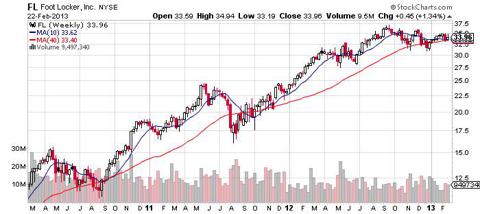 TAL International (NYSE:TAL)
Sector: Services
Industry: Rental & Leasing Services
With a dividend yield of 6%, a trailing P/E multiple of 11 and the record profits TAL has reported for the year 2012 with strong net margins (22.1%) makes it an interesting opportunity to look at. The competitive advantage for the company is that the inter-modal container lease allows shippers to avoid substantial capital expenditure in this low-shipping rate environment. The major hurdle that appears to affect the share price growth in the near future is the secondary offering (4 million shares). It should bode well for the total return if the stock is accumulated at lower levels in case the share price drops from here as it would not only improve the yield but also an already cheaper valuation.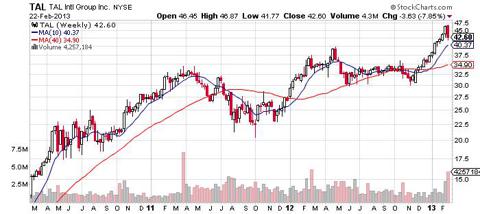 Data Source: Reuters, Company Data
Data and chart as of Friday February 25, 2013
Disclosure: I have no positions in any stocks mentioned, and no plans to initiate any positions within the next 72 hours. I wrote this article myself, and it expresses my own opinions. I am not receiving compensation for it (other than from Seeking Alpha). I have no business relationship with any company whose stock is mentioned in this article.
Disclaimer: The opinion in this document is for informational purposes only and should not be considered as a recommendation to buy or sell the stocks mentioned or to solicit transactions or clients. I do not recommend that anyone act upon any investment information without first consulting an investment professional as to the suitability of such investments for his or her specific situation.