By Jason Napodano, CFA
In January 2013, I sat down for a face-to-face meeting with James Brown, DVM (CEO) and Matt Hogan (NASDAQ:CFO) of Durect Corporation (NASDAQ:DRRX) to get an update ahead of what we expect to be a very busy year for the company.
In March 2013, we expect Durect to file a new drug application (NDA) for Posidur, to be submitted under the 505(b)(2) pathway, meaning the FDA should make a decision roughly twelve months later. The market has written off Posidur, but we think the odds of a first-cycle approval are clearly greater than 0%, which could lead to upside in Durect shares later in 2013 as investors start to come back to the story. More on Posidur can be found below.
Let's Talk Remoxy
Posidur notwithstanding, a key driver for Durect stock is Remoxy. We've been telling people that Durect stock is undervalued since September 2012. At the time, we believed visibility on Remoxy was improving based on optimistic comments from commercialization partner Pfizer (NYSE:PFE). These include:
"We see it as when, not if…" - Ian Reed, CEO (August 2011)
"We are continuing to make progress…" - Ian Reed, CEO, (November 2011)
"We have a much better understanding of the formulation… We anticipate meeting with the FDA during the third quarter this year (2012) to discuss next steps…" - Oliver Brandicourt, President & GM (January 2012)
"We remain cautiously optimistic… Hoping to meet with the FDA in the fourth quarter of 2012" - John Young, President & GM (July 2012)
But on November 1, 2012, when Pfizer held a conference call (webcast link) to discuss its third quarter earnings and financial outlook with investors, the tone seemed to change. Pfizer's tone in the past has always been upbeat and optimistic about resolving the manufacturing issues that resulted in the two complete response letters for Remoxy. However, when asked about Remoxy during the Q&A session of the call, John Young, Pfizer's President & General Manager, Primary Care Business Unit, responded (35:19):
"Remoxy has been a challenging asset that our teams have been working on very diligently since the acquisition of King. As a result of that work and extensive insights that we've gained around the formulation, we've initiated confirmatory bioavailability studies to assess the pharmacokinetic or PK profile of modified Remoxy formulation compositions. And we expect those studies to read out early in 2013. We think that the results of those studies will provide us a much greater clarity on whether or not we'll be able to adequately address the questions raised in the complete response letter that we received from the FDA. So we're targeting a late March meeting with the FDA to discuss those outputs and agree on a net go or no-go decision."
Investors were clearly disappointed and spooked by John Young's comments in November 2012. But Pfizer clarified these comments to Durect and Pain Therapeuics (NASDAQ:PTIE) the next day, as evidenced in Durect's press release a few days later. The release noted that the trial Pfizer initiated was indeed a confirmatory one, and that Pfizer wouldn't have initiated the trial unless is was trying to confirm what it found in previous bioavailability (BA) / pharmacokinetic (NYSE:PK) work.
The first question that investors may ask about these BA / PK studies is, "Why?" Why is Pfizer doing Phase I work so many years after the pivotal programs were completed? Although the complete response letters have never been made public, we've learned that the issues, at least in the second letter, were primarily related to manufacturing, which includes lot consistency assessed by an in vitro dissolution assay. This is a pesky assay to perform on a drug like Remoxy given that the drug was designed by Durect with its ORADUR technology specifically to not dissolve and release oxycodone at a rate that would create abuse or misuse potential. Nevertheless, an assay was developed to quantify standard deviation of manufacturing lots, and apparently some of the data from these lots, originally manufactured by King Pharmaceuticals (acquired by Pfizer in February 2011) showed variability outside of the + or - 10% ranged deemed acceptable by the U.S. FDA.
As a reminder, Pfizer conducted two BA / PK studies on Remoxy in 2012. The first of these two studies was initiated in March 2012 and completed in June 2012 (Clinialtrials.gov Identifier: NCT01552850). The second study also initiated in March 2012 and completed in October 2012 (Clinialtrials.gov Identifier: NCT01552863).
Study #1 was an open-label, single-dose, randomized, crossover PK and relative BE study of four formulations of Remoxy (one original formulation and three modified formulations) in healthy volunteers. These formulations (A, B, C, D) were all tested under fed conditions. The goal was to quantify the concentration of oxycodone by area under the curve (AUC) and the maximum observed plasma concentration (Cmax) for 48 hours.
Study #2 was open-label single-dose, six-period study to characterize the process by which oxycodone is absorbed, distributed, metabolized, and eliminated by the body. The study consisted of three parts that took place over approximately 90 days. This study varied timing of the naltrexone block (12 hours before, 30 minutes before, and 12 hours after) dosed with Remoxy. Several new formulations were used for this study (A, E, F, G, H). The goal was similar to the first study, seeking quantified values in AUC and Cmax.
It is our belief that the data from these two studies showed results around the aforementioned + or - 10% range with these eight formulations (A through H). Therefore, in October 2012, Pfizer initiated a third, confirmatory BA study (Clinicaltrials.gov Identifier: NCT01717027), with a goal of tightening up the range. As of late February 2013, the status of the trial was listed as "recruiting" participants, although we believe that enrollment has been completed and Pfizer will have the necessary data in hand to meet with the U.S. FDA in late March 2013 as planned.
Study #3 was an open-label, single-dose, randomized, crossover study designed to evaluate the PK and relative BE of Remoxy formulations taken whole under fed conditions and after chewing under fasted conditions in healthy volunteers. Formulations tested in this study were designated A, J, and K.
The second question astute investors may then ask is, "Given the potential changes in formulation from the original one used in the pivotal efficacy trials and subsequent abuse and likability studies, will the FDA allow for the refiling of the NDA with a new formulation without forcing Pfizer to go back and re-conduct these trials?" That's a good question!
We understand that the formulation changes Pfizer has made are simply "tweaks" to the original formulation, and include no changes to the oxycodone concentration or fundamental ORADUR technology. The changes center around the concentrations of excipients (inactive ingredients) used as carriers for the active oxycodone drug. We do not believe that the FDA will require Pfizer to re-conduct pivotal efficacy studies assuming the changes are minor in nature and do not substantially affect the PK or BA of the molecule. We note that pharmaceutical companies regularly make minor changes to the formulations of their drugs post-approval without issue simply by providing to the FDA this type of PK and BA data.
Pfizer's goal is simple: Narrow the lot-to-lot variability of manufacturing Remoxy as analyzed by an in vitro dissolution assay by creating a modified formulation, and then bridge the pharmacokinetics and bioavailability to the original formulation used in the pivotal studies.
The inclusion of a "chewing under fast condition" cohort in the third study is most likely designed to show the FDA that the minor tweaks made in the concentration of excipients has no effect on the likability or abuse potential of Remoxy. We remind investors that previous likability work done by Setnik et al, April 2011, showed patients were unable to chew Remoxy for more than 1.5 minutes (mean = 45 seconds). We do not see these minor formulation changes Pfizer is making to narrow the variability of manufacturing as having a material impact on Remoxy abuse or likability.
Remoxy A Blockbuster
The market opportunity for an abuse-resistant oxycodone is enormous in our view. Quite simply, the market for oxycodone-ER (OxyContin) is enormous in itself, with Purdue booking over $3 billion in sales in the U.S. in 2012. The growth of prescription opioid use over the past decade is astonishing. From 1997 to 2007, the milligram per person use of prescription opioids in the U.S. increased from 74 milligrams to 369 milligrams, an increase of 402%. For a detailed analysis of the market opportunity for Remoxy, please read our report from September 2012.
Durect is entitled to 6.0% to 11.5% royalties on worldwide sales of Remoxy. The royalty rate resets each year but escalates as sales ramp. Management has not disclosed the actual royalty schedule, but has given guidance (through company presentations) on what investors can expect based on end-user sales at Pfizer. Piecing together these bits of information from Durect management over the past few years, investors can get a very good sense of the royalties on Remoxy. Below are sales and royalty estimates we pulled from various Durect investor presentations over the past few quarters.

Durect will also supply the excipients used to produce Remoxy. Similar to the royalty rate, the company has not disclosed the actual "cost-plus" transfer price that it will receive on sales of these excipients, only commenting at investor presentations that the initial benefit could amount to as much as a 0.5% royalty payment. We think that once sales of Remoxy increase, the net excipients payment after costs to Durect will be worth around an additional 0.2% royalty.
Below we have modeled the ramp we expect in sales of Remoxy at Pfizer. Our assumptions assume that Pfizer will re-file the NDA in September 2013 and launch the product mid 2014. We model Pfizer taking 30% of the OxyContin market. Using a 15% discount rate, and then a 50% reduction based on probability of approval, we see the potential royalty stream from Remoxy alone worth roughly $1.75 per share. We believe the potential for Remoxy alone makes Durect a very attractive investment.
Plus, we note our 50% probability adjustment is based more on the risk of filing / not filing, rather than the FDA decision. We believe Pfizer is taking its time conducting BA / PK studies and confirmatory studies so that when it exits the March 2013 FDA meeting the company knows exactly what is necessary to gain approval. Thus, when the application is filed, we think the odds of approval go up more towards 75%. Make no mistake about it, if Pfizer files the Remoxy NDA, Durect shares will move higher.

Don't Sleep On Posidur
With respect to Posidur, we believe the market is largely ignoring the opportunity here. Posidur (SABER-bupivacaine 12%) is an injectable sustained release local anesthetic being developed to deliver site specific post-operative pain relief. The drug is administered during surgery to the surgical site, where it continuously releases therapeutic levels of bupivacaine in a controlled fashion, providing up to 72 hours of uninterrupted local analgesia.
Conventional (immediately release) formulations of bupivacaine used in this indication deliver only 6 hours of pain relief. Pacira Pharmaceuticals has gained approval for controlled release bupivacaine, called Exparel, but it only provides 20 to 24 hours of pain relief. Surgeons will typically inject bupivacaine with epinephrine to prolong the duration of action; however this can create complications and contraindications for certain patients. The short duration of action of bupivacaine leads to contaminant use of opioid analgesics, including fentanyl.
Posidur represents a large market opportunity for Durect. According to data published by the CDC, there are approximately 70+ million surgical procedures performed in the U.S. each year, a large majority of which require significant post-operative pain control. The vast majority of these patients are inadequately treated for post-operative pain relief. The current standard of care for post-surgical pain includes oral opiate and non-opiate analgesics, transdermal opiate patches and muscle relaxants. These medications are either ineffective or carry significant tolerability and side-effects issues.
Durect believes that Posidur can lead to reduction in cost through less opioid use (and corresponding opioid-related side effects) and potentially earlier hospital discharge following surgery. The design characteristics of Posidur made the product attractive enough that Durect was able to secure two separate development and commercialization deals with larger pharmaceutical companies, the first with Nycomed in November 2006 and the second with Hospira in June 2010.
Clinical Data
In July 2007, Durect reported positive results from a multicenter, randomized, double-blind, parallel-group, placebo-controlled phase 2b trial conducted on hernia patients who were randomized into three arms: Posidur 2.5 mL (n=42), Posidur 5 mL (n=47) and placebo (n=31). Patients enrolled in the study (age 18 to 65) received elective open unilateral tension-free Lichtenstein-type inguinal hernia repair under general anesthesia. The primary outcome of the study was pain intensity on movement evaluated using a numerical rating scale (0=no pain; 10=worst pain possible), collected four times a day. Outcome was assessed via two co-primary efficacy endpoints: the mean pain intensity on movement area under the curve (AUC) over the time period 1 to 72 hours post-surgery, and the proportion of patients who received opioid rescue medications during the study. The results are presented below for the control and the 5 mL arm: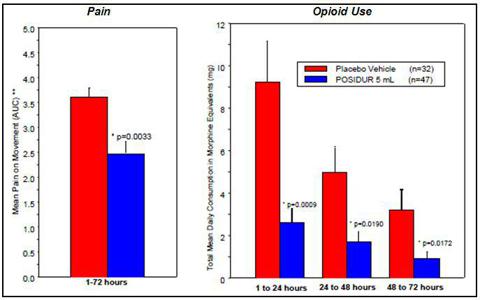 Statistically significant reduction in both pain intensity and opioid use was observed for the 5 mL Posidur dose. The data above were presented at the American Hernia Society meeting in March 2008. Data from the trial showed no serious adverse events (SAEs) designated related or possibly related to Posidur. SAE's were generally similar between the three arms. Heart rate, blood pressure, respiratory rate, and body temperature were similar at Day 14 to baseline in all three arms. We note Durect required patients to wear a 12-lead ECG for 24 hours post-op to assess the cardiovascular safety of Posidur. The data clearly shows the drug to be safe, effective, and well tolerated in hernia patients. Reduction of opioid rescue dose was also associated with reduction of opioid-related side effects such as constipation, somnolence, dizziness, nausea and vomiting.
In February 2011, Durect announced results for a second phase 2b trial, this time studying Posidur in 107 patients undergoing shoulder surgery in a randomized, double-blind, design. Data from this study is presented below, which shows statistically significant reductions in both pain intensity and opioid use.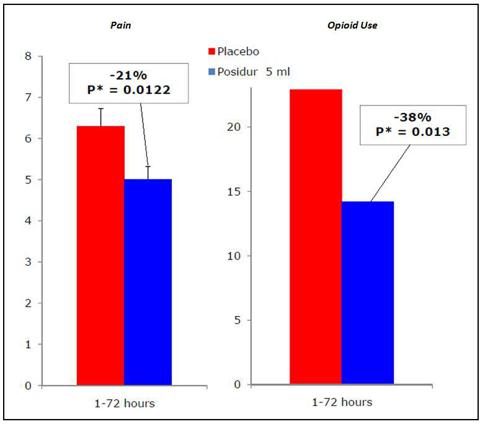 Following the impressive results of these phase 2b studies, Durect met with the U.S. FDA to outline a path towards registration. Recognizing that if approved, Posidur could have significant use by surgeons in a wide variety of surgical procedures, the FDA asked Durect to conduct additional clinical trials in a sicker and older patient population, while also incorporating varying types of incisions.
In January 2010, Durect initiated the phase 3 BESST (Bupivacaine Effectiveness and Safety in SABER Trial), a multicenter, double-blind trial that sought to enroll over 300 patients in three cohorts undergoing a variety of abdominal surgical procedures.
- Cohort 1: An active comparator cohort in which patients were randomized to receive either Posidur 5 mL or commercially available Bupivacaine HCl solution after laparotomy (large wound).
- Cohort 2: An active comparator cohort in which patients are randomized to receive either Posidur 5 mL or commercially available Bupivacaine HCl solution after laparoscopic cholecystectomy (small wound).
- Cohort 3: A double blind, placebo controlled cohort in which patients are randomized to receive either Posidur 5 mL or SABER-Placebo after laparoscopically-assisted colectomy (medium wound).
In January 2012, Durect released results from BESST. On the first co-primary endpoint, pain reduction during the 72 hour period (AUC), the Posidur 5 mL group achieved a 7% reduction. This was not statistically significant versus placebo (p=0.1466). The 7% reduction resulted when assessing pain on movement and whenever supplemental opioids were administered. With respect to pain on movement alone, the Posidur 5 mL group reported a 10% reduction, which was statistically significant (p=0.0410).
On the second co-primary endpoint, median total morphine-equivalent opioid dose for supplemental analgesia during the period 0-72 hours post-dose, the Posidur 5 mL group reported approximately 16% less opioids consumed versus the placebo. This was not statistically significant (p=0.5897). Data from Cohorts 1 and 2 were pre-specified to be pooled due to their small sample size. For Cohorts 1 and 2 (pooled), the mean reduction in pain on movement was approximately 20% (p=0.0111) for the Posidur 5 mL group compared to the patient group treated with bupivacaine HCl. The median total morphine-equivalent opioid dose for supplemental analgesia during the period 0-72 hours post-dose for Cohorts 1 and 2 (pooled), was approximately 18% less opioids consumed compared to the bupivacaine HCl group (p=0.5455).

The failure of Posidur to meet statistical significance in the co-primary endpoint was clearly disappointing. Posidur had worked well in the phase 2b hernia and shoulder trial - comprised of generally healthy patients with pain resulting from the surgical wound. However, in sicker patients with a large visceral pain component, the drug proved less effective. This was probably due to the underlying disease (colon cancer, diverticulitis) causing pain beyond the surgical procedure. This is a pain that most likely requires more powerful analgesics than the local-acting bupivacaine. Nevertheless, both Nycomed and Hospira returned all rights to Posidur to Durect after the results of BESST.
Not all was lost on BESST however. We believe the safety of Posidur was clearly demonstrated in the trial. Overall, the Posidur groups showed a similar systemic safety profile as the patient groups treated with placebo and active comparator. All patients in the trial wore a Holter monitor to record cardiac events. There were no signs of systemic safety issues. No negative safety signals were seen in the cardiac and neurologic safety assessments.
File in March 2013
Despite the failure of BESST, Durect plans to push forward with a new drug application (NDA) through the 505(b)(2) pathway. Management met with the U.S. FDA in July 2012 to outline its plans for the application. In total, Durect will file with 13 clinical trials, in multiple surgical models, with 680 patients exposed to drug and no significant systemic safety concerns. Management's theory is that the company has demonstrated clear evidence of efficacy in two randomized, well-controlled, clinical trials - the phase 2b hernia trial (soft tissue) and the phase 2b shoulder trial (hard tissue). Management will include in the application additional data from phase 2 trials in hernia, appendectomy, and hysterectomy. Data from BESST will be included as well. The FDA will have 74 days after the NDA has been filed to accept or reject the application. If accepted, the PDUFA action date will be 12 months after the filing.
Investors will probably ask, why bother to file the NDA if both Nycomed and Hospira have walked, and there is a high chance of a CRL given the failure of the phase 3 BESST trial? Another great question
Here's what we think: At this point, the odds favor Durect receiving a complete response letter. BESST did not meet the pre-specified efficacy endpoints, and the FDA specifically asked Durect to conduct a trial of that nature (i.e. older / sicker patients with visceral pain). We think the FDA will come back and ask Durect to conduct one confirmatory phase 3 trial before it approves the application. Management has said publicly that laparoscopic cholecystectomy (gallbladder) removal surgery would be a potential for such a trial. Data from this cohort in BESST was statistically significant when compared to placebo. That being said:
1) The NDA costs little to file, only time and effort. Pfizer is handling the Remoxy application and the rest of the Durect pipeline is largely on hold pending partnerships. Management focus is not an issue. And, as the company's first sponsored NDA, the approximate $1.8 million PDUFA fee is waived.
2) Durect owns worldwide rights to Posidur now that Nycomed and Hospira have walked. The company would like to re-partner the drug for commercialization. Partners are most likely asking Durect the same questions investors are asking - what's necessary to gain approval? Heck, the FDA may surprise us all and approve the drug! However, a CRL provides valuable information to the company on what is necessary to gain approval. A CRL for Posidur should lay out what Durect needs to do before it can re-file. This may include a phase 3 trial in gallbladder in 100 patients at a cost of $10 to $12 million. If that's the case, at least now Durect knows exactly what it needs to do, and can go back out to new potential partners with a plan of action.
Market Opportunity
There are roughly 70 million surgeries in the U.S. each year. There are approximately 1 million hernia procedures done in the U.S. each year. A 20% share in the U.S. hernia market at approximately $250 per procedure represents a $50 million opportunity. Expanding into gallbladder, hysterectomy, shoulder surgery, etc. opens the door to a potential market of 10 to 20 million procedures that are ideally suited for a locally-acting analgesic like Posidur. Just 5% market share in this broader patient population represents at least a $250 million opportunity for Durect and a potential licensing partner. The market opportunity outside of the U.S. is comparable. We remind investors that there are two patents protecting Posidur in the U.S. out to 2025, one composition and one method of use.
Above, we note that Posidur is essentially written off by investors. But we believe it is clearly worth more than $0. For the purpose of our model, let's be bearish. If we assume Durect files the NDA in March 2013 and receives a CRL in March 2014, then the company will most likely conduct a second phase 3 gallbladder trial during the second half of 2014, sign a commercialization agreement with a new partner in 2015, re-file the U.S. NDA in 2016, and receive approval in 2017. Then let's throw in an upfront payment in 2015 of $15 million, along with $50 million in back-end milestones and 15% to 20% royalty on U.S. sales. With a 15% discount rate and 50% probability adjustment, we see Posidur worth approximately $0.30 cents in value. If the FDA approves Posidur in March 2014, it's worth $1.50 under a similar sales and milestone scenario.

Catalysts Coming
In the past we've written that Remoxy has at least a 50/50 chance at approval. We still believe that to be the case. Pfizer has scheduled a meeting with the U.S. FDA in late March 2013. We suspect that Pfizer will provide an update on the potential NDA filing for Remoxy when the company hosts its first quarter conference call in late April 2013. If all goes well, we should see a refiling of the NDA at some point during the second half of 2013 (best guess - September 2013).
Assuming a six-month review, the FDA could make a decision on Remoxy in March 2014. That's an interesting prediction because above we note the Posidur NDA filing is expected in March 2013. Assuming a twelve month review puts the Posidur PDUFA in March 2014. This would be two major FDA-action catalysts coming in March 2014 for Durect Corp. Oh sweet mama!
The stock is currently trading at $1.12 per share. We value Durect, as we value all biotech companies, based on the risk-adjusted probability of future cash flows. Based on our analysis, Remoxy is worth $1.67 per share and Posidur is worth $0.30 per share. That gets us darn near $2.00, almost 100% upside from current levels.
Disclosure: I have no positions in any stocks mentioned, and no plans to initiate any positions within the next 72 hours. I wrote this article myself, and it expresses my own opinions. I am not receiving compensation for it. I have no business relationship with any company whose stock is mentioned in this article.
Additional disclosure: PropThink is a team of editors, analysts, and writers. This article was written by Jason Napodano, CFA. We did not receive compensation for this article, and we have no business relationship with any company whose stock is mentioned in this article. Use of PropThink's research is at your own risk. You should do your own research and due diligence before making any investment decision with respect to securities covered herein.You should assume that as of the publication date of any report or letter, PropThink, LLC and persons or entities with whom it has relation ships (collectively referred to as "PropThink") has a position in all stocks (and/or options of the stock) covered herein that is consistent with the position set forth in our research report. Following publication of any report or letter, PropThink intends to continue transacting in the securities covered herein, and we may be long, short, or neutral at any time hereafter regardless of our initial recommendation. To the best of our knowledge and belief, all information contained herein is accurate and reliable, and has been obtained from public sources we believe to be accurate and reliable, and not from company insiders or persons who have a relationship with company insiders. Our full disclaimer is available at www.propthink.com/disclaimer.